Interview
Seven months after being acquired by NetApp, Spot CEO says he has no regrets
The American giant paid $450 million for 31-year-old Amiram Shachar's startup last July, and it has only gone from strength to strength since
What can a company possibly do as a follow-up act after being acquired for $450 million? Well, for starters, it can register its best results ever. That is exactly what Spot.io did last year after it was purchased by NetApp, an American hybrid cloud data services and data management company, for almost half a billion dollars.
Spot, formerly known as Spotinst, was founded in 2015, by Amiram Shachar, the 31-year-old CEO who currently operates it out of California, Liran Pollack, the company's chief architect and Aaron Twizzer, its chief technologist. The company began its journey at the Faculty of Computer Science of the College of Management in Rishon LeZion as Shachar's final project.
NetApp, which is traded on Nasdaq at a valuation of over $13 billion, offers hybrid cloud data services for the management of applications and data across cloud and on-premises environments. It recognized a golden opportunity to bolster its offering with Spot's cloud computing optimization services to software-as-a-service (SaaS) companies. Using machine learning algorithms, Spot's product monitors the availability and pricing of computation power offered by cloud services to optimize use by clients. The company evaluates server costs for its customers, offering them the best prices they can find in real-time. In addition, the major cloud companies often use the services of the Israeli company to optimize the use of their services and retain customers.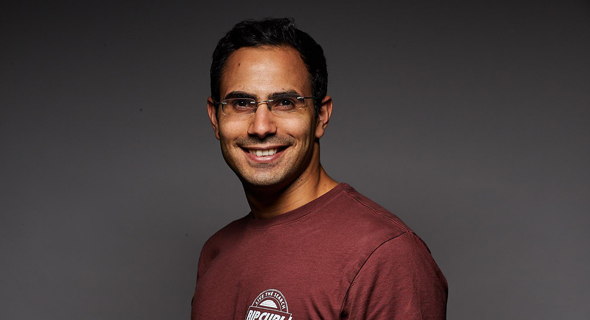 Spot.io CEO Amiram Shachar. Photo: Spot by NetApp
Shachar told CTech that Spot was surging prior to the acquisition by NetApp last July as so many organizations were already changing their priorities and moving to the cloud following the outbreak of the Covid-19 pandemic. And despite the difficulties that often hamper newly acquired companies, Spot has only gone from strength to strength since. "We made more revenue this year than in the previous five years combined. Companies want to be more cost-efficient in the cloud, and they're looking for solutions, and we were at the center of everything," Shachar told CTech. "We saw a big uptick from existing customers and from new customers. Obviously, the acquisition helped us a lot. But in most cases when companies get acquired, they go on to have their worst quarter ever since it is a defocusing process and requires a lot of integrations with other parts of the organization. So it was really, really nice to see that this didn't happen here."
NetApp has seen its share price rise by around 50% over the past five months, reporting revenue of $1.42 billion for the three months that ended in October 2020. NetApp also said its revenue from public cloud services, on an annualized basis, reached $216 million in the quarter, triple the rate from a year earlier. Shachar believes that is no coincidence.
"I don't want to be arrogant, but I think that the rise in NetApp's share price is connected to two things. Firstly, NetApp is a very responsible company when it comes to its cash flow. It is a profitable company that creates cash and hands out dividends, which is quite rare in the tech world," Shachar said. "In addition, you can see NetApp's commitment to the cloud and the way in which it is growing its business. NetApp tripled its revenue from cloud services, increasing it by hundreds of millions of dollars within a year. Had a cloud services startup reported such results it would have been valued at over $10 billion just for that. But because this is part of NetApp's massive operation it goes relatively unnoticed. Right now they have one of the fastest-growing cloud businesses. You just almost don't see it because it's wrapped into the billions of dollars of revenue that NetApp is already generating."
While Spot's technology is complex, its offering is quite straightforward. "The client is getting an API that is a better API than the cloud API. So instead of telling the cloud, 'hey, I want 10 servers', the client tells us, 'hey, I want 10 servers' and we'll go and run our algorithm and get the client a better 10 servers than the client would have gotten independently," explained Shachar.
Spot is continuing to operate as an independent unit within NetApp, and while Shachar highlighted this as a smart decision, he also admitted that this plan will be reevaluated every six months. "It's really about looking and deciding if it makes sense now to make Spot part of the global sales of NetApp. Does it make sense now to change this process? And I can tell you, it also works the other way round, does it make sense to take Spot's existing process and apply it to the global NetApp? So these are also the conversations we're having," said Shachar.
Shachar said he believes that the changes brought about by the pandemic are here to stay, noting that "I still don't know if it will continue happening at the same pace, but it's definitely set a new normal.
"I do think it's a permanent change because from my experience in the last six years of working in the cloud industry, I've never seen people going back from the cloud. Once you set your infrastructure on the cloud, the question is are you going to accelerate it by a 100% a year or 80% a year?"
Shachar said Spot has increased its team from around 190 to 250 since it was acquired by NetApp, with around 200 of the employees based out of Israel.
"I have big hopes for the next couple of years, because right now we're under a bigger umbrella so we can scale our sales faster, we can scale our go-to market faster and we can actually keep up with this pace of growth. It's not easy with these numbers, but it's possible and this is the goal," said Shachar.
Shachar experienced the problem Spot came to solve first hand when he was running cloud infrastructure as part of his entry-level position at a previous company he had worked at. "I saw how expensive it is and it got me thinking, people don't have good tools because I was trying to get tools and there weren't any good ones available. And I said, you know, what if I can bring this better tool to everybody on the planet to use? It's a Cinderella story because VCs told me the idea didn't make sense. When people heard about it they said 'it sounds good. But no'. But when I talked to people that were using the cloud, they said it was brilliant and that they would love to use it. And that's what always guided me."
Spot has expanded its product portfolio over recent years. It started with a simple API but has since essentially grown into a platform. "I call it 'the journey from visibility to actionability'. Basically, if you're a client, you will connect your cloud account to us. And then the first thing we'll do is send you an analysis of all of your cloud infrastructure, all of your cloud workloads. And we'll tell you how we see it and what optimization opportunities we identify. This is the gateway to our APIs, to our automation products, and then customers can select to take a workload and optimize it," explained Shachar.
Shachar said that it was always important to him to build a healthy company, "unlike a lot of startups that you see that maybe they're growing on the technology side and raising a lot of money, but you know they're also burning a lot of money."
"I always wanted to build a company that can live on its own cash, a company that is really good to its customers and whose clientele keeps expanding and growing. As a CEO my job was always to give the board and the shareholders optionability, which is, if we want to keep the company, we can keep the company. If we want to raise more money, we can raise more money. If we want to be acquired, we can go and find a great buyer. We always had options and when NetApp came in, we just looked at the options and made a decision."
Shachar said that the timing of the acquisition at the start of the pandemic surely played its part, even if only subconsciously. The valuations of many tech companies have skyrocketed since, but Shachar insisted that he doesn't regret "for a second" being bought by NetApp and also questioned the validity of some of the valuations that have been making so many headlines recently.
"I think we landed at a really great company and I think we've made a really good move," said Shachar. "I am seeing this uptick in valuations and to me it feels like a little bit of a bubble. All these companies with all these really huge valuations, either somebody needs to buy them or they need to go public. And the truth is that in all likelihood 90% of them won't be publicly traded and won't be acquired. And this is where I'm like, we'll see how this is going to play out in the next few years."