Opinion
The ugly side of the tech cash splash
The big money being thrown at early-stage companies can often sidetrack entrepreneurs
The prediction veteran tech investor Eddy Shalev gave Calcalist back in 2018 that "everyone wants to be a unicorn" was clearly ahead of its time, as it seems today that every company can reach a $1 billion valuation regardless of its income, profits, or any financial criteria.

Today's race has little to do with the companies anymore but is rather all about the investors who seem to have lost any connection to the value of money or valuation of companies. One after another companies are announcing additional funding rounds, and are also reporting oversubscribed rounds. According to one estimate, every growing tech company, even if it is only at the very start of its growth, receives investment offers reaching tens of millions of dollars from dozens of suiters, mainly big U.S. funds, whose only route to achieving good returns on their investment is through tech. With interest rates at zero, and sometimes even negative, institutional investors and funds that never previously invested in tech have become leading investors, even in very early-stage companies.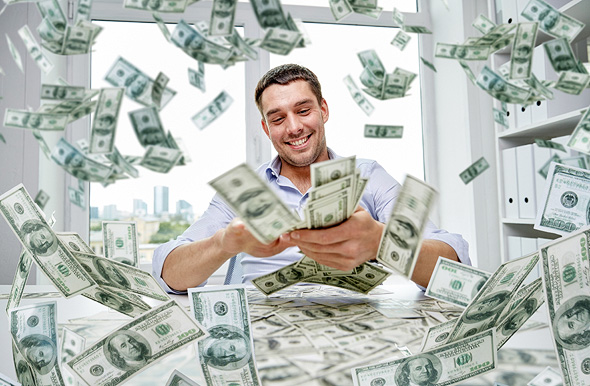 Man with money. Photo: Shutterstock

It should come as no surprise that young companies aren't quick to refuse massive investment offers they receive just 2-3 years after their founding. Covid-19 has accelerated the digitization of the world and made tech companies the darlings of investors. Entrepreneurs don't need to work hard to raise money, with plenty of alluring offers constantly streaming in.

However, these investments significantly change the way in which entrepreneurs think. They blur the need to save money, as well as any cautious and calculated business behavior. This can also be the case with very experienced entrepreneurs. The dramatic shift from a state of panic at the start of the pandemic to a carnival of lucrative funding sounds can blur the judgment of any entrepreneur. A leading investor described the situation to Calcalist in one word: "madness." He claimed that even a company that has just been founded and doesn't really have any income can be valued at $1 billion.

An entrepreneur needs to be focused on the goal of growing and developing the company and can't focus on that when it is being showered with tens and even hundreds of millions of dollars. The CEOs can't tell their marketing manager to cut costs or lower the expectations of an employee asking for a raise when they have just raised $100 million on top of the millions already sitting in the company's account from the previous round.

The problem is heightened with young entrepreneurs, who can easily lose their way when being granted such sums. Entrepreneurs that have hundreds of millions of dollars in their company's account can lose the "hunger," "fear," and "distress" that characterize early-stage startups and which help build them up. They lose any value they have for money. The investors will encounter the problem as soon as they try to sell their holdings in these companies and will discover that the valuation was exaggerated.

Over the weekend, there was a report that is likely a source of inspiration for many of these young cyber companies. It was reported that Israeli-founded SentinelOne is preparing for a $10 billion IPO, not long after raising money at a $3 billion valuation. Many of the young cyber companies and their investors believe they can be the next SentinelOne in the not so distant future.