Phishing attacks in Europe soared 718% in 2020, according to Allot
The network intelligence and security solutions company cited Covid-19 as a leading cause for the sharp increase
Phishing attacks against European consumers jumped a staggering 718% in 2020 following the outbreak of Covid-19 and the increase in sensitive networks being able to be easily exploited. Following the release of its 2020 Europe Cyber Threat Report, Israel-based network intelligence and security solutions provider Allot reported that phishing accounted for 56% of all blocked attacks in April 2020 - up from just 5% in January of that year.
"Although we measured a significant jump in consumer-facing phishing attacks in 2020, our research shows that Allot solutions also blocked over a billion other threats including malware, spyware, and host of other types of attacks," said Dr. Yael Villa, Senior Vice President Cybersecurity Division at Allot.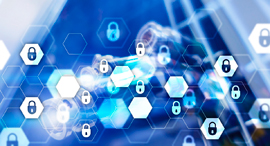 The pandemic has been a field-day for hackers. Photo: Shutterstock

Allot's Europe Cyber Threat Report is released every three months and covers the threats that are detected and blocked by Allot Secure, a family of cybersecurity solutions offering CSPs and their SMB customers protection against attacks such as malware, viruses phishing, and ransomware. It has widely been agreed by cybersecurity solution providers that hackers have had somewhat of a field-day during the pandemic since employees have been sent to work from home, stretching the enterprise security network and leaving room for vulnerabilities.

Allot's report is available to download from its website. The company is also hosting an online webinar, 'What Poses the Greatest Danger to Your Subscribers?' on March 2, 2021, that discusses the research that has been found.

Allot is a provider of network intelligence and security-as-a-service solutions for enterprises around the world. Its products help with networks, analytics, and traffic control and shaping. It is used by 500 mobile, fixed, and cloud providers and 1,000 enterprises.