20-Minute Leaders
"Wellness is not only about feeling good, it's also about making us better people"
Miri Polachek, founder of Israel Brain Technologies and CEO of Joy Ventures, talks to Michael Matias about harnessing innovation to help cope with mental illness
The brain is a complex organ that influences nearly every aspect of human behavior, and Miri Polachek, founder of Israel Brain Technologies and CEO of Joy Ventures, is thoroughly fascinated by it. Polachek's interest in life sciences began at a young age, but for the first portion of her career, Polachek worked in financial management positions in the pharma industry. After relocating to Israel, Polachek decided to dig deeper into her passion for neuroscience and founded Israel Brain Technologies. Here, Polachek helped connect entrepreneurs with researchers and clinicians to spark neuroscience innovation across the country. More recently, Polachek has become the CEO at Joy Ventures, a unique startup studio that builds and funds startups developing products for consumer well-being. Polachek has a passion for innovation and certainly brings joy to those she works with.
Click Here For More 20MinuteLeaders
Miri, tell me about what you're doing with Joy Ventures.
Joy Ventures focuses on wellness and consumer products for well-being. We do it with a unique model, which is to build, support and fund companies. We don't only invest in existing startups, but we also work with innovators and entrepreneurs to build startups from scratch. We go into academia to identify the promising research and development to try to turn those ideas and technologies into products and companies.
You not only work with existing startups, but you also help build startups from scratch. Tell me more about this unique business model.
Sometimes even if you don't have an idea yet, but you're really excited about the wellness space, you can come to us. Recently we launched our new Entrepreneur in Residence program (EIR). The experienced founders who've joined will take a deep dive into the world of well-being, and they can work with our existing ideas or they can dive deep into market research and come up with their own ideas. They will then spend six to eight months developing that idea into a mockup prototype and put together a business plan, all with our support as needed. At the end of their EIR program period, they'll present their pitch, so that hopefully by the end of that period, we would be ready to invest and start a company with them.
How do you go about evaluating and finding the right people who are passionate about this space and willing to take on this incredible journey?
We are looking for a mix of the right experience and a good cultural fit since they're going to be part of the Joy Ventures team for six to eight months. We look for people who are passionate about our domain, consumer products, and human-centered design. When we build or support companies, we want to have a strong multidisciplinary team with a strong entrepreneur founder at the helm that has a good understanding of the market, consumers, trends, and tech.
What drives you to work for an organization?
It doesn't matter if I am doing any kind of role, I really need to connect with the organization's mission. The second thing is connecting with the people that I'm going to be working with. What makes me stay at any organization are the smart, inspiring, and high integrity people that I work with.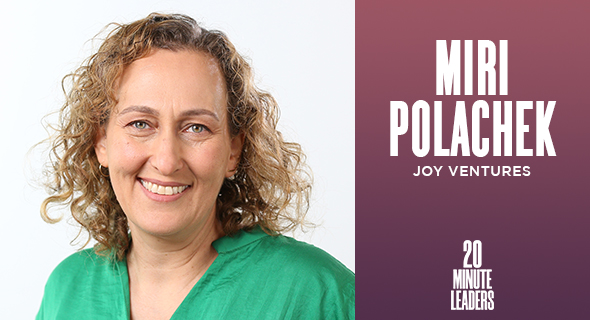 Miri Polachek. Photo: East Side Studio
How did you transition into the wellness domain?
My dad was in high tech, and my mom was a neuroscientist and that's where my first exposure to the brain was. From a young age, this was part of the kitchen talk, and I had really great role models. In school, I majored in economics and business, but what I found myself really connecting to was the life science industry. What I found myself doing (as I worked in finance within pharmaceutical giants like Teva and Pfizer) was learning not only how to be a good financial manager, but also about brain illness and about how a drug is developed and goes to market. Over the years, I became deeply passionate about the life science industry, and I ended up shifting from corporate to the early-stage startup nation environment here in Israel.
What are some of the challenges that you faced as you transitioned into this startup world?
I came back to Israel after having spent 12 years in New York, and even though I had very admirable positions, in Israel, VCs wanted to see a relevant track record in the startup domain, which I didn't have. So that was rough. But when former President Shimon Peres announced he was launching an initiative to drive brain research and technology in Israel, that vision really resonated with me. The whole vision was about innovation and startups and creating a brain tech startup ecosystem. I ended up establishing Israel Brain Technologies, together with serial entrepreneur Rafi Gidron, and we brought that ecosystem together. IBT created programs for the entrepreneurial brain tech community across Israel and established the country as a strong brain technology hub. My journey with IBT is one of the most special experiences that I've had professionally in my career.
Brain technology comes across as a complicated field. Can you explain it in simple terms?
Brain technology can be interpreted in a variety of ways. It can be the technology that interacts with your brain or technology that can measure your brain activity or even influence your brain activity. But I like to think of it as any kind of technology that can really measure or affect our brain state or health. It can also be an app that, through the various sensors we have in our phones or wearables, can monitor our stress, anxiety, mood, and depression levels. It can also be pharmaceuticals that treat brain illness. It doesn't always necessarily have to be a cure. It's if we're doing anything to improve people's well-being or health.
Would you agree that there aren't enough people working in the wellness space?
I agree, and there is an ocean of opportunity for innovation in the mental illness and mental wellness space. I have a brother who suffers from mental illness, and that's another reason why it's close to my heart. Part of my mission in the last 10 years has been to encourage talented people to discover the world of brain health and brain tech innovation.
So how can more entrepreneurs join this space? Part of the challenge seems to be the notion that neuroscience is complex and difficult to start and that one may need to get a Ph.D. to understand the field.
That's not the case. First of all, I think people should find a neuroscientist and partner with them. There are plenty of neuroscientists that would love to use their knowledge and discoveries in a way that can help people. Ultimately, it's understanding what are the pains out there. Secondly, science and technology have come so far that you can do so much today with available technology by finding a way to make it accessible to people who need it. It doesn't have to be deep tech such as brain stimulation; it can even be a simple game that helps kids deal with their emotions. Besides helping people, there's a huge market for these types of applications, especially when we think about the effects of COVID on mental health. In addition to treating people with brain illness, there is an opportunity to innovate products for consumers to help them feel good, connect with each other, and create healthy habits. So we're putting the call out there for really smart, passionate technologists and entrepreneurs to think about how technology can serve humanity's quest for well-being.
What three words would you use to describe yourself?
Optimistic. Connecting. Brain.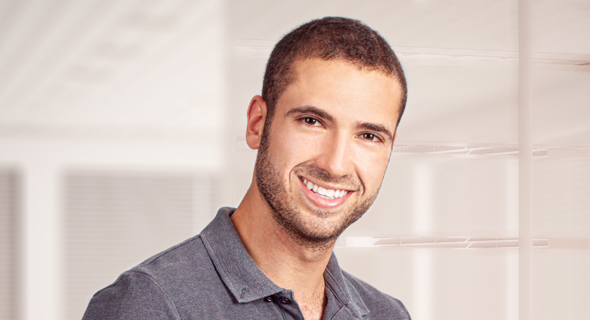 Michael Matias. Photo: Courtesy
Michael Matias, Forbes 30 Under 30, is the author of Age is Only an Int: Lessons I Learned as a Young Entrepreneur. He studies Artificial Intelligence at Stanford University, while working as a software engineer at Hippo Insurance and as a Senior Associate at J-Ventures. Matias previously served as an officer in the 8200 unit. 20MinuteLeaders is a tech entrepreneurship interview series featuring one-on-one interviews with fascinating founders, innovators and thought leaders sharing their journeys and experiences.
Contributing editors: Michael Matias, Amanda Katz