Blend raises $10 million to back expansion into business localization services
Fortissimo Capital doubles its previous investment in the company, formerly known as OneHourTranslation
Tel-Aviv headquartered BLEND (formerly OneHourTranslation) announced on Wednesday that it has raised $10 million from existing investor Fortissimo Capital, which decided to double its investment following a year of strategic expansion reflected in the company's new brand and offering. BLEND, which marked its rebranding on Tuesday, leverages OneHourTranslation's AI-driven language technology and access to 25,000 translators to help global brands establish a native presence across the globe. Fortissimo's first $10 million investment in the company was in 2014.

BLEND's strategic transition is led by newly appointed CEO Yair Tal, who joined the company after serving as Senior Vice President, Head of Payoneer Enterprise at Payoneer, a leading cross-border payment platform.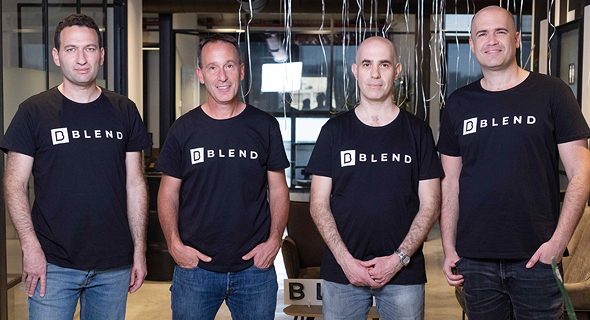 BLEND's managment team: Liron Libman (left), Yair Tal, Yaron Kaufman, and Oren Yogev. Photo: PR

BLEND helps brands localize their business offerings based on its understanding of local context, culture, and consumer behavior. The company provides customers with a platform that offers localization services such as content translation and transformation, global marketing, regulatory services, and more.

The company, which was founded in 2008 by Liron Libman, Oren Yogev, and Yaron Kaufman, currently employs 200 people, half in Israel and the rest in its Los Angeles, Shanghai, Kiev, and Bucharest offices.

BLEND's technology stack includes custom integrations with Google Cloud Translation, Amazon Translate, ModernMT, SYSTRAN, KantanMT, DeepLPro, and other neural machine translation (NMT) engines, as well as a wide selection of TMS integrations and customized API driven workflows.

"We're introducing BLEND to empower enterprise companies to become natively local, and blend into new markets in order to truly stand out. BLEND serves as a partner in helping midsize to enterprise companies make that 'glocal' transition. The ongoing support of our investors and loyal customers, along with the new funds, allow us to address the growing demand for localization services and accelerate our growth both organically and through acquisitions," Tal said.

"The impressive and ongoing global growth of the company, alongside the strategic vision led by the new CEO Yair Tal, have led us to decide on an additional investment that will keep positioning us as BLEND's primary investor," Yuval Cohen, a founding partner at Fortissimo Capital, noted.