Identiq raises $47 million series A with investments from Amdocs and Sony
The Israeli cybersecurity startup has developed a solution in which it enables companies to jointly validate consumer identities, payment details and other sensitive information without sharing or exposing any private data
Israel's cybersecurity sector continues to surprise with its prowess and global demand, with Identiq, which has developed an Anonymous Identity Validation Network, announcing on Wednesday the completion of a $47 million series A funding round. This is one of the largest series A rounds for an Israeli company and comes on the heels of Calcalist's report that three more Israeli cyber companies are set to become unicorns with valuations of over $1 billion.

Unlike other companies that looked to raise significant sums from day one, Identiq has been working on developing its product and building its client base since its seed round in 2018. The current round was led by Insight Partners and Entrée Capital with additional participation from Amdocs, Sony Innovation Fund by IGV, and existing investors, including Vertex Ventures Israel, Oryzn Capital and Slow Ventures. The company raised $5 million in its seed round at the end of 2018.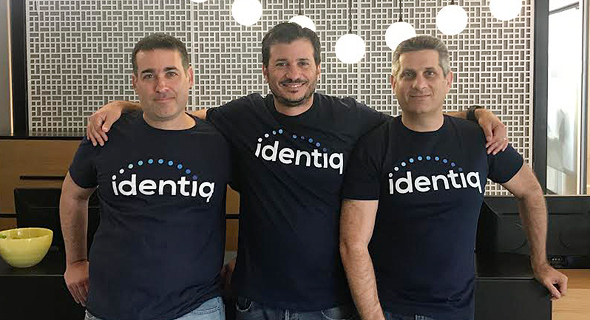 Identiq co-founders Ido Shilon (from left), Itay Levy and Uri Arad. Photo: Courtesy
When asked whether the company intends to follow up with another funding round the way other cyber companies have done, CEO and co-founder Itay Levy said: "We aren't thinking of another quick funding round. I don't work at raising money. We talked to a few funds and closed this round quickly."
Identiq has come up with a solution for user verification, one of the biggest issues online. How, for example, can Airbnb or Uber know that a person who booked a room or ordered a ride is actually genuine? Most of the current solutions require companies to divulge personal information of users in order to verify them, which harms their privacy.
Identiq has developed a solution that enables companies to jointly validate consumer identities, payment details and other sensitive information without sharing or exposing any private data.
"We aren't a classic cyber company and we are not yet a unicorn. We need this money only to support our clients. We are overwhelmed with just our existing clientele," Itay Levy told Calclaist. "We help companies to verify their users. At the moment, a company can't really verify the identity of its users, which is something that can prevent fraud. This is a massive market. The biggest difference between us and the competition is that we don't hold any information and aren't exposed to any details and we allow the companies to complete the verification process themselves without the information ever leaving the company."
Levy explained that by taking third-party data providers out of the equation, companies can leverage the consensus of other network members, delivering a seamless onboarding experience to known trusted users while keeping out bad actors.
Identiq was founded in 2018 by Levy, along with Uri Arad and Ido Shilon. The company has 20 employees and plans to expand its workforce to 80 employees by the end of the year. This is the third company Levy has founded, while Shilon led the Israeli R&D center for the Nielsen company before he left to establish Identiq. Before that he was the Director of Engineering at LivePerson. Arad, Identiq's VP Product, was previously the Head of Analytics and Research at PayPal's risk department.
"Identiq has reached critical mass, and we are excited for the network effect that will continue to accelerate its rapid growth," said Jeff Horing, Insight Partners co-founder and Managing Director, who will be joining the Identiq board of directors. "Insight Partners has a history of backing category-defining companies, and Identiq has all the makings of one. They are already enabling the largest companies in the world to collaborate in fighting fraud and solving the most complex data and privacy issues. We look forward to utilizing our ScaleUp engine, Onsite, to help Identiq scale their go-to-market and product initiatives."
Many leading companies have already voiced their support for the solution. Gen Tsuchikawa, CEO and Chief Investment Officer of Sony Innovation Fund by Innovation Growth Ventures (IGV), said "Identiq's innovative approach to identity validation is disruptive for consumer-facing companies, that need to keep fraudsters away but want to enable frictionless customer experiences, while safeguarding users' private data. We are excited to support Identiq's unique vision going forward."