Israel's Hailo collaborates with AWS and others to launch video analytics solution
EdgeTuring is the result of a collaboration with Leopard Imaging, Socionext, and Amazon Web Services
Hailo, an Israeli AI chipmaker for edge devices, has collaborated with three different companies to deliver EdgeTuring, a next-generation AI processing solution for video analytics. The collaboration includes Amazon Web Services, one of the world's most adopted cloud platforms; Leopard Imaging, a provider of embedded camera design and manufacturing; and Socionext, a provider of system-on-chip (SoC) solutions for image and video systems.

EdgeTuring will combine the expertise from each entity to help produce high quality and high energy efficiency for AI inference nodes, which will help benefit a variety of applications in smart retail, smart devices, industrial automation, and more.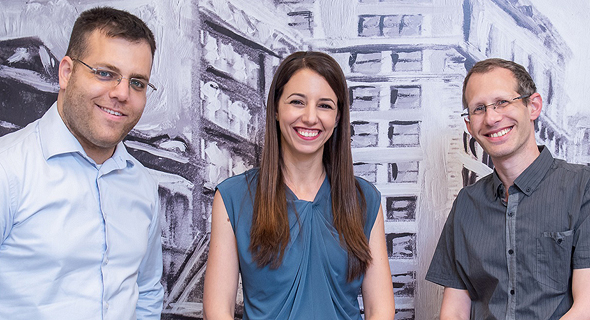 Hailo's founders Orr Danon, Hadar Zeitlin, and Avi Baum. Photo: Eran Tayree

"We are excited to work with Leopard Imaging, Socionext, and AWS to bring unprecedented AI-based products to the edge market," said Orr Danon, CEO and Co-Founder of Hailo. "As demand for AI at the edge grows, our innovative AI processor and acceleration modules, together with the solutions created by these industry leaders, will help usher in a new generation of AI that is more powerful, more scalable, and more cost-efficient."

Part of the technology involved in EdgeTuring is Hailo-8, launched last year to enable customers to integrate high-performance AI capabilities of 26 Tera Operations Per Second (TOPS) into devices on the edge. This provides a more flexible solution for a wide variety of deep learning-based applications. According to comparisons with competitors, Hailo-8's average Frames Per Second (FPS) was 26 times higher than normal benchmarks in the industry.

The world of AI is developing in such a way that it has started to rely on AI computing solutions from broader markets to work together to achieve low-latency, fast processing solutions. EdgeTuring will also use Socionext's SC2000 image signal processor and Leopard Imaging's high-definition camera products. AWS will provide the coverage, connected by high throughput, highly redundant networking which will allow EdgeTuring to combine both edge and cloud computing to achieve more functions.

Hailo was founded in 2017 by Danon alongside Hadar Zeitlin and Avi Baum, who serve as CBO and CTO respectively. It is developing a microprocessor designed to deliver data-center performance to edge devices through deep-learning applications. Its processor can fit into smart devices in multiple industries, just as smart cities, retail, and automotive. Hailo has raised $86.3 million over four rounds and one grant.