HR Post Covid
For Upstream, Covid-19 showed everyone their personal side
Kids, pets, and house chores - just another day at the office when you work from home. Here's how Upstream Security managed the Zooms
"Having work Zoom sessions from home fostered different interactions and relationships between team members," explained Upstream Security Head of HR, Chen Arad. "We saw everyone's personal side; the children, the house, the pets. While it took time and was a struggle to adjust to the new reality, the new form of work offered a more balanced approach to life and allowed many Upstream employees to spend valuable time with their families."
Working from home alongside their personal responsibilities never hindered the performance of employees or the company at large. According to Arad, the "new reality also built a more goal-oriented atmosphere at the company. The engagements between people were more focused, more planned, better executed; more than ever before, everyone in the company had to use their time wisely."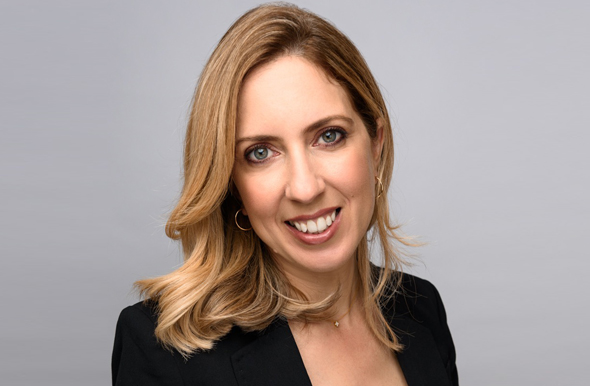 Chen Arad, Head of HR. Photo: Yarden Baider

Upstream joined CTech for its HR Post Covid series to share how blurring the lines between home and work sometimes isn't all bad.

Company Name: Upstream Security

HR Leader: Chen Arad, Head of HR

Field of Activity:

Upstream Security offers a cloud-based automotive cybersecurity and data analytics platform purpose-built for connected vehicles and smart mobility services. Upstream's platform fuses machine learning, data normalization, and digital twin profiling technologies to detect anomalies in real-time using existing automotive data feeds. Coupled with AutoThreat Intelligence, the first automotive cybersecurity threat intelligence feed, Upstream provides unparalleled cybersecurity and data-driven insights, readily available and seamlessly integrated into the customer's environment.

Upstream Security is privately funded by Alliance Ventures (Renault, Nissan, Mitsubishi), Volvo Group, Hyundai, Nationwide Insurance, Salesforce Ventures, CRV, Glilot Capital Partners, and Maniv Mobility.

Number of employees/location: 52 employees in Herzliya, Israel, 58 in total.

Professional background of HR Manager:

I started my human resources and recruitment journey at Intel while in my second year of studying behavioral science and management. There, I had a unique opportunity to learn about recruitment processes and human resources in a large organization and get to know Israel's high-tech industry.

This experience led me to focus on the very human elements within the recruitment process and recognize the importance of approaching HR through the lens of behavior and culture. This desire to connect with the people I worked with, and to be able to touch on all aspects of HR, led me to shift from working in larger corporations to pursue a career helping startups succeed and grow.

So far, I have been working in global high-tech companies and startups for more than 14 years and have vast experience in HR leadership roles. I've successfully managed HR aspects in rapidly growing and changing global companies, helped build organizational structure, and established global recruitment strategies and processes. I joined the Upstream team amid the coronavirus outbreak. Especially during this challenging time, I was thrilled to take upon myself the mission of leading the company's HR structure and recruitment.

On a scale of 1-10, how much did the coronavirus pandemic disrupt operations at the company?

If one would look at it merely from a business point of view, Upstream's activity throughout the Covid-19 period has successfully grown in various aspects. The company is growing extremely fast, it has completed a full round of employee recruitment, expanded its series B funding round, and signed massive customer deals.

I believe that companies are made up of the people who work there, namely the employees, managers, and team members. The coronavirus pandemic disrupted each of our employees' and managers' lives just as it disrupted the lives of everyone in the world. Over half of the Upstream employees are parents who needed to juggle between their familial duties and being at home with their children while finding a way to keep working and grow within their career. While challenging, this new reality created many positive outcomes. At-home work-related video sessions sometimes allowed for different interactions with team members' families and a new closeness that didn't exist before.

This flexibility and understanding of the new demands beyond the daily workload were understood all the way up through Upstream's executive level. Upstream's executives are all not only very experienced and professional, but they are also parents themselves. They set a personal example and a personal commitment to recognizing the complexity of integrating a work-from-home balance while caring for children and continuing to work effectively.

What interesting technological tools do you use in employee management/recruitment?

We are a technology company and as such, value any aid that technology tools add to efficiency. For team management, we actively use Slack, Monday, and other communications and tasks management tools.

For recruitment, we also use some great recruiting management systems to curate and organize all of our applicant data, but I also understand the importance of balancing between technological tools and human interaction:

We personally read all the resumes that come to us through the various channels because we believe that the examination of suitability requires also a person's attention.

What positive and/or negative impact did the outbreak have on the human capital of the company?

The shift to working from home, the leading disruptor at Upstream, could be seen as a negative; however, the managers and team-members at Upstream quickly learned how to maintain good communication despite the less-than-ideal situation and shift the perceived difficulty into a positive outcome.

Having work Zoom sessions from home fostered different interactions and relationships between team members. We saw everyone's personal side; the children, the house, the pets. While it took time and was a struggle to adjust to the new reality, the new form of work offered a more balanced approach to life and allowed many Upstream employees to spend valuable time with their families.

The new reality also built a more goal-oriented atmosphere at the company. The engagements between people were more focused, more planned, better executed; more than ever before, everyone in the company had to use their time wisely. The pandemic helped us learn how to act in a more focused way and more productively, allowing for high output and successful outcomes for such a difficult period.

What are the two major challenges you are coping with these days?

Upstream operates at an extremely professional level within the fields of cybersecurity and automotive. Our employees are the most qualified in the field, and as such, we are looking for the highest level of candidates. Because we are massively growing, need to recruit for particular roles in two very niche spaces, and have the compounded challenge of not meeting face-to-face, it takes time to find the right people and engage them in the company when they start working. Even with the difficulties presented because of the pandemic, several team members contacted me with positive feedback on their efficient and effective company integration process.

The other challenge we're facing on a daily basis is the lack of the physical element of meeting everyone, at the same time, face to face. We miss our after-lunch basketball games, we miss our office snacks, and we miss the coffee hangouts in the central area.

Another outcome of this situation was that while in previous years, we hosted the annual sales kickoff event in our beautiful offices in Herzliya, Israel. We flew all of the global team-members in from abroad, planned in-person dinners and activities, and had a physical air of collaboration in the office.

This year, we had our SKO on Zoom where we were challenged to maintain a similar energy level within the team. While we sent cocktail sets to team members' homes, had a bartender teach a Zoom class, and participated in an online escape room, if I had to choose, I would still choose to be able to host events face to face.

Are you actively recruiting? If so, what is the process and where can the applicants find you?

Yes, we are actively recruiting. We have more than 30 positions open. Our job descriptions can be found on LinkedIn, Glassdoor, our Upstream career page, and on all of our social networks.

At Upstream, we place great emphasis on the recruitment experience of the applicants. It's essential that every candidate, even those who are not suitable for the position, will nevertheless experience a positive, dignified, and professional process.

As part of the recruitment process, we bring final candidates to meet with the actual Upstream teams that they will work with or manage. It is crucial that the candidate integrates and interacts well with their colleagues and team members. The match must be between the two parties and not just on the part of the recruiter. I see the positive impact of this process on how new employees integrate into the company and how new team members quickly feel connected to the organization in a relatively short period. In times like these, when the work is remote, pointed and diligent recruitment has a significant impact on Upstream's success.

Which changes forced upon you by the circumstances will stay in place after Covid-19 is over, and which are you most eager to revert back to normal?

Throughout the pandemic, we learned more about recognizing and appreciating our employees' different lives and personalities. While some team members loved working from home, others couldn't and would occasionally come to the office, which operated according to the strict rules of the "purple standard."

Understanding the different employee dynamics and maintaining work-from-home flexibility is something that we'll maintain beyond the pandemic. Over the past year, we've recognized that a home-office does not hinder productivity and professionalism, and we better understand the importance of a work/family balance.

However, we are looking forward to bridging some of the (mandated) physical distance between our employees with some more in-person social meetups and events of the company as soon as it is deemed safe.