The 26-year old Israeli who landed a $20 million exit from his Amazon store
The flourishing of the e-commerce sector has boosted the revenue of third-party sellers on Amazon's platform and generated an enormous wave of mergers and acquisitions. Hundreds of Israelis now hope that the brand that they have set up and managed from their living room sofa will lead to an exit worth tens of millions. At least until Amazon itself puts an end to it.
In the midst of the Covid-19 crisis, Y, a 26-year-old from central Israel recorded his first exit for a cool sum of $20 million. This is not another story about a graduate of an elite army technology unit or a top university, who developed a revolutionary technology. Y didn't develop anything. He was discharged from the army before completing his national service due to injury, and he never studied at university. The business that he founded himself, and which had only three employees at the time of the exit, was an Amazon store selling household goods.

Amazon's secret industry

Y is part of an industry that has gained huge growth over the past year but is still flying under the radar - the purchase of goods on Amazon. Just like in the case of brick-and-mortar stores, small shop owners still make up the vast majority of sales on Amazon. In 2020, third-party sales (external seller platforms S.S.) totaled $300 billion, up 62% from 2019. These are analysts' estimates because Amazon itself does not segment the numbers. Direct sales by Amazon in 2020 totaled $190 billion. Two million vendors and sellers currently operate on its massive platform and estimates are that 30,000 of them have annual revenue of more than $1 million. Those vendors represent a new target market for mergers and acquisitions activities, into which the big U.S. investment funds have entered.

At the start of February, a U.S. company called Thrasio raised $750 million for future mergers with Amazon sellers. This field, which is simply called Fulfillment by Amazon (FBA), is actually the logistics services that Amazon provides to small sellers. In the information presented by the company about the financing round, which was completed at a company valuation of $4 billion, it mentions that over the past two months, it has purchased $1.5 million of daily income. Each week, Thrasio signs two to three deals of the kind that was signed with the Y and to date, it has purchased close to 100 companies. Thrasio was founded in 2018 and today it owns 14,000 items, which yield annual sales of $500 million and net profit of $100 million.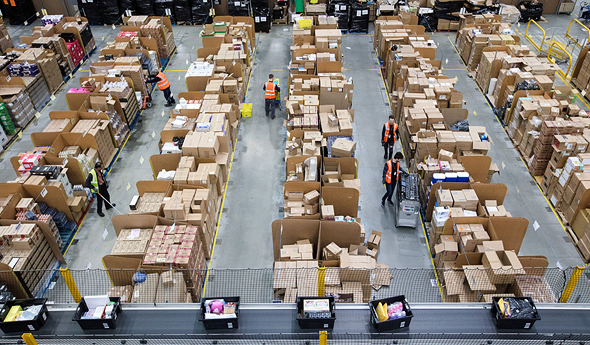 An Amzon logistics center in the UK. Photo: Bloomberg
"Since mid-2020, during the peak of the Covid-19 crisis, more than $2 billion has been allocated for acquiring Amazon stores, and in recent months we have seen investment funds take an interest as well as brick and mortar stores seeking an online presence," says Michal Baumwald Oron, CEO of Fortunet, one of the few investment banks specialized in the e-commerce market, worldwide. Fortunet provides end-to-end services to mid to large amazon sellers, helping them to cash in on their businesses. Oron, a veteran commercial lawyer that held senior managerial positions in international companies, founded Fortunet together with Adv. Yael Cabilly, who specializes in settling disputes with Amazon and with Omri Zaltzman, an experienced online marketer, entrepreneur, and accountant; Fortunet's team of 15 professionals has already supported various deals this year, including the one involving Y, and according to Oron, they are currently supporting more than 30 other deals in Israel and abroad.
Fortunet estimates that there are currently between 15,000 and 18,000 active sellers on Amazon that engage a second layer of tens of thousands of service providers such as accountants, programmers, digital advertisers, and couriers. About 400 of these stores have revenue of $1 million or more and are candidates for acquisition, whereas no fewer than 40 such businesses were sold in the past two years. According to Oron, the oldest of these store owners is nearly 30 years old, but she has also encountered 19-year-olds who have sold their business for $5 million, primarily since the Covid-19 pandemic, which has brought about a quantum leap in global e-commerce. In China, for example, online sales in 2020 made up half of the overall retail sales in the country, while in the U.S. alone less than 15% of total sales were conducted online, amounting to $860 billion for the year.
Finding the right product
For Y, Covid-19 only improved the business. "I reached the conclusion that I wanted to sell the store in order to ensure my economic security and I looked for buyers. In February 2020, I was already on the verge of signing with an Israeli investor, but then there was the Covid-19 outbreak and the deal fell through. Several months went by and then an American company came along that had raised money especially for an FBA acquisition and I received a much higher price from them," he told Calcalist.
At the time of the sale, his store was already selling a range of 20 products with profits of millions of dollars. He had originally hired one employee in the Philippines who helped him with logistics with the manufacturing plant in China and in 2019, he hired two other employees in Israel.
How do you reach such a scale of activity with so few workers and without having to leave your home?
"When I was discharged from the army, I knew that I would be involved in the online world because I earned my first shekel, when I was 12 from Google ads, so I knew the field a little bit. I began at 21 with an FBA store importing one product from China to the U.S. under my private brand. But the first product was a type of failure. Even though I sold all the units, I didn't really earn anything. Then I researched the market and the competition a bit more and I brought three more products in the household sector that began to go quickly. I put every dollar I had back into my inventory of new products and between 2017 and 2020 the business grew threefold."
According to Oron, the acceptable pricing for an FBA business is a multiple of 3.5 to 5 of annual profit for a business with revenue of more than $1 million. Profit in this field is called sellers discretionary earnings, which is a kind of the equivalent of EBITDA, in other words, profit before tax and deductions. When it comes to aggregators, meaning companies that roll out multiple stores, this is a modest multiplier and they tend to invest more in advertising after the purchase in order to increase growth and bring in higher profit margins.
Fortunet CEO Baumwald Oron. Photo: Orel Cohen
Competition to get on the first page
What do these businesses actually sell? The most valuable and strategic asset of a successful Amazon store is its listing, which is a combination of good reviews, service, and scale of activities. The most significant challenge is the large selection of similar, if not identical, items that exist on the platform. Almost every search word will generate hundreds of results and in the case of many popular items, a big part of them are very similar to each other. Statistics reveal that the average buyer won't browse far beyond the results that appear on the first page, and the position on the first page is the result of investment in advertising and of good customer reviews.
"First of all it's important to understand the hierarchy of Amazon stores," says Oron. "The most basic activity is by re-sellers, people who don't manage inventory but send products per order. These people are generally of no interest to the FBA buyers because that is a world that is gradually disappearing. They also have the most disputes with Amazon and red flag alerts due to sales of fake products. At the higher end of the hierarchy there are the largest amazon stores and operators that offer a large number of products," she explains. "But the most interesting niche for mergers are the private label stores, working with the FBA method. If you own a brand, nobody can join your listing and sell under the same brand, meanwhile, if you are selling Nike shoes, for example, you're constantly fighting against all of the Nike re-sellers over the same customer reviews. Private label stores sell everything from blankets to household items, computer equipment, and sporting goods to cosmetics. They identify ahead of time what is the right item to sell, find a good niche that doesn't have much competition, or alternatively, a very competitive niche in which the seller has a particular advantage. Occasionally sellers will add an element of innovation, even in the design of the product. There are even some sellers who register a patent." These store operators pay Amazon a fee on every sale and for handling logistics, which can amount to between 20% and 40% of turnover.
In the vast majority of cases, the manufacturing of these items is carried out in the far East. With a 'private label,' the brand owner develops together with the factory in China, some innovative or distinguishing element for the brand. The Anker label, set up by a former Google engineer Steve Yang, is a success story and great inspiration. Yang built a prototype of a high-quality, fast smartphone charger, found a good manufacturer in China, founded an Amazon store, and the rest is history. Anker is today traded on the stock exchange in Shenzen, with a market cap of $10 billion.
A CEO in pajamas
One of the unique features of the sale of Amazon stores is the veil of secrecy that surrounds them. One of the reasons for this is the competition and the fact that no complex or unique technology is required but for the most part, it is a product that is easy to imitate. "The brand is the big secret," says Oron. "All the products sold on Amazon are public and discoverable but nobody wants it to be known exactly what they're selling. Of course, the company that is acquiring the store conducts due diligence on the seller's business, but the seller for their part won't necessarily know exactly what's being sold in the purchasers' other stores. Even in the many Facebook communities dedicated to Amazon sellers, where the sale of Amazon businesses is commonly discussed, everyone keeps the products they sell and their selling methodologies secret."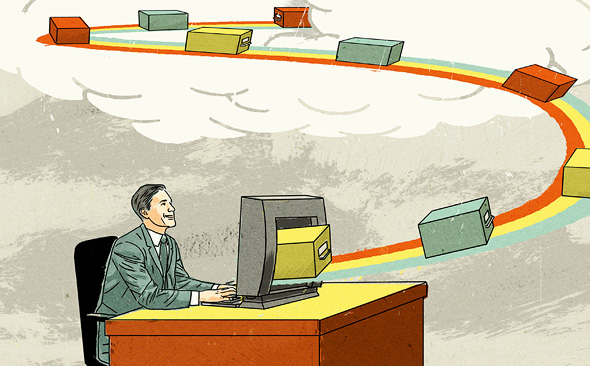 An illustration of an Amzaon reseller by Thomas Kuhlenbeck
The second reason for secrecy is probably because of Amazon itself, which according to its regulations does not allow the transfer of FBA store ownership without resetting their history, in other words erasing user reviews and ratings, which is exactly what gives the store its value. Amazon itself competes against these small stores and therefore it is beneficial for it to keep them as such. The history of the retail giant is full of stories from sellers about attempts by Amazon to sabotage their sales in order to promote its own brand. Whether this is by offering particularly competitive prices or producing an identical item. An investigation by the "Wall Street Journal" last April revealed that Amazon uses data on independent sellers in order to develop rival products.
Both Y and Oron say that Amazon is aware of the merger mania still approves transfer of account ownership. Oron indicates that of the overall deals completed by Fortunet, totaling around 50 so far, Amazon's approval for the transfer of the accounts was requested and obtained.
So far, according to Oron, the most in-demand asset is a store with good ratings."Even if you have sold a lot, it doesn't mean that you will get a lot of reviews and that is a major challenge in creating a valuable brand on Amazon," explains Oron. "The most successful sellers know how to generate these reviews through customer service, price, and inventory management. An Amazon seller can be sitting at home in his pajamas while functioning as the CEO and overseeing the 360-degree operations of the business."
According to Oron, the fact that the business tends to be a one-person operation is also the reason for the constant desire to sell it. "There are two dynamics that happen in most FBA stores," she says. "The internal one relates to the founding of the business from zero. You are by yourself and there is a limit to how much you can grow the business all alone. I have seen marketing geniuses that have developed a product together with a factory in China but they too have understood that they have reached a glass ceiling, as a one-man show, at a level of around $30 million. The second dynamic is an increase in competition: the market becomes more competitive and difficult, with the permanent fear of being red-flagged by Amazon. The consolidation process that is currently taking place is a wave that feeds itself because the competitors are no longer individual sellers like yourself but huge organizations with deep pockets. The buyers for their part understand that there is an opportunity now because the combined assets are worth more than the sum of their parts and it is possible to grow a store to a different scale. There are already aggregators rolling up FBAs and thinking about an IPO in the future," explains Oron.
Talking about himself, Y said that he wanted to sell the store in order to buy a home, but that he is not quitting FBA. "I am now building a much bigger platform. I already have 22 employees in four Amazon stores and a monthly turnover of $2 million. According to my business plan, I am supposed to reach $100 million annually within three years and in this case, I don't have to sit at home on the computer for 14 hours a day as I did during the first two years of my first store because I have already gained knowhow in locating and launching new products. In the future, I think that I will also start buying other people's stores myself."
And what about Amazon Israel? The local commercial activities that were set up with great fanfare just over a year ago have not shown signs of coming to life and Y knows why. It is contained in those three letters - FBA. As long as there isn't an Amazon logistics center in Israel, there is no substance to setting up the local site because shipping still has to come from outside Israel's borders.