Mazor Robotics founder is at it again, raising $10 million in seed round for new startup ForSight Robotics
After a $1.6 billion exit with Mazor, Professor Moshe Shoham has his sights set on revolutionizing eye surgery
Israeli startup ForSight Robotics, which develops a surgical robotic platform for eye surgery, announced on Tuesday the completion of a $10 million seed round led by Eclipse Ventures and joined by Mithril Capital.
The company was co-founded one year ago by Professor Moshe Shoham, who will serve as its chief scientist and previously founded Mazor Robotics Ltd., which was acquired by Medtronic in December 2018 in a $1.6 billion deal, Dr. Daniel Glozman (CEO) and Joseph Nathan (CBO). The company currently employs 15 people.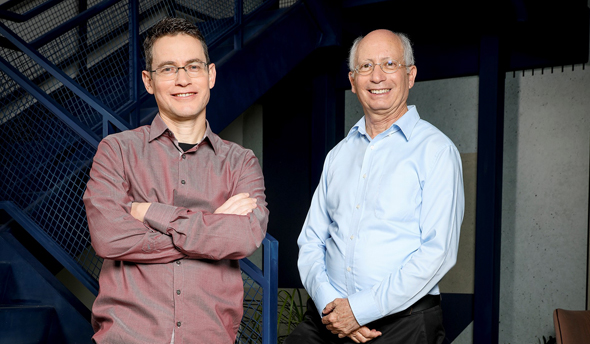 ForSight Robotics co-founders Professor Moshe Shoham (right) and Daniel Glozman. Photo: Kfir Ziv
ForSight's aims to apply the most advanced technologies in microsurgical robotics, computer visualization and machine learning for ophthalmic surgery (a branch of medicine and surgery that deals with the diagnosis and treatment of disorders of the eye). The platform will automate the complex subtleties of ophthalmic surgery with an intuitive, patient-centric system that tackles the profound and growing problems of preventable blindness and visual impairment.
Technologically, ForSight's robotics will provide unprecedented dexterity and maneuverability with six degrees of freedom, and the capability of executing intricate tasks with microsurgical instruments. The platform will ensure the continuous improvement of surgical technique and exceed human surgical capabilities with more precise movements of only a few microns.
"Our goal is to democratize this highly sophisticated procedure, enabling patients around the world to easily access the treatment that can restore their vision," said Dr. Glozman, who previously headed R&D at Medtronic Ventor Technologies, Magenta Medical, Diagnostic Robotics, and Guide-X — which he also founded.
ForSight is supported by a distinguished group of accomplished peers in the field. Members of ForSight's strategic advisory board are: Dr. Fred Moll, co-founder of Intuitive Surgical Inc. (valued at over $80 billion) and Auris Health Inc. (sold to Johnson & Johnson for up to $6 billion), Rony Abovitz, co-founder of Mako Surgical Inc. (sold for $1.6 billion to Stryker) and Magic Leap Inc., and Ajay Royan, co-founder of Mithril with renowned entrepreneur Peter Thiel.