Israeli ridesharing company Via bolsters offering with $100 million acquisition of mapping startup Remix
San Francisco-based Remix has developed a technology that helps cities plan their transportation routes, operating in over 350 cities in 22 states
Israeli ridesharing company Via Transportation Inc. is acquiring mapping software maker Remix in a $100 million cash and equity deal. The purchase will allow Via to integrate a unique set of capabilities to help and support its user base, including research and mobility tools, advisory services, timing and optimization for public transport, design and street planning capabilities, and more. San-Francisco based Remix employs around 60 people who will be integrated into Via's workforce.

Via co-founder and CTO Oren Shoval told Calcalist that this was a good deal for both parties, saying it was a classic situation in which the whole is greater than the sum of its parts.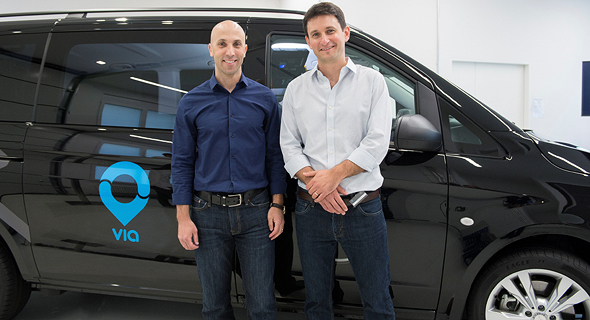 Via co-founders Daniel Ramot (left) and Oren Shoval. Photo: Courtesy

"Remix has income and many clients to which we can offer additional services and expand our product," said Shoval. "We are focusing on our technology and on building an excellent product. There are many opportunities here to offer a very broad product to existing clients and potential clients. Via currently mainly works with public organizations. We have a pretty broad business offering, from providing technology for public transportation services to setting up an entire operational system.

"At the beginning of our road we approached many municipalities with offers to use our technology and we encountered skepticism. But it is now clear in which direction the world is heading," added Shoval. "Initially, we set up the services ourselves to display the advantages of our system. Over recent years, and especially over the past year, cities are realizing the potential of our technology when it comes to public transport. There are new tenders going out, and an openness for a technological shift among the executive ranks that will completely change their operational system."

Remix, which was founded in 2014, has developed a technology that helps cities plan their transportation routes. It currently operates in over 350 cities in 22 states and plays an integral role in hundreds of municipal projects.

Via, which raised more than $400 million last March at a company valuation of $2.25 billion, acquired Tel Aviv-based car fleet management startup Fleetonomy Ltd. last September in a deal estimated to be worth several tens of millions of dollars.

Founded in 2012 by CEO Daniel Ramot and Shoval, Via operates transportation services in over 100 locations and more than 20 countries, including in Europe where it is better known as ViaVan, offering various modes of operation in different places, including on-demand shuttles and ridesharing services. Via and ViaVan cooperate with more than 100 public transportation providers, private transit companies, taxi fleets, corporate shuttles, and school and university transport services. In Israel, it is available through the Bubble Dan service in the Tel Aviv area, and last year Jerusalem started operating a Bubble-like service that also uses Via's platform.

Via's end technology is based on unique algorithms, which solve complex mathematical, computational and operational problems and match up in real time the routes of the vehicles to the needs of passengers while calculating the large number of variables such as the traffic situation, the orders from the people who are traveling and the destinations that they want to reach.