Optibus raises $107 million in series C round to help modernize public transportation
The company's system helps coordinate and operate public transportation using artificial intelligence. Funds to be used for expanding global presence and improving mass transit
Israeli startup Optibus, which has developed a cloud-native AI platform for planning and operating mass transportation, announced on Wednesday that it has raised $107 million in a Series C round, co-led by Bessemer Venture Partners and Insight Partners. The funding comes as Optibus launches its Geospatial Suite, which significantly improves transportation networks and transit equity through the use of data-driven planning.

Since its founding in 2014, the company has raised $160 million.Optibus chose to not publicize its company valuation, but noted that it had quadrupled since the previous round. The funding was conducted mainly in equity including through secondary shares acquired from veteran investors. Existing backers including Verizon Ventures, Dynamic Loop, New Era Capital Partners, Pitango, and Blue Red Partners also participated in the round. While internet giant The Alibaba Group participated in previous rounds, it chose not to join the current one.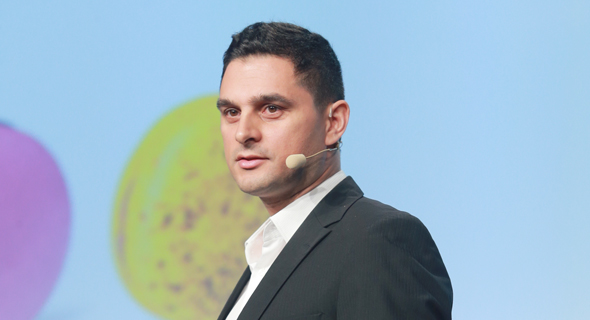 Optibus CEO Amos Haggiag. Photo: Orel Cohen

"We are seeing significant growth and are growing annually at a very high rate, nearly doubling in size every year. We have increased our revenues six-fold since the previous round," Optibus co-founder and CEO Amos Haggiag told Calcalist.

Optibus leverages a robust combination of artificial intelligence, advanced optimization algorithms, and distributed cloud computing to make public transportation smarter, better and more efficient, and nourish freedom of movement in sustainable cities. It coordinates bus lines, bus times, the number of buses and drivers as well as the entire operation.

"We are transitioning from a manual world to an artificial intelligence platform which replaces human decisions to data-driven ones," Haggiag said. "Today, the company has over 100 customers in 450 cities. In the U.S., a third of the transportation companies rely on Optibus, as well as a significant number of cities in Europe, and the U.K, while the rest are located in Singapore, Australia, Brazil, New Zealand, and Israel," he said.

It's not only transportation companies that use Optibuses' services, so do a large number of tech companies in Silicon Valley, such as Apple, Facebook, and Amazon, who rely on Optibus' technology to plan hundreds of thousands of their employees' travel routes and shuttles.

Optibus' impressive investment round gained additional momentum during the pandemic. "The pandemic severely damaged the public transportation sector, and companies lost 80% of their customers - not only in Israel where the condition is relatively decent - but worldwide where several countries have yet to return to normal. The pandemic significantly damaged their revenues, and many drivers were furloughed and haven't yet returned to work," Haggiag said, adding, "our industry didn't benefit from the pandemic but we managed to unexpectedly flourish. Originally, we were pessimistic since our customers suffered, but existing ones used our product twice as often during this trying period. As a result of the pandemic, we've had to make several changes in public transportation which aren't standard, such as canceling entire lines, lowering the frequency of certain routes to schools, and increasing those that travel to hospitals and immunization centers. Those aren't simple changes to make, especially for companies that operate many standard rotes and shuttles." As a result, demand rapidly rose for us to implement these changes quickly. Many who were forced to work remotely asked to connect to our system, because it enabled them to coordinate and operate bus lines without coming into the office."

Optibus has received many merger offers from special-acquisition companies to go public, but has so far declined. "We aren't yet a public company, but we are planning on heading in that direction because it is the suitable path for our industry. We are a vertically-integrated high growth Software as a Service (SaaS) company, and it would be the right way to exit. Our market has been technologically neglected, and places like London and Los Angeles have become accustomed to working with outdated systems that were several decades-old. I've had several conversations with SPACs, but we won't be ready until we pass the $100 million-mark in revenues," Haggiag said.

The company reported that the round comes at a time of accelerated growth, when the company's revenues leaped by 250%, despite the challenges facing public transportation around the world. Since its last round, which took place at the end of 2018, the company increased its revenues and its customers by six-fold. Optibus powers complex transit operations in over 450 cities globally, including in New York, Los Angeles, London, Melbourne, Brasilia, Hong Kong and Singapore. Customers include U.S. agencies LADOT (Los Angeles), NICE (Nassau County, New York) and AVTA (Antelope Valley, California), and two of the largest bus operators in the U.K., First Group and Stagecoach.

With the new round, Optibus will use the funding to continue expanding its global presence and enhance product capabilities such as optimization and artificial intelligence algorithms that improve mass transit for passengers while also increasing operational efficiency. Today, the company employs 150 people, and is planning to expand its fundraising efforts, and to double its workforce by the end of 2021.

The funding will also go toward accelerating the deployment of zero-emission vehicles – replacing mass transit fleets based on fossil fuels and lowering emissions worldwide. Its first developments that are aimed at optimization of electric-powered buses are already in use across England, the U.S., and Israel.

Optibus was founded in 2014 by Haggiag and Eitan Yanovsky, who serves as its CTO. In Israel, Optibus works with many of the leading public transportation companies such as Egged, Dan, Kavim, and Metropoline. Optibus has been recognized by the World Economic Forum as a Technology Pioneer (2020) and by Gartner as a Cool Vendor (2018). The company's main offices are located in Tel Aviv, where most of its R&D activity is carried out. It also has offices in New York, Chicago, Seattle, San Francisco, London, and São Paulo.