IAI and UAE's EDGE reveal first-ever open strategic agreement to develop Counter-UAS solution
The new drone-busting system set to be tailored to desert conditions, capable of employing explosives, lasers, and electronic jamming
Marking the first-ever publicized defense agreement between Israel and the United Arab Emirates, UAE-based defense technology group EDGE and Israel Aerospace Industries (IAI) announced Thursday that they had signed a Memorandum of Understanding (MoU) to develop an advanced C-UAS (Counter-Unmanned Aircraft System) solution.

The companies announced that the new solution would be tailored for the needs of the UAE and the rest of the MENA region, able to operate amid high temperatures and strong winds. The IAI said that it has not yet been determined where the system would be manufactured.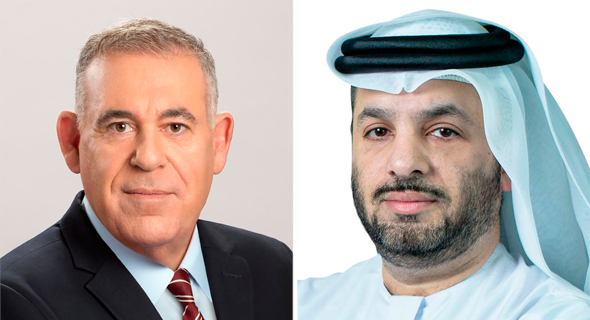 Boaz Levy (left) and His Excellency Faisal Al Bannai. Photo: IAI and EDGE

Currently, C-UAS solutions from IAI's Elta division are applied around the world to detect, identify, classify, and intercept a broad range of threats. Even though Elta also specializes in producing electronic warfare solutions, Israel prefers that its advanced capabilities in the field remain within its borders, with Belgian company SIGN4L providing that technology to the new system.

The system is set to feature optical and radar identification capabilities, the option of carrying out "soft kills" by using electronic warfare, and "hard kills" with explosives and lasers.

"IAI is proud to join forces with EDGE, to provide the UAE and the wider region with a unique and advanced solution in what is a key area of expertise for IAI," Boaz Levy, President and CEO of IAI. "We believe that this collaboration will help both companies through the transfer of knowledge and sharing of capabilities. This MoU serves as a stepping-stone for further business and strategic alliances between our countries, and will enhance cooperation for R&D and technological innovation."

"In line with the recent Abraham Accords and the UAE's newly established cooperation and spirit of collaboration with Israel, EDGE and IAI are joining forces to deal with this growing threat," said His Excellency Faisal Al Bannai, CEO and Managing Director, EDGE. "Unmanned Aircraft Systems today are a preferred solution in building agility and resilience to the emerging challenges of asymmetric warfare. As EDGE invests extensively in autonomous capabilities, our co-development of a Counter-UAS in partnership with Israel Aerospace Industries will only help strengthen our advanced technology portfolio, and partnerships in the region and internationally."

IAI was established in 1953 and is one of the largest employers in Israel. It manufactured technologies in the aerospace, naval, cyber, land, and homeland security sectors for commercial markets. EDGE is headquartered in Abu Dhabi and is an advanced technology group developing defense solutions. It is made up of 25 consolidated entities and 13,000 employees.