Analysis
Will Israel's new Digital Bank manage to shake up the sector?
Amnon Shashua plans to disrupt the banking world by offering new tech and lower prices, but it may not be enough
Israel's first new bank in 43 years was launched yesterday, with the Amnon Shashua controlled Digital Bank announcing that it was starting a pilot program with several hundreds of new clients. The pilot is set to be expanded to several thousands of users near the end of the year. The country's first fully digital bank will initially provide basic banking services and later offer stock exchange services as well.

After three years of various announcements and updates on the ambitious project, the Digital Bank is beginning to take shape. The big question is whether it will lead to a revolution in the Israeli banking sector.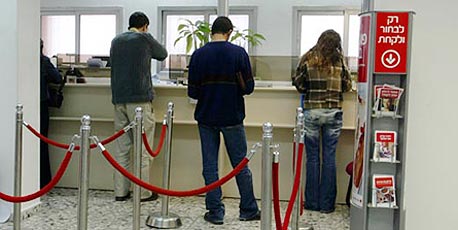 The banking sector is in dire need of disruption. Photo: Shaul Golan

"Netflix killed Blockbuster, Spotify disrupted the music industry, and Tesla left Ford and Mitsubishi in the dust. The banking industry is one of the few that still hasn't undergone a revolution. Large and old brands that control the market with little competition all offer exactly the same products," Gal Bar-Dea, the Digital Bank's CEO said in a statement yesterday. Bar-Dea may be aiming high, but it is entirely uncertain that a single bank can do to the entire banking industry what Tesla did to the automotive sector.

Even traditional banks nowadays are far more digital than they were five years ago and the Covid-19 crisis only served to accelerate their digital transformation. Recent years have seen the launch of other digital banks, such as the UK's Atom and Monzo and Germany's N26, none of which rattled the sectors they operate in too much. Apparently, because the banking sector is more sophisticated and definitely more regulated than other sectors.

The first way to disrupt an existing market is through pricing. Digital banks are in many cases indeed cheaper than traditional banks in terms of commission fees, but in most cases struggle to offer significantly more affordable prices on things like loans or deposits because unlike other sectors, banks are subject to strict regulations when it comes to capital demands that limit players in the types of market-shattering prices they can offer.

A digital bank's main advantage is in its relatively leaner expenditure model since it operates no physical branches and employs fewer people. That said, technological infrastructure also demands significant expenditure, and digital bank employees come from the tech sector, where salaries tend to be very high. So far digital banks have not been able to make shockwaves in terms of pricing and Israel's first Digital Bank doesn't claim to be cheaper across the board either.

One area that the Digital Bank is expected to offer substantially better prices than the traditional banks is when it comes to buying and selling shares and capital market portfolio management since this activity is considered one of the traditional banks' last remaining cash cows

Shashua's Digital Bank claims that its main drawing factor is its AI-based technology and innovation. But in this case too, they must be able to back up their claims. Digital banks all over the world, as well as some of the traditional banks, are already making use of artificial intelligence and other advanced technologies, however, there has yet to be a winning use case. Banks say that their budgeting and expenditure management offerings have not been widely adopted. The companies that have been successful in harnessing data and advanced technological capabilities are tech giants like Google and Apple, who are also taking their first steps into the world of personal finance.

One of the chief concerns when it comes to employing advanced technologies is privacy. Google benefits from being nearly completely free of oversight, allowing it to make use of customer data. For banks, things are different. It is expected that regulators in Israel and overseas will determine stricter boundaries on what banks can do with advanced data tools.

It is safe to assume that the Digital Bank will offer its clients a friendly interface, good services, and a high degree of availability, and probably recruitment benefits too. As far as revolutions go, the obstacles are higher and the jury is still out on whether Shashua's $60 million investment, which he hopes will be integrated into foreign banks too, will pay off.

In any case, there is no shortage of new developments in the local banking scene, from a credit-card database that was established two years ago, and has helped non-banking players compete for clients; the open banking reform that will provide fintech companies access to the banks' databases; and Apple and Google's digital wallets, which will grant them access to the local market, with the Digital Bank, being part of the overall shakeup. It now remains to be seen whether all the new actors will indeed be able to disrupt the market, or whether the traditional banks will be able to absorb these blows too.