20-Minute Leaders
"I didn't know I wanted to be an entrepreneur up until I started BlueVine"
Eyal Lifshitz joins Michael Matias for 20-Minute Leaders on CTech to share stories about his journey into entrepreneurship and small business banking
Though Eyal Lifshitz grew up in the atmosphere of small business ownership, he did not have a desire to start a company until he was in his 30s. When he saw the opportunity for what would become BlueVine, he was first looking at it from a venture perspective and thinking he should find a CEO for the idea. But the idea became a calling that he had to pursue himself. In the seven years since BlueVine was founded, Lifshitz has continued to see opportunities for the company to expand to fill in the gaps for small businesses when it comes to finances and banking. The company now provides a seamless, one-stop digital shop for small business banking, which has become even more important during the pandemic. In his quest to help small business owners, Lifshitz is also honoring the legacy of his father and grandfather.
Click Here For More 20MinuteLeaders
Eyal, first walk me back all the way to your pizza delivery days. What is that all about?
My first job was delivering pizzas. I did not own a computer before I was around 22. I decided to pursue a technology career back in 2000 when I started my degree in electrical engineering. I didn't really know what I wanted to do in life at the time, and high tech seemed like a good opportunity. I used to deliver (pizza to) a lot to the tech companies and found out they were engineers, and I thought, "I need to go and do this job." My pizza delivery days kind of routed me into tech.
You're a third generation entrepreneur, so tell me how that runs in the family.
My dad was a small business owner. He had a physical therapy clinic for 30 years. His dad owned a lighting and electricity store for 40 years. Small business owners want to run their own thing, so I view them as entrepreneurs by their own right. They share many of the same things that we do in startup land. In terms of running in the family, I don't know if it does. I didn't know I wanted to be an entrepreneur up until I started BlueVine. If you look at my career, it's a pretty safe journey. I stuck to larger companies, pretty strong brand names. I didn't really take any risk before I started BlueVine. The reason I started BlueVine was less so about the personal interest or draw to actually become a founder but rather the opportunity and the calling.
What is that thinking process like for a safe-journeyed technology guy to decide to start his own company?
It was an evolution. When you work in venture, you get exposed to entrepreneurship in general. Entrepreneurship is somewhat infectious. You see the excitement of people starting something from nothing, you kind of follow their journey from the outside in, and there's a lot of excitement that rubs off. Being in venture did move me closer in that direction. I realized there was an opportunity in fintech specifically in factoring. Then there was a personal passion always to evaluate and see opportunities within small businesses, and this does relate to my personal background. It was something that was always around me. Then it was like, "This needs to be you doing it. It can't be someone else executing on your vision; you need to do it." While I was 35 at the time and I did not want to be an entrepreneur until that point in my life, I thought, "If I don't do this, I'm going to regret it 20 years in the future." So I jumped in.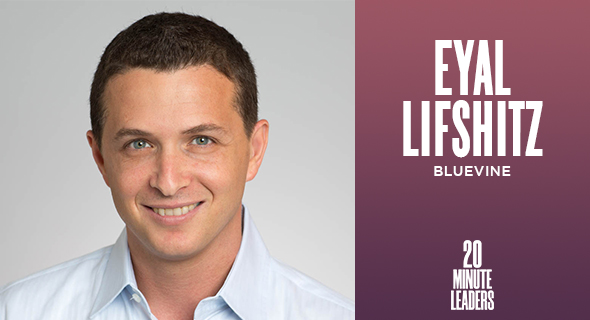 Eyal Lifshitz. Photo: Bluevine
Do you categorize yourself as a full-time entrepreneur?
I cateogrize myself as a full-time founder, yes, a full-time entrepreneur. I think when you start a company, the definitions of entrepreneur versus CEO get kind of mixed over the life of a company. I think I'm becoming more and more of a CEO as the company becomes larger.
Can you share a little more about the industry and the market of small business? What does the trend look like as we are in 2021?
I will say that the vision of the company evolved significantly from when we started. We started with a very narrow product set answering factoring, making that an online product, and evolved to providing a full range of credit products, and today we're involved in more banking. It wasn't any pivot along the way; this was a continued expansion. We realized that the real opportunity is to essentially fix small business banking as a whole. When you're referring to small businesses, broadly what has been happening in the last two decades is they've been outsourcing their financial services from their bank. That's not an ideal outcome. The ideal outcome is you can actually have a banking partner that can answer all their needs under one place and everything works together seamlessly. That is what we are doing, providing them access to everything they need under one roof and making it very easy to transact digitally. The pandemic is certainly giving us increased push for what we're doing. During this time, small businesses have been struggling and facing a lot of challenges given the ecomonic environment. So the fact that we are 100% focused on this segment and able to deliver a really great banking experience, I think, today speaks even more volume.
Eyal, I also want to pick your brain as the founder and CEO as you're transitioning slowly from being the founder toward being the CEO. What are some of the thought shifts you've had to do as a leader intrinsically as you transition your role?
It's been seven years since we started the company, and it feels like startup years are like dog years. On one hand, it feels like it was just only yesterday we started the company, but when I'm reflecting back on everything we went through over seven years, it's a lot. It feels like a lifetime. The transition is significant from starting out to, over time, growing. In the beginning, there's a lot of focus on you doing, and of course, you hire employees, but you are involved in whatever needs to be done, and there is a lot of things to be done, and you make all the decisions in the beginning. Over time, it becomes less of doing but more of making sure you have the right people in place and you're empowering them and you're creating the right organizational structures to be able to scale. It's interesting; the type of work that you do as a founder really changes every two years based on the size of the company and the general scale of it. Now it's more about providing feedback around the road map, making sure the vision is instilled with the plan that we're putting together, and obviously if I have opinions around a certain product, I make sure to voice them. But I am no longer in the driver's seat; I'm more of a coach. When you're building a company, the main thing you want to do is make sure you have really great people who are motivated and pushing forward because if you scale, you can't be everywhere.
How do you as the CEO keep yourself balanced and be sure you're doing the right thing as your role changes?
I think the way to do that is to learn from everybody around you. Learn from your investors and your board, learn from your executive team. You need to be open and vulnerable and be in a position where you're learning from people around you and you're accepting feedback. So some of the changes and evolution for me is learning through feedback. It is being in a position where you have your ears open and you're hearing what people are saying. Sometimes it's painful feedback. You can be defensive and clutch on to your previous behaviors, but then you would not grow. I think part of my ability to grow as a CEO in this company is just being open to feedback, reflecting on it, and thinking about how I can get better every day. And that is something that I do. Every week, I think to myself, "What should I be doing and what shouldn't I be doing?"
I need three words you would use to describe yourself.
Honest. Hardworking. Funny. I try to take things lightly.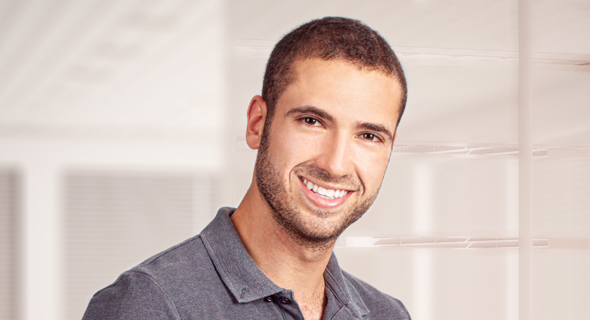 Michel Matias. Photo: Courtesy
Michael Matias, Forbes 30 Under 30, is the author of Age is Only an Int: Lessons I Learned as a Young Entrepreneur. He studies Artificial Intelligence at Stanford University, while working as a software engineer at Hippo Insurance and as a Senior Associate at J-Ventures. Matias previously served as an officer in the 8200 unit. 20MinuteLeaders is a tech entrepreneurship interview series featuring one-on-one interviews with fascinating founders, innovators and thought leaders sharing their journeys and experiences.
Contributing editors: Michael Matias, Amanda Katz