eToro officially announces $10.4 billion SPAC merger with Betsy Cohen's FinTech Acquisition
In 2020, eToro added over 5 million new registered users and generated gross revenues of $605 million, representing year-over-year growth of 147%
Israeli fintech company eToro is merging with a Special Purpose Acquisition Company (SPAC) led by serial deal-maker Betsy Cohen. The deal with FinTech Acquisition Corp. V will value the combined company at $10.4 billion. Calcalist first published on Monday eToro's plans to go public via a SPAC at a $10 billion valuation.

eToro became a member of the U.S. Financial Industry Regulatory Authority Inc. (FINRA) last year and is expected to start providing stock trading service in the U.S. in 2021.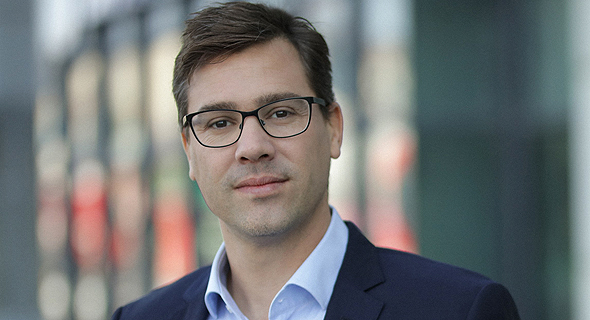 eToro CEO Yoni Assia. Photo: Dudi Hason

In 2020, eToro added over 5 million new registered users and generated gross revenues of $605 million, representing year-over-year growth of 147%. In 2019, monthly registrations averaged 192,000. In 2020, that grew to 440,000, and in January 2021 alone eToro added more than 1.2 million new registered users to the social network. In 2019, eToro executed 8 million trades per month on average. That number grew to 27 million in 2020, and in January 2021 alone eToro saw more than 75 million trades executed on the eToro platform.

eToro currently has over 20 million registered users and its social community is rapidly expanding due to the vast, and growing, total addressable market which is supported by secular trends such as the growth of digital wealth platforms and the rise in retail participation. eToro was also one of the first regulated platforms to offer cryptoassets and is well-positioned to benefit from mainstream crypto adoption.

"We founded eToro with the vision of opening the global market for everyone to trade and invest in a simple and transparent way. Today, eToro is the world's leading social investment network. Our users come to eToro to invest, but also to communicate with each other; to see, follow, and automatically copy successful investors from all around the world," stated Yoni Assia, CEO of eToro. "We created a new category of wealth management – social investing – and we are dominating the market as evidenced by our rapid expansion."

The company is expected to have an estimated implied equity value of approximately $10.4 billion at closing, reflecting an implied enterprise value for eToro of approximately $9.6 billion. The transaction includes $250 million in gross proceeds from FinTech V's cash in trust (assuming no redemptions) and $650 million in gross proceeds from a fully committed private placement in public equity (PIPE) at $10.00 per share from various strategic and institutional investors, including ION Investment Group, Softbank Vision Fund 2, Third Point LLC, Fidelity Management & Research Company LLC, and Wellington Management, that will close concurrently with the business combination. The company is expected to have approximately $800 million net cash on its balance sheet to support future growth.

Existing eToro equity holders, including current investors and employees of the firm, will remain the largest investors in the combined company retaining approximately 91% ownership immediately following the business combination (assuming no redemptions by FinTech V's stockholders).

The business combination, which has been unanimously approved by the boards of directors of both eToro and Fintech V, is targeted to close in the third quarter of 2021, subject to stockholder approvals and other customary closing conditions.

Betsy Cohen, Chairman of the Board of Directors of FinTech V, said, "As a pioneer in the evolution of SPACs, Fintech Masala, our sponsor platform, seeks out companies with outsized growth, effective controls and excellent management teams. eToro meets all three of these criteria. In the last few years, eToro has solidified its position as the leading online social trading platform outside the U.S., outlined its plans for the U.S. market, and diversified its income streams. It is now at an inflection point of growth, and we believe eToro is exceptionally positioned to capitalize on this opportunity."

Betsy Cohen also heads another SPAC currently in the process of merging with an Israeli fintech company, online money transfer and digital payment powerhouse Payoneer Inc. Payoneer announced last month that it had entered into a definitive agreement with Nasdaq listed SPAC FTAC Olympus Acquisition Corp (FTOC). Once the reorganization is complete, the merged company will begin trading at an implied estimated enterprise value of approximately $3.3 billion.

eToro's valuation has multiplied by 12.5 in less than three years, with the company raising $100 million at an $800 million valuation in 2018. Late last year, it was valued at $2.5 billion in the purchase of shares in the secondary market by a U.S. institutional investor at a sum of at least $50 million, with the unnamed U.S. firm purchasing shares from previous investors and employees. Goldman Sachs advised Etoro, and Citigroup advised Fintech V Spac.

eToro was founded in 2007 by brothers Ronen and Yoni Assia, with the latter currently serving as the company's CEO. In an ironic twist, Israeli customers can't trade using the eToro platform, as it doesn't have approval from the local regulator. eToro has been recognized by regulatory authorities in the U.K, Australia, and Cyprus, and has gained popularity in European and Asian countries.