Viz.ai raises $71 million to expand AI healthcare solutions
The Israeli startup, which has developed deep learning and artificial intelligence-powered technology, is aiming to build on its deep learning model identifying signs of a stroke on brain CTs
Israeli AI healthcare startup Viz.ai has announced the completion of a $71 million funding round led by Insight Partners and Scale Venture Partners, and with the participation of Greenoaks Capital Partners LLC. Charles River Ventures (CRV), Threshold Ventures, Kleiner Perkins, Innovation Endeavors and SOSA Ventures. Viz will use the new funding to accelerate the development of its communications and AI platform and to expand beyond the stroke sector and provide solutions in additional sectors like trauma, cardiology and respiratory ailments.

Viz.ai develops deep learning and artificial intelligence-powered technology that connects to a hospital CT scanner and can interpret brain scans. Viz.ai's software automatically alerts a doctor if a suspected large vessel occlusion (LVO) stroke has been identified, sending the radiological images directly to their smartphone.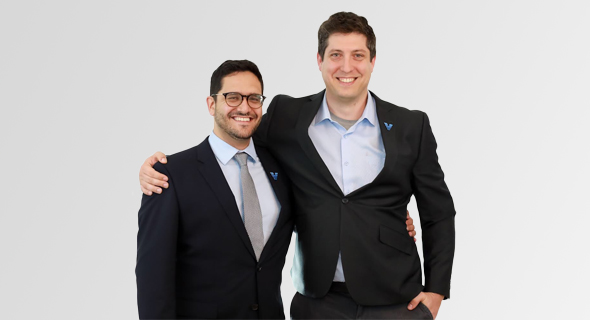 Viz.ai co-founders David Golan (right) and Chris Mansi. Photo: Nicole Allen

The latest round brings the company's total funding to date to $150 million since it was founded in 2016 by CEO Chris Mansi, a trained neurosurgeon, and CTO David Golan, an AI specialist. Golan told Calcalist that the company's valuation has increased significantly since its previous round. The company currently employs 170 people, half of them at its R&D center in Tel Aviv. Viz plans to double its workforce this year and recruit new employees in Israel, Europe and the U.S. "Our product is currently active in over 600 hospitals in the U.S. and there is unequivocal proof in peer reviewed journals that it is saving lives on a daily basis," said Golan. "Beyond that, we are the only AI product in the entire world that has received an indemnification code, meaning hospitals can receive a return of $1,040 from the U.S. government's health insurance for every time they use the product. This has obviously really boosted sales and our valuation accordingly.

"We are undergoing significant growth and this latest round is from VCs who believe in this growth. This round gives us a significant runway and peace of mind to focus on building without having to go public."

Viz.ai has developed the first and only comprehensive healthcare platform for stroke screening and care, notifying specialists in as little as 29 seconds. Its complete synchronization platform includes A.I. powered detection, automated triage, mobile viewing, and secure communication across several specialties and diseases. Viz LVO's deep learning model identifies signs of a stroke on brain CTs and automatically contacts neuro-specialists to speed up the pathway to effective treatment. The first and only LVO stroke notification and care platform with real-world clinical performance data, Viz LVO demonstrated real-world time savings, length of stay reduction and potential outcome improvements for stroke care in clinical trials.