Israeli blockchain security startup Fireblocks raises $133 million series C
BNY Mellon among the new investors in the company that raised a $30 million series B just four months ago
Cybersecurity startup Fireblocks, which develops a blockchain security service, announced on Thursday the completion of a $133 Million series C funding round, just four months after raising a $30 million series B. The round was led by Coatue, Ribbit, and Stripes with strategic investment from The Bank of New York Mellon ("BNY Mellon") and Silicon Valley Bank. The completion of this round of financing, which includes participation from previous investors, including Paradigm, Galaxy Digital, Swisscom Ventures, Tenaya Capital and Cyberstarts Ventures, makes Fireblocks the most well-funded crypto infrastructure provider in the industry with a cumulative total of $179 million raised to date.

With bitcoin topping $1 trillion in market value, recently crossing the $60,000 mark for the first time before dipping in recent days, banks and fintechs around the world are faced with overwhelming demand from customers and investors to enable digital asset products and services. Fireblocks offers banks and traditional financial institutions the ability to seamlessly plug into the broader decentralized finance ecosystem and all of its market participants. Using Fireblocks' platform, banks and fintechs can rapidly deploy custody, tokenization, asset management, trading, lending and payment solutions across public and private blockchain networks.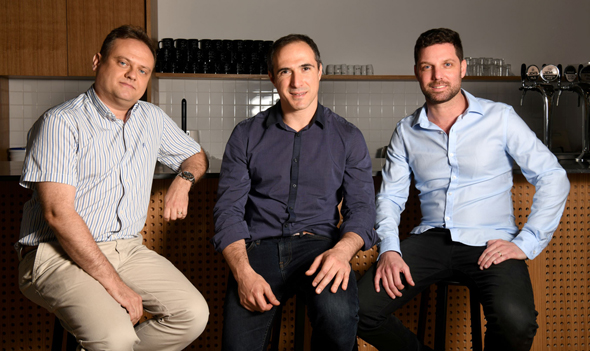 Fireblocks co-founders Idan Ofrat (from right), Michael Shaulov and Pavel Berengoltz. Photo: Yossi Zeliger

"Fintechs and banks require not only a specialized custody and settlement infrastructure to ensure customers funds are safely managed, but a platform that enables new lines of digital offerings," said Michael Shaulov, CEO of Fireblocks. "While we have no plans to become a bank, we believe our infrastructure will lend itself perfectly to power an entirely new era of financial services. We are humbled to have the top VCs in Fintech, and the most important strategic partners support our mission to replatform the financial ecosystem into digital assets. Their financial backing guarantees the long term stability, technology superiority and service delivery to our exponentially growing customer base.

"If you look at blockchain as a technology that needs to replace the traditional financial world you need to create a system that will ensure that millions of transactions that are supposed to be done on a given day will be completed properly and that the asset will go to exactly where you want it to go," Shaulov told Calcalist.

Fireblocks started off with serving crypto-native institutions and exchanges, and has grown over the last three years to become the first and only institutional digital asset transfer and wallet network trusted to secure more than $400 billion assets for its customers. Strategic investor, BNY Mellon, the world's largest asset servicer, announced earlier this year its plans to accelerate the development of enterprise solutions to service the rapidly evolving digital asset space.

"Developing products to bridge digital and traditional assets is foundational to the future of custody," said Roman Regelman, CEO of Asset Servicing and Head of Digital at BNY Mellon. "Following significant due diligence and market research, we recognize Fireblocks as a market leader in providing secure technology to support digital asset services."

"We analyze the market every quarter and ask our clients what protocols they would like us to support," added Shaulov. "The market moves really fast. I'm sure that if we look at what people told us last year someone probably mentioned NFTs and we probably didn't really give it much attention. We launched our first DeFi product in January 2020 and no one cared and no one used it. It was really embarrassing, but everything changed within six months and now more than 50% of our clients use DeFi."