Interview
One executive's journey from an Arab Village in the Galilee to Silicon Valley
Ziyad Hanna began his career as a construction worker, then a high school teacher, and now is Corporate VP at Cadence, one of the world's largest software companies
There is nothing ordinary about Ziyad Hanna's path to becoming Corporate Vice President at American international software company Cadence Design Systems, Inc. and General Manager of the company's R&D center in Israel. He worked in construction, taught high school, worked at a high tech company on a student salary, at a small Silicon Valley-startup and somehow crammed in two university degrees, including a PhD at the University of Oxford. He faced obstacles, challenges, and discrimination along the way, but worked relentlessly to prove himself and climb the ladder. "Everyone can achieve 80% output, but to get to 98% is very challenging. Throughout my entire career, I always strived to be above average, do more than is expected," he said.

"It was unthinkable for someone like me to dream of computers"

He was born in the northern Arab village of Rameh in the Upper Galilee region to a farmer father and a homemaker mother, the seventh out of eight brothers and sisters to a Christian-Arab refugee family who were exiled from their village in 1948. "In high school, I excelled in math and science, and my family wanted me to study conventional subjects like medicine, law, or civil engineering. It was unthinkable for someone like myself to dream of computers in the early 1980s," he said. In his high school, there weren't any high-level math courses, and Hanna taught himself the material and was one of the first Israeli-Arab students to complete a high-level math program. "The first obstacle was choosing a track. It was challenging to choose an unconventional one, since people in the Arab community take fewer risks. There isn't any financial flexibility, so you don't have time to fantasize. You need to study something promising, which will enable you to provide for your family, but I chose a non-conventional path."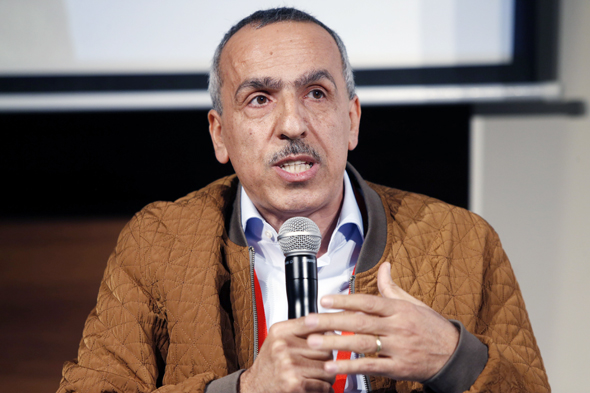 Corporate VP of Cadence Ziyad Hanna speaks during an Israeli panel to encourage Arabs to enter the high tech sector. Photo: Amit Shaal

After high school, Hanna worked as a construction worker for a year and a half until he began his bachelor's degree studies in mathematics and computer science at Tel Aviv University. After his graduation, he struggled to find work in his field and returned to Rameh to teach high school students for three years. He established a computer science track and simultaneously worked on taking additional computer science courses. "I would walk around with a laptop, having saved up a lot of money from working in construction to buy it. Other people from the village who purchased a laptop would come to me for lessons on how to use it," he said.

When he was a student at Tel Aviv University, he signed up for a job fair, and was even invited for an interview with a prominent high tech company, but when he arrived they wouldn't allow him into the lobby and claimed it was a mistake. "I didn't break down. People warned me it would be difficult, and it became clear that the company didn't hire me because of prejudice," he said. After three years as a high school teacher he was hired by a software company, Sader Computers Ltd., to teach Arabic. Four years after completing his degree, Hanna tried his luck once again at a job fair at the Technion Institute of Technology and began working at Intel, in a student position, while working on his master's degree in computer science at TAU.

Turning point

"Getting accepted to work at Intel Corp. was a turning point for me. It's a multinational company with a strong corporate culture of diversity and inclusion, and is a company that works according to international practices, and is very inclusive. When I joined Intel, it even made it into one of the newspapers. I was there along with five other Israeli-Arabs. On Orientation Day, we arrived at a hotel and went inside to eat lunch and I sat at a table with my other Arab friends. The waiters thought we were bus drivers, it didn't even occur to them that we were engineers at Intel," he said. He was quickly promoted at Intel, in both the managerial and professional tracks. He was twice a recipient of the professional Intel Achievement Award for his technological achievements. "When you're by yourself at a company, in order to be accepted, you must excel and not just be ordinary. It isn't enough to be mediocre. The challenge is constantly to be better than everyone else, and I did everything I was asked to. At Intel, people would be promoted either through the professional track or the managerial track, I had to do both. Making that transition was a constant challenge that accompanied me for a long time."

During his 17 years at Intel, Hanna completed his master's degree in computer science, served in a variety of senior positions, and was sent overseas to work out of its Silicon Valley offices in California. He was promoted to Senior Principal Engineer and Formal Verification Group Leader in software development for chip design and testing, then began his doctorate at Oxford in 2007, and decided to leave Intel and join a small unknown startup, Jasper Design Automation. "I left Intel when I was at my peak, and it was a hard decision," he said. My daughters were in school at the time, and I thought that if I stayed at Intel, I might receive a higher position, but I wanted to see the world and develop technologies that would be used all over the world. My team at the time was like an upscale restaurant in a hotel, but I wanted people to come for the restaurant not because of the hotel's name. It was a business that I took a significant part in, in both leading the business and technological ends, and I took a calculated risk. I didn't do it early on in my career, I waited until I was financially and socially stable, more mature, and it was the right time to make my dreams come true, and do something really big. I wouldn't have been able to do it without the support of my family. My wife pushed me, she sacrificed her studies, and suffered with me during our relocation, but she said I would succeed and I did," he said.

At Jasper, Hanna was appointed the Senior Vice President of R&D as well as VP of Research and Chief Architect, and after three years returned to Israel to establish his company at the Matam High Tech Park complex in Haifa. "Many eyebrows were raised since we were a startup who was renting an expensive space. I told everyone that if we wanted to make it big, we needed to play with the big guys, and the site became the company's main area of operations," he said.

In 2014, four years after he established Jasper's Israeli branch, the company was acquired by U.S.-company Cadence Design Systems for $170 million, and Hanna became Jasper's manager within the U.S. corporation. Three years later, Hanna was appointed visiting professor at Oxford, and in 2019 was appointed Corporate Vice President of Cadence's R&D center in Israel in addition to his position as senior VP at the international corporation, which leads new technology systems in software development.

Cadence Design Systems is an international company that deals with electronic design, develops and provides software, hardware, and IP solutions to chip and system manufacturers. It employs 10,000 people worldwide, and in 2020 Fortune Magazine named Cadence as one of its "100 Best Companies to Work For list" for the sixth year in a row. In Israel, the company has two locations, its R&D and sales centers in Haifa and Petach Tikva, where Hanna leads the company's development activities and Adar Segal leads the business operations. In Israel, the company employs over 300 people, with 60 in Haifa, and some 50% of them hailing from the Arab community. Some 33% of its workers are women, which is considered to be a very high ratio for a tech company.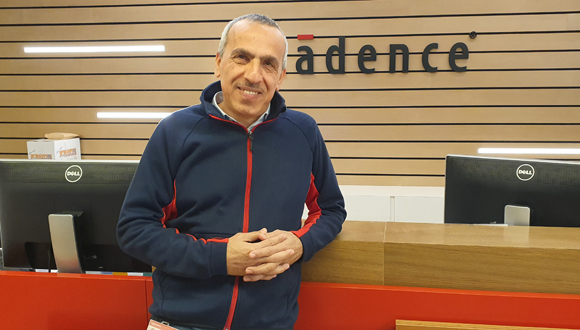 Hanna at Cadence's Israeli offices

"High tech connects the world"

"When I began working in tech, I was one of the only members of the Arab community, but today there are over 8,000 Arab engineers in the Israeli tech sector, it's an expanding community. Since I came from a community that was exiled from its home, I experienced poverty and suffering, so I always had an internal push to give back to my community and empower it. I give lectures on a variety of topics so that the Israeli public can be more inclusive of one another and move forward together. We are all dependent on one another. High tech unites the world, there isn't an 'Indian' or 'Jewish' stereotype of high tech workers, it's universal. Things are constantly changing and the Arab community's weight in this sector is growing. In order to overcome obstacles, one needs to learn and cooperate. You need a well-rounded personality. High tech is a lifestyle defined by leadership, innovation, a business vision, a technological vision, and efficient planning - there are several skills that one must develop to succeed," he said.

As part of his social activities, Hanna was appointed the co-chair of Tsofen, a public council for promoting the Arab community in the Israeli tech sector along with David "Dedi" Perlmutter. "It's not just a duty, but an honor to promote and support the Arab community in high tech. I am one of the first Arabs to enter this field. When I completed my bachelor's degree I couldn't find work, but helped many people in the village learn to code, or how to use a computer. When I was an Intel, I was heavily involved in recruiting additional Arab employees, and gave lectures at schools to encourage people to reach out to this sector. My first Tsofen meeting took place at Intel, and I helped set it up. Over the years, I participated in many activities for students aimed at promoting the Arab sector in high tech," he said.

"I always wanted to be a doctor"

The third pillar of Hanna's career was in academia. He spoke of how he always wanted to earn the title of "doctor," but not a medical one, and during his work at Intel he was very attached to academia. "At Intel, I was responsible for the academic pipeline in Israel and I had connections with many advisers and researchers. I was also responsible for Intel's annual conference at the Technion, where its innovative technologies are presented, and during that time a professor at Oxford invited me to pursue my PhD in England. I decided to go for it, and began my doctorate in 2005." Two years after he began his studies, Hanna left Intel while still working on his PhD, and relocated to the U.S. "I would wake up every day at 4 a.m., work on my doctorate until 8 a.m., and then begin my work day as Technology VP at Jasper. My academic work continued, and four years ago I was invited to be a visiting-professor at Oxford specializing in computer science in subjects such as systems design and verification and machine learning," he said.

Hanna's ambition, his hard work, and the need to prove himself is embodied in every single step he took over the course of his career. He published articles, registered patents, and gave lectures at leading worldwide conferences in his field. The secret to his efficiency, he revealed, is the ability to do many things at once with complete concentration. "There are only 24 hours in a day, and for everyone the question is how do you manage that. I work on many things simultaneously, and I have a strong ability to zoom in and zoom out, to make that direction change, and it really helps me in everything I do."