IronSource shareholders and employees on their way to a $1.5 billion payday
The company will raise $2.3 billion at an $11 billion valuation through a SPAC merger with Thoma Bravo
Tel Aviv-based web and mobile monetization company IronSource is heading towards the largest-ever public issuance by an Israeli company dwarfing even eToro's record from last week. The company will raise $2.3 billion at an $11 billion valuation through a merger with a special purpose acquisition company (SPAC). $8 billion of the total will be invested in the company and an additional $1.5 billion will be used to purchase secondary options, spelling a huge payday for IronSource's founders, early investors, and veteran employees. Speaking to Calcalist on Sunday, IronSource executives stressed that all 850 employees, 650 of whom live in Israel, possess options.

The other significant benefactor of the SPAC IPO is Viola Ventures, Tal Barnoach's Disruptive VC, 83North, Leumi Partners, businessmen Haim Saban and Len Blavatnik, advertising leaders Reuven Adler and Eyal Chomski, and Clal Industries. According to the company, none of the previous ackers is set to actualize their entire stake, rather they will actualize their portion and retain their relative share (pro-rata). With the new deal, IronSource shatters the record set only last week by eToro, which announced it was raising $800 million at a $104 billion valuation. The eToro deal also features a secondary options component, only for a far more modest $300 million.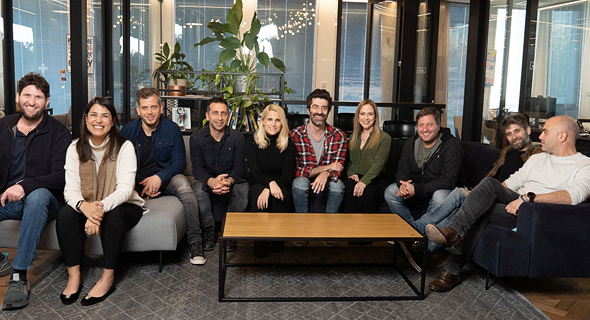 IronSource's management team. Photo: Adam Primar

IronSource's IPO will be conducted through a merger with a SPAC raised by U.S.-based investment firm Thoma Bravo Advantage. The $2.3 billion that will go to the Israeli company's coffers is supported by a $1.3 billion oversubscribed Class A ordinary share PIPE led by an affiliate of Thoma Bravo as well as investments by some of the largest institutional investors in the world, including Morgan Stanley, Wellington, Fidelity, and Tiger Global. This is not the firm's first deal with an Israeli company, having acquired Shlom Kramer's information security company Imperva Inc. in January 2019.

IronSource was founded in 2011 by Tomer Bar-Zeev, brothers Itay, Roi and Eyal Milrad, Tamir Carmi, Arnon Harish, Netanel Shadmi, and Omer Kaplan. Bar -Zeev still serves as its CEO and the rest of the founders remained on as senior executives. Orlando Bravo, the founder and managing partner of Thoma Bravo, will join ironSource's Board of Directors at transaction closing.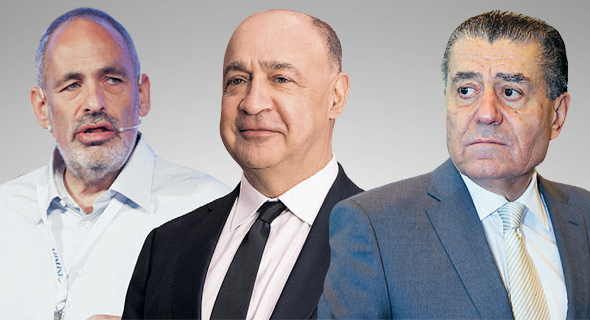 IronSource investors Shlomo Dovrat (left), Len Blavatnik and Haim Saban

"We had been in fairly advanced stages of a regular IPO even though a lot of SPACs had approached us," IronSource CRO Omer Kaplan told Calcalist. "But then we were introduced to Orlando and had a really good connection. Thoma Bravo is the biggest and most esteemed investor in the software world today and we think they can help us make big acquisitions. The original IPO was planned for the same valuation as the current SPAC. We weren't seeking to optimize the value and think $11.1 billion is the right valuation. We all realize that going public is only the beginning of a process and will remain in our current positions."

In 2020, ironSource grew revenue 83% year-over-year to $332 million, with an adjusted EBITDA of $104 million. According to a forecast presented to investors, IronSource estimates it will earn $455 million in revenues in 202, growing at a more moderate 37%, with revenues predicted to reach $622 million the following year. The company serves over 2.3 billion monthly active users across its global customer base.

Only two years ago, CVC acquired a 25.7% stake in the company for what was then a whopping $450 million, which saw the company's founders and many of its longest-serving employees get their first taste of several millions of dollars. That deal reflected a company valuation of $1.75 billion, meaning its value has multiplied six-fold since.

"This is a very proud moment for us at Viola and for me personally. A company where we were the first investors thrives and goes public as one of the largest public tech companies in Israeli history," said Shlomo Dovrat, co-founder of Viola Ventures and board member at ironSource. "This deal is another broken glass ceiling for Israeli tech companies that are growing to previously unseen proportions and I believe it will have a significant impact on the Israeli tech sector and the Israeli economy."