Israeli cybersecurity startup Orca achieves unicorn status with $210 million series C
"The way to become the biggest cloud security company is to be out there and that is expensive and requires funds," said Orca CEO Avi Shua
Israeli cybersecurity company Orca Security, which develops cloud-security solutions, announced on Tuesday that it has raised a $210 million series C at a $1.2 billion valuation. The round was led by Alphabet's independent growth fund CapitalG and Redpoint Ventures. Existing investors GGV Capital, ICONIQ Growth, and Silicon Valley CISO Investment, which is made up of 50 angel investors from the cybersecurity sector, also participated in the round. The round also included a small secondary sale of shares.
Since it was founded two years ago, Orca has raised $300 million in total. Its previous funding round of $55 million was announced just four months ago. YL Ventures, which led Orca's seed round and participated in previous rounds, did not participate this time.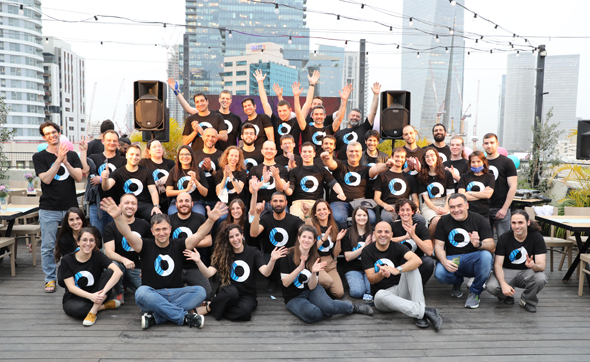 Orca Security's team celebrate their latest funding round. Photo: Orca Security
"We had an excellent year that far exceeded our expectations," Orca CEO and co-founder Avi Shua told Calcalist. "We had an aggressive forecast for 2020 and everyone thought we were exaggerating, but we doubled it. beyond this acceleration, clients that try our platform don't turn back ."
According to the company, it registered more than 1000% growth 2020 and recruited many strategic clients, including Robinhood, Databricks, Unity, Live Oak Bank, Lemonade, and BeyondTrust, among others.
"We have dozens of clients that publicly recommend the product. This is a massive amount considering the short time that we have been around for, and that is the reason that it is so important to us to grow now," explained Shua.
Orca's technology is unique in that it doesn't require the support of software agents which in a vast majority of cases aren't properly integrated into organizations. The system achieves full and fast coverage within minutes as none of its code is active within the organization's cloud, unlike other solutions in the market that require several weeks to achieve full coverage. In addition, the system doesn't create overloads as it prioritizes and filters through thousands of different security notifications and highlights the crucial ones while providing insights on how to address them.
Why did you decide to raise such a big funding round so soon after your previous round?
"When I look at the percentage of the clients we have access to, it is only a fraction of our potential and the way to become the biggest cloud security company is to be out there and that is expensive and requires funds."
"The cloud computing market is currently at around $100 billion a year and the estimates are that it will reach one trillion dollars within eight years. Traditionally around 7-8% of expenses in the sector go towards security and the numbers are only rising. This means that this will become a $50-$70 billion market in the coming years, making it significantly the biggest security market. Clients select us as their main security solution and this is the time to strike while the iron is hot."
Shua added that Orca has expanded its workforce by 500% over a period of a year. "It is wrong to accelerate without full tanks. Our goal is to become the biggest cybersecurity company in the sector," he said.
The acceleration in the cloud cybersecurity sector is clearly evident in the Israeli tech ecosystem, with some of the most notable funding rounds over recent weeks being by companies in the sector like Wiz.
"In a market this size it is obvious that there will be competition," said Shua. "Palo Alto, for example, tried to threaten us with lawyers so that we won't publish comparisons between our products, but they have since retracted and have started to mention our technology.
"One of the things that separates us from the competition is the scanning ability we developed that is somewhat like an MRI for a cloud. Unlike other companies that are trying to solve all security problems, our solutions operate only on the cloud due to the understanding that the cloud is important enough to justify its own solutions. This may sound weird, but the most important characteristic of our technology is that our solution works: meaning that it covers the entire environment, alerts on significant issues and they don't get buried among millions of other notifications. All the rest of the solutions on the market either don't do that or require implementation over many months. We know how to prioritize what is important for the client.
"At the end of the day, this is a massive market and it doesn't make sense that there will only be one company. The cloud world is undergoing a cultural change that is no less significant than the technological change, and organizations are expecting their R&D teams to build products that will hit the market much faster. We have gone from expecting the development of a product to take a year-and-a-half to taking several weeks."
Orca Security was founded in 2019 by Avi Shua (CEO), Gil Geron (CPO), senior architects Matan Ben Gur, and Liran Antebi, senior software engineers Hadas Amitay, Wagde Zabit, Shay Filosof, and Eti Spiegel-Khobra (success manager), all of whom are former employees of Check Point.
"We really aren't thinking about selling," said Shua. "We have all held significant roles in the past and are trying to build a major company that is here for the long haul. It irks me that some startups are focused on building a company to be sold. There is a place for such companies, but there is also a place in Israel for big companies. If there is something that can move Israeli society forward it is massive Israeli-owned cybersecurity companies that are based in Israel."
Shua noted that Orca plans to maintain the majority of its R&D development in Israel. "There is an amazing concentration of knowledge in this sector here and to start examining where developers might be cheaper is a very micro outlook rather than a macro one."