Interview
BrainsWay aims to treat Covid-caused depression by "jumpstarting" brain
The Israeli medical device company's noninvasive technology streams electrical currents to patients' scalps to help those struggling with depression or other neurological disorders
One Israeli medical device company is making headlines with its innovative method to treat neurological conditions such as depression and obsessive-compulsive disorder exacerbated by the coronavirus (Covid-19) pandemic. BrainsWay uses a unique form of transcranial magnetic stimulation (TMS), where an alternating magnetic field is used to stream an electrical current at a specific site of the brain through a stimulator that is affixed to a magnetic coil and a patient's scalp. BrainsWay's updated version of TMS allows its magnetic signals to penetrate the brain both broader and deeper, healing or alleviating the disorder.

"We're working on treating the most difficult patients - those who all other attempts have failed - and are seeing positive response rates 70% of the time," BrainsWay President and CEO Dr. Christopher von Jako told CTech. The coronavirus has simply inflamed the percentage of depressed individuals in general, since they are either feeling poorly since they came down with Covid-19, lost a loved one, lost a job, are experiencing financial hardship, or anxiety of some sort coupled with social isolation. The most affected group, he noted, were 18-25 year olds or Gen-Z, who were most accustomed to socializing without limitations.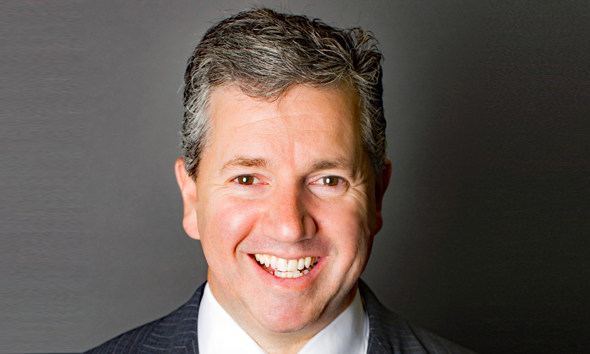 BrainsWay President and CEO Christopher von Jako

"TMS technology has been around since 1985, but our version is different. The idea is to introduce a magnetic pulse inside the brain via a noninvasive technology which can stimulate certain portions of the brain."

In certain neurological disorders, a specific area of the brain stops responding to typical treatment such as medications or psychological counseling. Traditional TMS utilizes a coil that creates magnetic fields, thereby generating another one which can restimulate neural activity, and "jumpstart" the brain, so to speak. BrainsWay's version treats a wider and deeper array of neurons. Studies into the field are ongoing, although they have not yielded any definitive results according to scientific journals.

The company was founded in 2003 in Jerusalem by Dr. David Zacut and Avner Hagai in 2003, based on technology that was developed by pioneering scientists Prof. Abraham Zangen and Dr. Yiftach Roth and further tested at the Weizmann Institute of Science. Brainsway has offices in New Jersey, Boston, and in Israel and is a publicly traded company on the Tel Aviv Stock Exchange since 2007.

"It's sort of like exercising your brain every day, we typically give patients treatment for a period of between four to seven weeks," he said, where they sit in a chair and receive "signals" for less than 20 minutes.

Treating the outliers of traditional treatment

Depression has been exacerbated since the coronavirus (Covid-19) pandemic took root, and is spreading. According to recent statistics, every year 17 million people are diagnosed with episodic depression in the U.S. and while many see a psychiatrist and are prescribed medications, for some, they do prove ineffective. "Traditional treatments, such as medication and therapy will not work for about six million people, or one third of those who suffer from depression in the U.S. Some consider undergoing electric compulsive therapy which is highly invasive, and also gets a pretty bad rap," he said. "That's why TMS is such a great alternative, it's non-invasive, doesn't require anesthesia, is tolerable and has very few side effects," he explained, adding that the treatment feels a bit like "a knock on the head," and the worst patients may experience is a headache of some sort.

Von Jako explained that often patients with other neurological diseases, such as Parkinson's Disease, later develop signs of depression too, as they struggle to live with their illness and deteriorating abilities. The company has recently received FDA clearance to treat smoking addiction, and has obtained clearance in Europe to treat post-traumatic stress disorder (PTSD) and Parkinson's disease.

In addiction patients, the electric currents signal to the brain to be "less excited," and work to diminish the compulsion, he explained. "Our product has changed the paradigm for treating patients, it gives them another tool or option," he relayed.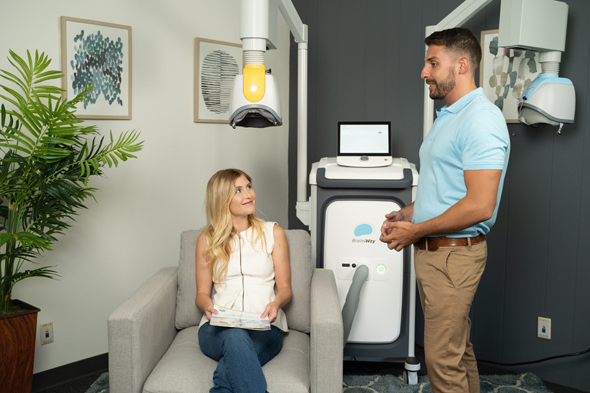 Patients who receive BrainsWay's treatment sit for an hour or two in a chair with the device affixed to their scalp (illustration). Photo: BrainsWay

One female patient related that she had long-suffered from depression, which only intensified once the pandemic began. When she received BrainsWay's treatment, "she said it was like being in a room where the lights suddenly turned on," he said. Another patient had long suffered from OCD where those who are ill repeatedly conduct tasks to calm themselves. Currently there are only five medications on the market to treat OCD. "That patient relayed that she wouldn't have been able to leave the house during Covid-19 if not for this treatment."

Since the pandemic started, telepsychiatry visits are up by 40%-60% from pre-Covid levels, he noted, and telehealth's increasing availability of treatment options are reducing the stigma surrounding mental health. "It's raising awareness and discourse, and I think that's very important, especially during this difficult time," he said.

Do you see the sector of TMS devices expanding significantly in the future?

"I see it only getting better and better, we're only scratching the surface with what we know about deep TMS today," he said.

Von Jako has over 20 years of experience in the field and has served in a variety of positions at leading medical device companies, including Integra LifeSciences, Covidien, Radionics, and U.S. giant Medtronic. Medtronic recently acquired Israeli company AV Medical, has offices in Minnesota and Ireland, and unveiled plans earlier this month to accommodate an additional 2,000 workers in northern Colorado.

While this is the third Israeli company von Jako has worked for, he feels that "this is a point of pride that technologies developed in Israel are really helping save the world. Mental health awareness isn't just a U.S. issue or an Israeli one, it's a global issue."