Kaltura targeting valuation of at least $2 billion in Nasdaq IPO, co-founders all set for multi-million paydays
The amended prospectus of the Israeli-founded video creation and distribution company revealed CEO Ron Yekutiel is in for a $15 million payday
The amended prospectus of New York-headquartered and Israeli-founded video creation and distribution company Kaltura Inc. published by the SEC on Tuesday confirmed that the company intends to go public on Nasdaq at a $2 billion valuation.

The company plans to sell 23.5 million shares in total at a price of $15 each. 17.4 million of those shares will be new shares that will provide Kaltura with $260 million in funding. 6.1 million existing shares will also be sold, resulting in a total windfall of almost $100 million for the sellers.

Following the offering, there will be 123 million shares traded on Nasdaq, with the company to be traded under the symbol of KLTR. Kaltura employs 600 people in total, half of them in its Ramat Gan offices.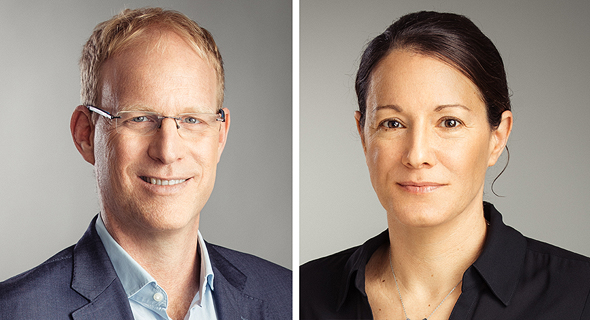 Kaltura co-founders Ron Yekutiel (left) and Michal Tsur are both headed to handsom paydays when their company goes public. Photo: Micha Lubton

CEO and co-founder Ron Yekutiel will be the biggest individual beneficiary from the IPO, with Kaltura's amended prospectus revealing that he plans to sell one million of his shares, meaning he would be in for a payday of around $15 million. Yekutiel will still retain 5.1% of the company's shares following the sale, down from 7%.

Another of the co-founders, Michal Tsur, is set to sell 602,000 shares at an overall value of around $9 million, while retaining a 3.7% stake in the company. The two remaining co-founders will be selling a smaller amount of shares, with Dr. Shay David to sell 252,000 for a $4 million income while retaining a 3.9% stake and Eran Etam selling 262,000 for around $4 million and remaining with a 3.8% of the company's shares.

VC fund .406 Ventures, the largest shareholders in the company will realize 880,000 shares and see its share in the company fall to 13.7%. Nexus India Capital will sell 802,000 shares and will remain with a stake of 12.4%.

According to its filing, the company's revenues in 2020 reached $120 million, up from $97.3 million in 2019. The company listed an $8.1 million operating loss in 2020, compared to its $2.8 losses in 2019. Aside from the operating margin losses, the company reported its earnings before interest, taxes, depreciation, and amortization (EBITDA) as $4.3 million in 2020, showing a slight increase compared to 2019. It also reported an interesting figure detailing how it cut back on flight and marketing expenses by some $1.7 million due to the pandemic.

The prospectus' warning section listed some of the risks the company faces, noting it records losses each year, and doesn't know whether it will ever become profitable. The company has accumulated a deficit of $243 million, including its net losses of $38 million last year.

Kaltura operates on two main channels, in the areas of media and education for organizations, and provides complete video infrastructure for different media channels and video systems for educational institutions and large organizations. The prospectus detailed that the areas of media and education remain dominant sources of revenue, with education yielding some $80.4 million and media generating $40 million in revenues. The company's R&D expenses were $29.5 million in 2020, showing a 22% increase compared to 2019. Kaltura has over 1000 customers, 25 of whom are Fortune-100 companies, and 51% are leading educational institutions in the U.S. Its list of customers includes Oracle, Berlitz Corp., Wells Fargo, Bloomberg L.P., and Vodafone Group PLC.