Satellite software startup Utilis raises $6 million to detect terrestrial water leaks
The company's analytics were first used to detect water on Mars. Funds will be used to accelerate growth and help reduce climate crisis
Israel satellite software startup Utilis announced on Wednesday that it has secured $6 million in funding from transatlantic venture capital firm Beringea during an investment round. The company will use the funds to harness satellites to protect critical infrastructure and global water supplies, and enter the ground engineering market by expanding its sales and marketing teams to accelerate growth in Europe, the UK, and North America.

Utilis' satellite-based infrastructure provides data-driven solutions for utilities and government agencies using its synthetic aperture radar (SAR) sensors which are affixed aboard satellites, and help detect leaks and locate drinkable water. Part of its analytics were developed for detecting water on Mars, and it is capable of detecting leaks in terrestrial infrastructure up to 10 feet (3 meters) underground, helping reduce the climate crisis and ensure water resources on Earth are sufficient.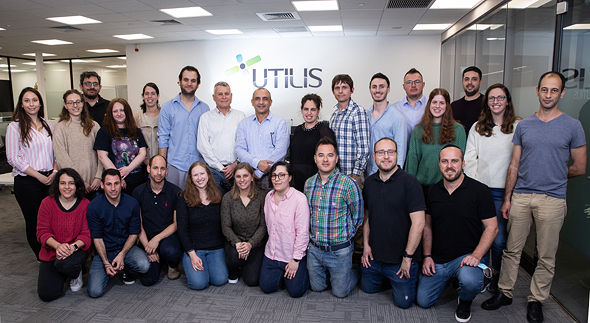 The Utilis team of scientists and engineers helped develop the innovative SAR sensors. Photo: Elishur Photography

The satellite startup was founded in 2013 by Lauren Guy, an atmospheric physicist, and the company is currently headed by CEO Elly Perets, an experienced software entrepreneur. Utilis is headquartered in Israel, and employs 40 people in the UK, the U.S., and Israel. Currently, its patented-leak protection has been used in over 400 projects worldwide in over 55 countries, including the U.S., Italy, the UK, Chile, China and South Africa. So far, its analytics have detected 30,000 leaks enabling infrastructure and utilities firms to save more than 7,000 million gallons of water, 17,000 megawatts of energy, and reduce 11,000 metric tons of carbon dioxide emissions per year.

Transatlantic venture capital investor firm Beringea led the round and helps fund large-scaling entrepreneurial companies. The firm manages $700 million in funds for over 60 portfolio companies in the UK, Europe, and North America.

According to recent statistics, over 20% of treated water in Europe is lost in distribution systems, even though some 75% could be conserved and recovered. Utilis harnesses a network of satellites which accurately detects leaks and drinkable water, in a far-more cost friendly way without relying on expensive physical sensors or manual checks by engineers. The company holds five patents, and provides Earth-observation data to engineering firms, property managers, and transportation planners. Furthermore, its user-friendly data format can be flawlessly incorporated into modeling software.

"We look forward to growing our product line into new verticals in industries such as transportation and mining to help them solve problems caused by underground water," Elly Perets said, who serves as Utilis's CEO.

"With worsening climate change, water scarcity is, and will increasingly become, a top national priority for many countries. There is a clear environmental, social and financial imperative to better protect water resources around the world. Utilis has developed a remarkably accurate and effective solution to this problem, removing the need for costly and inefficient physical sensors through using satellite data," Eyal Malinger commented, who is Beringea's Investment Director.