Just as flights were grounded, Israel's tech sector recalibrated and took off
The rapid response to the pandemic reality was the key to Israeli tech's record year
"The partner who executed the investment and is now a director on my board is someone I have never met face-to-face. It is so weird. We have built this connection following this intense process, even though we have never met. This is someone who is significant in my life, and this is a crazy situation," said Gil Pekelman, CEO and co-founder of Israeli IT management startup Atera, summarizing in a few sentences the incredible and unusual year experienced by venture capital funds and startups alike.

The Covid-19 pandemic shook up the world in almost every way possible. The tech sector was no exception, with the relationship between VCs and startups also undergoing significant changes.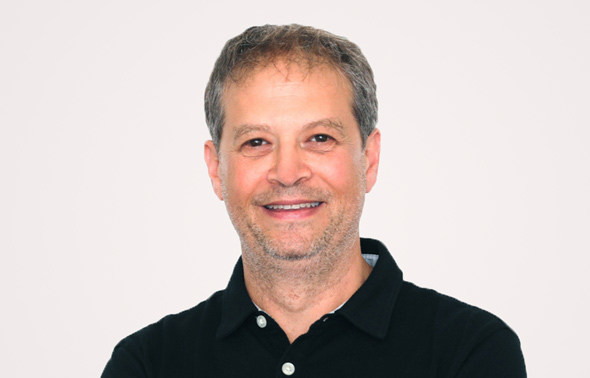 Atera co-founder and CEO Gil Pekelman. Photo: Gili Levinson

According to The Israeli Tech Review published in late December by research company IVC together with the Meitar law firm, 2020 was a record year for local tech with 578 deals at an accumulated investment of $9.9 billion, marking a 14% increase in the number of deals from the previous year and an increase of 27% in invested capital.

Pekelman's Atera announced last month a $25 million investment from U.S.-based K1 Investment Management, with the process already beginning in the middle of 2020. It was Atera's first time raising capital from an institutional body, having previously only raised small amounts from private backers.

Atera developed an all-in-one platform that combines remote monitoring and management with helpdesk, reporting, and operations management in a single intuitive system. Its RMM platform provides professionals with proactive, predictive insights which identify and remedy problems within an organization before they cause business stoppage by analyzing more than 40,000 data points per second, 24 hours a day, seven days a week.

"We had never received a significant investment beforehand, but we analyzed the situation and the dangers presented by Covid-19 and decided that it would be the right move to increase the company's acceleration even more, and if the acceleration was to slow down we'd have these funds to fall back on," explained Pekelman.
Lusha co-founders Assaf Eisenstein (left) and Yoni Tserruya. Photo: Geva Talmor

Assaf Eisenstein, co-founder of Israeli company Lusha, echoed a similar sentiment. Lusha had been bootstrapped since its founding in 2016 before announcing last month that it had completed a $40 million series A led by American growth equity firm Providence Strategic Growth (PSG). Lusha's cloud-based platform enables salespeople to share accurate contact and company information with each other, providing sales professionals with vital insights on the customers they target.

"We were previously bootstrapped and that gave us the privilege of making a decision on when we wanted to raise money. We began meeting investors in January-February and met Providence executives for dinner at the end of February, a week before everything shut down," said Eisenstein. "There was a lot of uncertainty in March-April and we felt that the world was changing and didn't know exactly how. Eventually, it turned out that the multipliers increased significantly during this past year and raising money at a times 15 multiplier now seems like a bargain."

Eisenstein spoke of the significance of bringing an investor on-board for the first time. "Bringing in an investor isn't like selling a company or a house where once the deal is signed the parties each go their own way. Bringing an investor on-board is more like a Catholic wedding. It is really important who you enter into this relationship with. The negotiations of the deal are like a microcosmos of the relationship and allows you to see what are the things that the other side insists on and how you will solve differences later on," he explained.

Eisenstein said Lusha intends on using the new funds to hire an additional 100 employees, taking its total headcount to around 220 people.

"A year ago we realized that there is no reason that our company shouldn't have sales in the hundreds of millions of dollars and that we are facing an outstanding opportunity," he said. "There is an advantage at being bootstrapped that it helps you remain very focused and never lose sight of your ROI. Startups sometimes act as if the laws of physics don't apply to them, but at a bootstrapped company it is the opposite situation. The problem with being bootstrapped is that if you have big dreams you will also need big resources to realize them. You need to have enough cash on your balance sheet to be aggressive with your moves. The decision to raise money came from the understanding that we can achieve something really big here and that we need to enter a new phase."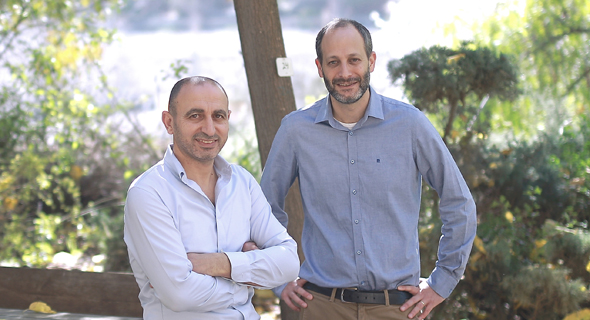 Teramount co-founders Hesham Taha (left) and Abraham Israel. Photo: Ilan Asaig

While Lusha is planning for nine-figure sales, Jerusalem-based Teramount, a provider of connectivity solutions for ultra-high bandwidth applications, has currently got far more modest plans. It announced earlier this month that it had completed an $8 million funding round, led by Grove Ventures with participation from Amelia Investments, as well as former executive VP of Intel and company Chairman, David (Dadi) Perlmutter and other private investors.

Teramount experienced a recent breakthrough by demonstrating 100x improved tolerance in assembling fiber to silicon chips compared to existing technology. This will enable the integration of optics with silicon and the scalable deployment of silicon photonics. The funding and breakthrough come at somewhat of a critical moment in the semiconductor industry, as it faces problems of how to support the next-gen needs of high-speed data transfers, which was accentuated during the pandemic.

"The dynamics of the past year were very interesting. If in the past you would have to travel to Silicon Valley or other places in the world to meet investors, over the past year everything was done over Zoom. We had Zoom calls with investors while they were sitting in their kitchen in their pyjamas and with their kids running around in the background," said Teramount co-founder and CEO Hesham Taha. "These types of talks actually brought about an openness that didn't exist previously. It gives you a peek into the investor's home and he also gets to see your home and that creates a far more personal dynamic."

There were, of course, also plenty of difficulties created by the remoteness brought about by the pandemic. "I think there will be far less traveling in the future. Some things will continue to be done over Zoom and we also saw in the past year that we can guide clients in technological matters over Zoom rather than travel to their site the way we used to. Having said that, this isn't a perfect solution. Trying to pitch to an investor for the first time over Zoom is very problematic, especially in sectors like deep tech when you need to go into technological detail and break down the complexity of the ecosystem. Zoom will definitely reduce the number of in-person meetings, but it won't replace them completely," noted Taha.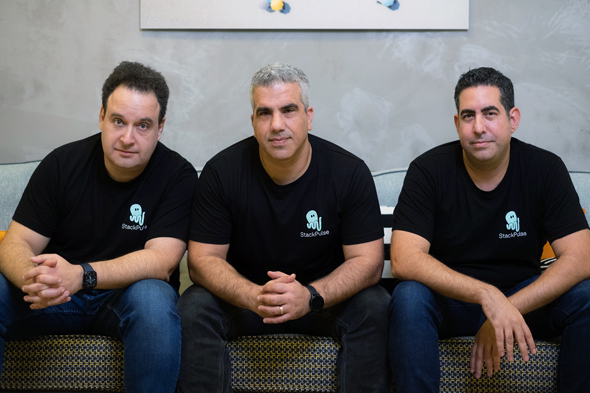 StackPulse co-founders Eldad Livni, Ofer Smadari, and Leonid Belkind. Photo: Guy Hamui

Ofer Smadari, CEO and co-founder of StackPulse, said that the fact they were second-time entrepreneurs helped them close their funding round in just a couple of week. He added that offers continue to stream in even though the company, which creates automated software to respond to glitches without the need for traditional IT tools, only came out of stealth in January with a $20 million series A funding round led by venture capital fund GGV Capital.

"After the initial shock investors began to realize that the companies that will build products now will be far more significant due to the acceleration of the digitization process," said Smadari. "The pandemic gave our sector a huge boost and all of the sudden there was a lot of traction from investors. We received many offers from significant investors and selected one of the very best. Even though we aren't currently planning another round, we are receiving offers from investors."

StackPulse currently employs 45 people and Smadari said it plans to use the money in order to expand its product and set-up a U.S.-based business operation.

"I think VCs now understand that they can invest via Zoom. If in the past you wouldn't invest without flying over all the founders for a meeting, that has now changed. I think these changes are here to stay. Companies are also being bought over Zoom," noted Smadari. "There is huge competition to invest in good companies. We can also see that the sums being raised have grown disproportionally. The shekel has also strengthened by 15%-20% against the dollar over the past couple of years and that is significant when you are raising money in dollars but your expenses are in shekels. $3 million two years ago is now $4.5 million."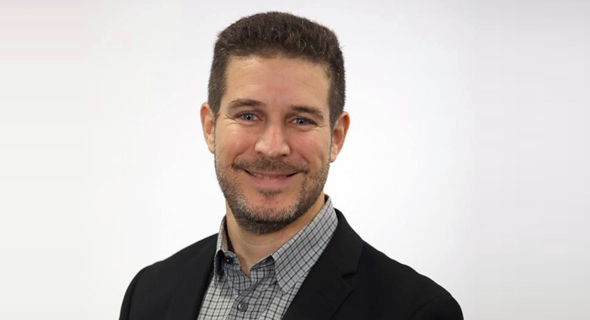 Tomer Notkin, Poalim Hi-Tech Business Center Manager. Photo: Aviv Gotlieb

Bank Hapoalim postponed the opening of its Hi-Tech Business Center by several months to August of last year due to the outbreak of the pandemic, but the center's manager Notkin said it wasn't long before it become clear that the local tech sector was not only not suffering due to Covid-19, but was actually benefiting from the circumstances.

"The world was in a state of shock, people didn't leave their homes, the economy was closed, but software companies continued to work as if nothing had happened. Furthermore, companies that are low-touch or no-touch exploded and only benefitted from Covid-19. This ultimately led to investors returning to the market, first the foreigners and then the local ones," explained Notkin. "These companies seemed to have disconnected themselves from the economy. The economy suffered a blow, but many economic paradigms have been shaken by this crisis. When you examine the money being raised in funding rounds, the progress of companies, the rise in their valuations and the inflation in IPOs and SPACs, I don't think Israeli tech has ever been in a better place. As a bank, we always try to take a critical stance because while we want to benefit from the upside, we also need to consider the downside. But as someone who has examined hundreds of companies in the past year, I can say that the liquidity in the market is currently better than it was a year ago. There is a big question mark whether we will see this madness continuing, but I think that on a practical level, the Israeli market is closing gaps of many years on the U.S. market."

Eisenstein, however, is concerned that once the party ends there could be some pain in store for some of the VCs and entrepreneurs.

"Multipliers have gone from 12-13 times to 20 times and it is very interesting to see what will happen next. On the one hand, funds are raising money and they need to deploy it, and companies don't want to leave money on the table. On the other hand, companies need to be thinking 2-3 years ahead and that they are risking experiencing a down round then, which would be painful for everyone involved as people will have to dilute their holdings," said Eisenstein. "I think the market has reached a crossroads. One VC executive told me he could have raised $2 billion for his new fund rather than $1 billion, but that he didn't want to because he wasn't sure he'd be able to provide a good return on such sums. There is another major question regarding all the recent SPACs and what these shares will look like six months down the line. There is currently a party going on and everyone is celebrating, but the hangover is coming."

According to the IVC's report, investment in early (seed and series A) rounds experienced a drop in the first and second quarters of the year due to lack of certainty caused by the Covid-19 crisis, but the trend shifted later in the year and in the third and fourth quarters, there was a boost in investments by venture capital funds both in the number and size of investments.

"We are seeing fewer seed companies being founded, but that is a trend that began prior to Covid-19," said Notkin. "In the past you would raise a million dollars, hire a few developers and get going. Today you need more like $5-6 million to get started and we are seeing seed rounds with crazy numbers like $20 million and $40 million. In the growth and corporate stages, there is plenty of money because you can track company results remotely and you don't need to examine product-market fit, for example. So that has resulted in the fact that most of the companies that suffered a blow were either just before or after a round A. I think that good companies will always raise money, and the Covid-19 period has proven that. Vulnerable companies are the ones that suffered in the pandemic, the same way it was the weaker socio-economic populations that were most hurt by the pandemic.

"I can clearly say that I didn't see a significant increase in the number of companies closing due to the pandemic," added Notkin. "There are companies that are having a tougher time, but one could expect that the number of companies with credit from the bank that are closing would increase by several folds. But I can say that the amount of tech companies which I saw close during this crisis was almost zero."