Interview
From the Tel Aviv party scene to a successful Silicon Valley startup
Naama Alon's path from graphic designer and party-thrower to co-founder of HoneyBook was anything but ordinary. She shared how she came up with the idea behind her startup, which was chosen by Glassdoor as one of the best companies to work for in the U.S.
The turning point for Naama Alon, co-founder and Chief of Product at the startup HoneyBook, was when one evening she told her spouse Oz and their co-founder and current CTO Dror Shimoni, that they should all quit their day jobs and devote themselves to a new idea. The next day, Oz quit his job at the law firm he worked for as an intern, Naama left her job at a design studio, Dror handed in his resignation letter at SAP Software Solutions, where he worked as a programmer, and they got underway. "This is a moment that happens to plenty of Israelis. It's a magical moment, but you don't necessarily know where you're going. It's the beginning of the beginning," Alon says.

Until then, Naama worked at a design studio, Red Interactive, her first and last job as an employee. Once the startup received funding from a Tel Aviv accelerator, the trio worked days and nights where Dror and Naama labored over the product, while Oz focused on the network, formulating a business model, and raising funds. That's how the startup HoneyBook was born, which develops financial client management software for small businesses, freelancers, and the self-employed in the United States. The company is based in the San Francisco Bay Area and has offices in Tel Aviv as well. The company has raised $100 million to date and employs over 100 people in both countries. However, it all began when Naama had an idea during her studies at Shenkar College of Engineering and Design, which was nearly abandoned before ultimately leading to the founding of the startup.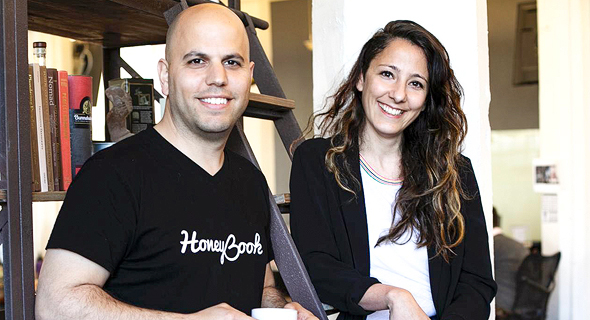 HoneyBook co-founders Oz and Naama Alon. Photo: HoneyBook

"When I finished school I didn't realize that I wanted to found my own startup but the idea was always there. I'm the type of person who constantly looks at an issue and asks what the problem is and how to solve it, not what's going on or what already exists. We had an initial idea; a project that I started in college and that was the beginning," she said. Her idea, born during their Tel Aviv partying days, was to create an interactive experience album for photographers in the hope of helping small businesses.

"I was a freelance graphic designer, Oz had a bar on Ibn Gvirol Street in Tel Aviv, named Backy, and we really loved organizing parties and events. We organized parties with thousands of people where the concept was all-inclusive. We thought about experiences from every angle, and wanted everything to be perfect down to the tiniest details such as music, food and drinks, and even how guests could hang their coats up without worrying about losing their belongings. Those tiny details are what really made the difference, people would always talk about our parties, and suddenly an entire network of connections sprung up," she said. They worked with suppliers on the customer side, and functioned as their own service providers. "We experienced both sides of what we do, we help small businesses manage their business, and we saw and experienced ourselves how broken that system was and how much it could be changed - and that's where we started."

Alon studied graphic design at Shenkar College specializing in visual communication, and that's where she was exposed to the technological world. "We were the nerds of Shenkar. In the hierarchy, fashion designers were at the top, afterward industrial designers, and then graphic designers were at the bottom along with the interactive media nerds. There was something very magical about it that made me feel far more connected than design. How a person can create an entire world of content that affects lives through technology available today, and in retrospect, it was the right decision."

During her studies, Naama worked on a project for college that became the initial idea behind the startup, that changed along the way. "I told Oz that everyone whom I showed the idea to loved it, that there was something here. I told him that we should go for it, and he told me to work on it in the evenings. But slowly the more we discussed it with people, the more we saw that we had something big here, and we started to work on it in addition to our regular jobs, until I said that we can't continue this way, that it's either all or nothing."

A breakthrough

There are two notable milestones that can be highlighted as contributing to Alon becoming the head of HoneyBook, which within a short time was recognized as one of the best places to work in the U.S. by Glassdoor in the 100-person or less company category. Alon grew up in Modiin Maccabim Reut and was always active in youth organizations. "There's something about youth organizations that I learned as a young girl and took it with me when I founded the company - how to lead, how to creatively think about solutions, how to work with the grownups and make decisions, to lead other teams and enter positions. I started off in the Zofim Israeli scouts and moved to the Maccabee Youth Movement, probably since they were the underdog," she explained.

There she was the first girl who was accepted to a technical team, the movement's construction team. "For years, it was tradition to only accept strong and sturdy boys to that team, and I really liked to build and thought it was unreasonable that it would be so exclusive. I thought to myself, I like to build, so why can't I be there? So I took some tests over a few days, and was accepted. I think that's what motivates me today - when I'm passionate about something, I go for it with all my might," she said.

She didn't find herself at school either. "At school, I found it very difficult to study. I have dyslexia and some hearing problems, but I always put myself in a box and said it was hard. Only when I reached a mature age, I learned that I needed the freedom to study my own way, and then if there was something I wanted to know - nothing would stop me. It's unfortunate that I realized that so late."

Alon's father is a military man, as is her older sister. "I always wanted to be like them, and I came full circle when I served as a training instructor at the Israeli Air Force's Technical School. I slept in the same bunk room that my father did when he served there. My military service taught me that within strict frameworks where you need to follow the rules or the herd, there is still room for change and creating your own values," she said.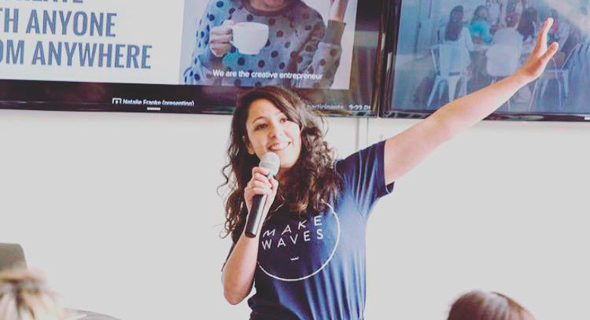 Even though she does not serve as CEO, Naama Alon's idea was the driving force behind HoneyBook. Photo: HoneyBook

Business and life partners

She met Oz Alon, her husband and co-founder of HoneyBook who serves as the company's CEO, in seventh grade. They've been together since the age of 16 and are parents to two children, four-and-a-half year old Ari and two-and-a-half year old Dylan. They founded the company with a third person, Dror Shimoni, who runs their company's R&D center in Israel, while they set off for Silicon Valley to found their company.

"We were accepted by a startup accelerator in Palo Alto and decided to move to the U.S. and found our company. Two weeks passed from the moment we decided to move, packed up all our things, and relocated. During that time, Dror told us that there was no reason for him to relocate to the U.S. because he wanted to find a wife in Israel. We're a couple, and believe in love so we understood that. We agreed that he would stay in Israel."

"During one of the meetings we held between our three co-founders, we reached the conclusion that the idea we had worked so hard on for a long time wasn't good enough, and we needed to change direction. "It's amazing how attached we were to our idea. When you work on something night and day, don't sleep or eat, and in the end decide to throw the entire idea in the garbage, it's not that simple. We started over with more information and were much smarter. Cutting out the bad parts as fast as possible was a lesson we had to learn," she said.

Naama never told her story, and prefers to stay behind the scenes. The idea behind the startup was hers, and she was the one who pushed for it, but in reality Oz serves as CEO. "There wasn't any dilemma. It's a natural place, in our relationship and at the company to fill complementary roles. I don't want to be the CEO, I'm looking to influence and lead, but we didn't have any questions over this. He's much more on the front lines than I am, he is a leader, and is one of the smartest and most sophisticated people I know. I admire and love him, so there were no questions there. From the first day, it was clear how we'd divide our responsibilities."

As to the fact that they work with a third partner, she relayed that the secret to success is dividing responsibilities. "When there's clarity and everything is laid out, it works well. From the first day, we all knew what our positions were, and didn't deny the good or bad aspects of them," she said.