Augmedics raises $36 million led by Almeda Ventures for AR x-ray vision
The medical device company's augmented reality system shows patients' CT scans during real-time surgery. Funds to be used for developing next generation device and expanding marketing operations
Augmedics, an Israeli medical device company based in Yokneam, announced on Tuesday that it raised $36 million in a round led by TASE-traded Almeda Ventures. HI.I.G. Capital, one of the largest leading life science venture capital firms in the U.S. also participated in the round along with Revival Healthcare, which was founded and managed by former Johnson & Johnson executives.

The company relayed that the round was initially planned to raise $25 million but grew because of excess demand due to the technology's great potential. Almeda Ventures invested $2.25 million of the total. The Hospital Corporation of America (HCA) also participated in the round, as well as an additional strategic investor, and XR Investment, which is one of the company's two largest shareholders along with Terra Venture Partners. This latest investment round brings the total amount of capital raised by the company to $63 million. Augmedics was founded in 2014 by Nissan Elimelech and employs 85 people, 50 of them in Israel.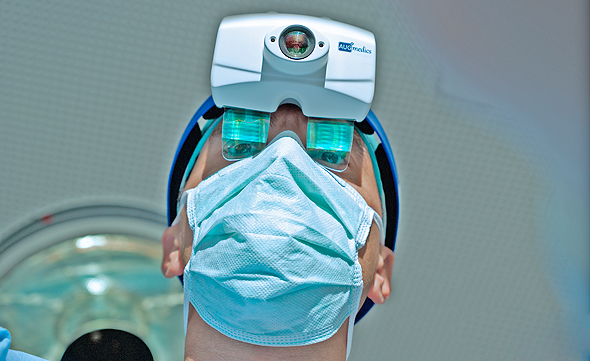 Augmedics' xvision goggles allow a surgeon to better see the operating area in 3D. Photo: Augmedics

Augmedics develops and sells augmented reality (AR) systems that display CT scans of patients undergoing surgery in real-time, providing surgeons with a 3D augmented image of a patient's anatomy and minimizing harm to sensitive tissues. In addition to being worn by surgeons as a set of goggles, the xvision system can also be used alongside robotic equipment used in spinal cord surgery. The combination of both technologies will increase the level of accuracy while conducting sensitive surgical procedures.

Augmedics received FDA approval for its xvision system in December 2019, and began sales during the second half of 2020. Since then sales have reached the millions of dollars and enabled 250 spinal cord surgeries to be carried out using the technology, which is the first in the world to rely on AR.

The round will allow Augmedics to continue its marketing operations in the U.S., develop the product's next generation device and receive the CE marking in Europe to meet safety, health, and environmental protection requirements. In 2019, the spinal cord market was estimated at around $9.6 billion.

"We are very pleased to complete this round which will allow us to advance and expand our operations and meet the high demand that our technology has seen in the U.S., following the start of our commercial sales there last year," Nissan Elimelech said, who serves as the company's founder and CEO.

"Until now, orthopedic and spinal cord surgeries have been performed with barely any technological assistance. We are now giving patients and surgeons an opportunity to significantly improve their results," Amir Blatt , Founding Partner and CIO at Almeda Ventures said. "The company's commercial success is especially interesting, since until June 2020 back surgeries were not carried out in the U.S. due to the pandemic's outbreak, so sales only took off during the second half of 2020. The high volume of sales over that short period shows the significant demand for this technology by spinal cord surgeons."

Augmedics' xvision system received FDA and AMR approval, and places a transparent screen near the surgeon's eyes. The system uses a transparent AR optical mechanism that broadcasts an image of a patient's spinal cord onto the surgeon's retina in real-time showing surgical accuracy and image depth, eliminating the need for surgeons to glance at separate screens during the procedure. It grants surgeons a type of "natural" navigation while viewing an operating area, and allows them to see the patient's anatomy through skin and tissue as if they have "x-ray" vision. The system's first application was for the highly sensitive spinal cord region which carries inherent risks such as severe disability or even death.