ClimaCell announces $77 million in new funding alongside name change
The weather prediction company aiming to revolutionize the forecasting game is now called Tomorrow.io
"Extreme weather events are like cyberattacks. In the same way states and organizations prepare for surprise attacks on their computer systems, they must prepare for unexpected weather that can severely harm their routine activities," Shimon Elkabetz, the CEO of weather forecasting startup ClimaCell Inc., told Calcalist. The Boston-based company that was founded by Israelis announced on Tuesday that it has completed a $77 million funding round and that it is changing its name to Tomorrow.io.

The equity round was led by Stonecourt Capital with the participation of Highline Capital. The company has raised $185 million to date and employs 120 people, 40 of them out of its Israeli development center. "We have 20 open positions in Israel alone and more for our offices in other locations around the world," Elkabetz said.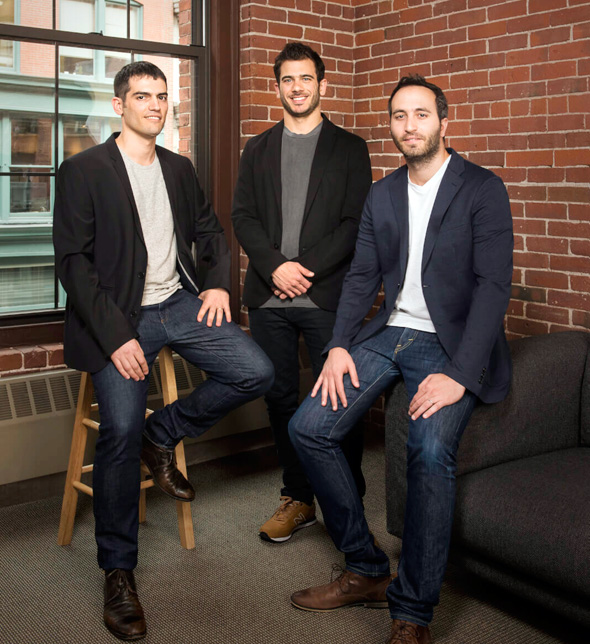 ClimaCell founders (from right) Shimon Elkabetz, Rei Gofer and Itai Zlotnik. Photo: Courtesy

In February, the company launched its ambitious Tomorrow Space project that would see it launch dozens of radar-equipped satellites over the coming years in an effort to significantly improve its weather prediction capabilities. "Nowadays companies realize how important accurate weather predictions can be. These days humanity requires precise forecasts and we can no longer depend on a single radar or on the government to provide it. Accurate weather predictions should be something the private sector can provide and we will be the company that changes the all-around picture," Elkabetz said.

"We are different from anything else that exists in the weather prediction industry. Most apps you may be familiar with simply recycle government forecasts and essentially offer the same one. Ours is the only independently gleaned forecast. We don't just provide an independent forecast, but one that is business-oriented. Even without our new satellites, our forecasts are better than the European model, which itself is at least 20% better than the rest. Once our first satellites will be in orbit, there will be a dramatic improvement. We will be able to know what is taking place in every ocean and every corner of the globe. Five billion people around the world are currently not receiving accurate forecasts," Elkabetz said.

Elkabetz estimates that the company's first satellites will be launched in the first half of 2022 and that it will be able to provide global coverage, with a fleet of 30-40 satellites, by 2024. "Nowadays there is a single radar satellite in space, which costs a billion dollars and gathers only a minute sample of information. The moment we launch our satellite, the amount of data will double, and from that moment on we will see a huge improvement. Gaining full coverage will alter things unrecognizably. We already have clients that want to purchase the data we will gather," he said. "We currently have an excellent consumer app that's doing great work and our goal is to help countries, businesses, and private consumers. We developed meteorological services on a subscription basis and are about to announce the first country that signed an agreement with us. We have many Israeli companies, including the ICL Group and several local authorities."

Elkabetz believes that the company he founded alongside two other Israelis who live in the U.S. can alter the way people perceive the weather. The company developed a smart platform that offers predictions that are accurate to within a 500-meter radius and to the minute. Its product comes as a tech package for organizations and includes ClimaCell's SaaS products, the business dashboard, the weather API, historical weather for AI, and its weather assistant for mobile. ClimaCell's product allows companies to efficiently prepare and plan their activities, saving expenditure as well as preventing damage. ClimaCell uses data from weather databases as well as from wireless networks, internet-of-things (IoT) devices, and cellular networks and analyzes it to determine real-time, on-ground weather conditions.

The company's clients include Uber, Delta, Ford, Intact Insurance, National Grid, the U.S. Open, Rappi, Porsche, and more.

Elkabetz founded the company in 2016 together with Rei Gofer, and Itai Zlotnik. Other investors include Square Peg Capital and Pitango Growth.