Exclusive
Kaltura's Nasdaq IPO called off due to low demand
The Israeli company had intended to go public at a $2 billion valuation. Is Israeli tech losing its shine on Nasdaq?
The Initial Public Offering of New York-headquartered and Israeli-founded video creation and distribution company Kaltura Inc. scheduled to take place on Nasdaq on Thursday has been postponed, Calcalist has learned.

Kaltura had intended to go public on Nasdaq at a $2 billion valuation, but Calcalist has learned that the company received indications that it is likely to fall well short of its expectations should it move ahead with its plans.

The company had planned to sell 23.5 million shares in total at a price of $15 each. 17.4 million of those shares were meant to be new shares that will provide Kaltura with $260 million in funding. 6.1 million existing shares were also supposed to be sold, resulting in a total windfall of almost $100 million for the sellers, including the co-founders.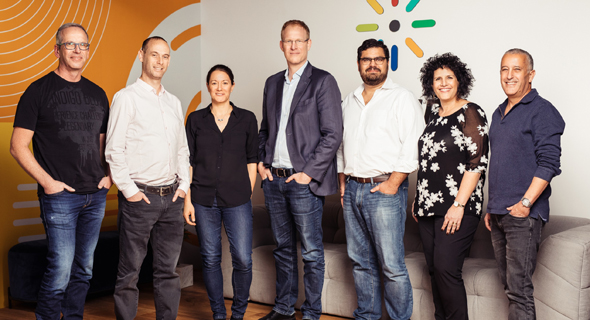 Kaltura executives. Photo: Micha Lovton

A source who spoke to Calcalist under the condition of anonymity said that Kaltura was willing to reduce its asking price and offer only around 17 million shares instead of 23.5 million. However, the company received indications that even this wouldn't be sufficient to make the IPO seem more alluring, resulting in the postponement of the IPO and raising serious doubt whether it will ever go ahead.

Kaltura told Calcalist that the price and valuation haven't changed and that the IPO process is ongoing.

According to its prospectus filed earlier this month, the company's revenues in 2020 reached $120 million, up from $97.3 million in 2019. The company listed an $8.1 million operating loss in 2020, compared to its $2.8 losses in 2019. Aside from the operating margin losses, the company reported its earnings before interest, taxes, depreciation, and amortization (EBITDA) as $4.3 million in 2020, showing a slight increase compared to 2019. It also reported an interesting figure detailing how it cut back on flight and marketing expenses by some $1.7 million due to the pandemic.

The prospectus' warning section listed some of the risks the company faces, noting it records losses each year, and doesn't know whether it will ever become profitable. The company has accumulated a deficit of $243 million, including its net losses of $38 million last year.

Kaltura operates on two main channels, in the areas of media and education for organizations, and provides complete video infrastructure for different media channels and video systems for educational institutions and large organizations. The prospectus detailed that the areas of media and education remain dominant sources of revenue, with education yielding some $80.4 million and media generating $40 million in revenues. The company's R&D expenses were $29.5 million in 2020, showing a 22% increase compared to 2019. Kaltura has over 1000 customers, 25 of whom are Fortune-100 companies, and 51% are leading educational institutions in the U.S. Its list of customers includes Oracle, Berlitz Corp., Wells Fargo, Bloomberg L.P., and Vodafone Group PLC.