HR Post Covid
Those "aha" moments are essential to our creativity, says monday.com
Working from home means you're deprived of the spontaneous brainstorming that occurs at the watercooler
"We miss the magic that happens between meetings, ideas exchanged during coffee breaks, and conversations that occur on our way out of the office together," explained monday.com's HRBP, Shaked Mizrahi. "Those 'aha' moments are essential to our creativity."

As a developer of a tool that helps companies with their organizational habits, monday.com proved to be invaluable for thousands of enterprises that worked from home this year. But the company had to manage its own challenges while helping others with theirs. "When this is all over, we'll have a greater appreciation for human interaction and the simple things we often took for granted," she added.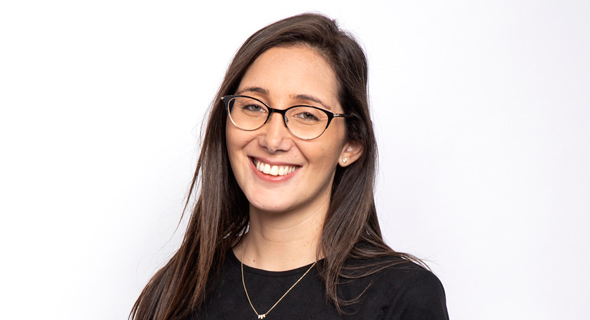 monday.com's HRBP, Shaked Mizrahi. Photo: Hadas Peretz

Mizrahi joined CTech for HR Post Covid to share how the company managed to earn those 'aha' moments despite being forced into remote work.

Company Name: monday.com

HR Leader: Shaked Mizrahi

Field of Activity: HRBP (Human Resources Business Partner)

Number of employees/location: More than 650 in Tel Aviv, New York City, San Francisco, Miami, London, and Australia

The professional background of HR Manager:

I always knew I wanted to work on a team where I could significantly impact an organization I was passionate about. I joined monday.com as a recruiter 3.5 years ago when we were just a small company of 60 employees. Although I didn't have a lot of practice under my belt, I was given a chance by leadership to wear several hats and gain experience beyond my role, which prepared me for where I am today.

I'm the HR Business Partner (HRBP), and Recruitment Team Lead for marketing and design teams in monday.com, a Work OS where anyone can create the solutions they need to run every aspect of their work. My role includes working with the business unit leaders in order to plan and execute the human capital strategy according to our business goals as a company at growth. This responsibility includes several layers such as design the human capital structure, performance and talent management, and if needed management shifts in order to support the business growth and individual development plans. I manage a team of five recruiters and support the full employee life cycle- from onboarding to their long-term journey at the company and constantly collaborating with our HR professional around compensation and benefits, learning and development, and the welfare team to support and implement new initiatives.

On a scale of 1-10, how much did the coronavirus pandemic disrupt operations at the company?

Since we use monday.com across the organization, our transition to remote work was speedy and efficient. Internally, we did everything we could to ensure a sense of stability; we kept our team rituals and routines - from daily team syncs, one-on-one sessions Via Zoom to our bi-weekly company meeting, to which we transitioned virtually to maintain the transparency that is the main aspect in our company's culture. Helping our teams virtually overcome communication and collaboration obstacles they face continues to be an essential part of the monday.com platform.

We've also had the opportunity to share our experience and help many companies find creative solutions to their Covid-19 challenges. Right away, we created a remote work resources hub to help businesses rapidly adjust to the change, including tips on managing a work-from-home team, templates for leading remotely, advice for specific departmental issues dealing with remote work, etc.

What interesting technological tools do you use in employee management/recruitment?

We use monday.com to centralize all our HR initiatives in one organized, visual place. It supports our recruitment efforts, onboarding, and measures employee satisfaction and performance.

On the recruitment side, we also integrate our system with Comeet to help us engage and hire great talent. Their integration with Zoom allows us to enhance the candidate experience with high-quality video interviews that come as close to in-person as possible. We've also added tools like whiteboards and home task solutions to help communicate and avoid frictions.

What positive and/or negative impact did the outbreak have on the human capital of the company?

Positive: Transitioning to remote work has helped us further adopt a global mindset across the company. Managing employees across different offices and timezones are no longer as complex as it used to be since we're all being as adaptable as possible.

We've also seen great success with our remote hiring process. Since most of our candidates work from home and have flexible schedules, our recruitment process (apply to hire) has been significantly more efficient.

Negative: It's no doubt that the pandemic has transformed how we communicate. Not having the ability to meet and interact face-to-face with our colleagues is a considerable challenge. One of our fundamental values at monday.com is communication and teamwork; although we're continuing to find creative ways to keep collaborating remotely, nothing can entirely replace the feeling that comes from an in-person brainstorm.

What are the two major challenges you are coping with these days?

Scaling in a pandemic. In 2020 we doubled our headcount, recruited 350 employees, and opened four new offices in San Francisco, Miami, London, and Sydney to support our global expansion and ease the transition to remote work worldwide. On top of the usual challenges associated with rapid growth, we've had to navigate this under Covid-19 precautions. It's also important that the employees we hired remotely - who haven't seen the office or met their colleagues in person - still feel a sense of community and a connection to our values.

Work/life balance: As a high-growth company, monday.com has always been a fast-paced work environment. With the added pressures and changing situation of the pandemic, the line between professional responsibilities and personal ones has been blurred. We take this challenge super seriously and empower each of our employees to divide such responsibilities as needed. Family always comes first, and we've done our best to support employees balancing work from home responsibilities, mental health, exercise, personal hobbies, and more, as best they can. We're constantly looking for new ways to help our employees create a better work-life balance.

Are you actively recruiting? If so, what is the process and where can the applicants find you?

Yes! we have open positions across the globe and since our HQ is in Israel we are heavily recruiting here as well. You can find all of the career opportunities here.

To get to know us even better as a company I also recommend candidates to visit Startup for Startup, our platform for sharing knowledge, experience, and insights. Candidates can listen to more than 100 episodes and each episode of the Startup for Startup podcast focuses on a different challenge we faced on our journey as a growing startup. From how we defined the company culture, to what's behind our product methodology – this is where we share not only what we've learned along the way, but also what we haven't quite figured out yet.

Which changes forced upon you by the circumstances will stay in place after Covid-19 is over, and which are you most eager to revert back to normal?

We miss the magic that happens between meetings, ideas exchanged during coffee breaks, and conversations that occur on our way out of the office together. Those "aha" moments are essential to our creativity.

When this is all over, we'll have a greater appreciation for human interaction and the simple things we often took for granted. We'll also remember the solidarity felt between our teams and the support we provided each other during this challenging time; if we continue to aim high and be as innovative and dynamic as we have - we can conquer anything.