Cybersecurity: What are the hottest jobs and who are the highest earners?
With the demand far outweighing the supply and new professions being created on a regular basis, the cyber job market is at an all-time high
One in every 10 tech employees in Israel works in the cybersecurity sector, which every year creates 800 new job openings. The demand far outweighs the supply, and when it comes to cybersecurity, often it isn't a shortage of programmers that causes the deficiency. The rate of innovation in the space is what is creating the demand for completely new professions on a regular basis, with estimates putting the shortage at hundreds of employees, many of them in these relatively new professions.

"Cyber is a profession in itself," said Nitzan Amar, a senior executive at the National Cyber Directorate and the former head of the IDF's computing and cyber defense academy. "In the U.S. for example, they have defined 64 sub-specialties in cybersecurity, which include thousands of different training applications."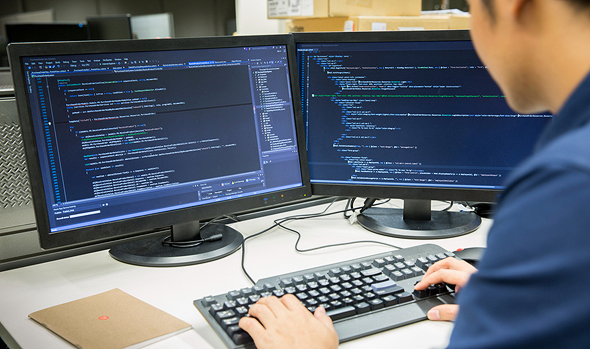 A programmer. Photo: Shutterstock

Amar said that the cyber sector suffers from an especially wide variance in the level of qualifications and professional demands required from employees. "These gaps exist in all of tech, but in cybersecurity they are accentuated due the knowledge one requires in the different disciplines and the fast changes taking place in the sector, which is led by the attackers."

The cyber directorate has recently been collaborating with local colleges in an effort to set up numerous training programs. One of those colleges is the ITSafe cyber online college founded by former NSO Business Manager Amir Bar-El together with cyber experts Roman Zaikin and Shai Alfasi. ITSafe trained around 10,000 people between the ages of 15 and 40 throughout 2020, with many of them going on to find jobs in the sector.

Calcalist held numerous conversations with experts in the market to identify the five cyber sectors that exhibit the greatest demand for manpower. Contrary to the outdated perception that technological tools are enough to protect a company, it has now become clear that the human factor is just as important. "Technology by itself is no longer enough and you need someone to manage the defense systems and all the components that are acquired from the cybersecurity companies," explained Bar-El.

The most sought-after professions in cybersecurity in Israel are...

1. Chief Information Security Officer - The CISO is essentially the boss of the cyber experts in the organization. This relatively new role still doesn't exist in every company.

Salary: NIS 23,000-35,000 ($6,900-$10,500)

2. Security Operation Center - The SOC is responsible for monitoring the activity of the security systems and addressing real threats once identified.

Entry-level salary: NIS 9,000 ($2,700)

Medium-level salary: NIS 20,000 ($6,000)

Executive-level salary: NIS 28,000-30,000 ($8,400-$9,000)

3. Incident Response (IR) - Analyzing what unfolded following a breach in order to prevent its recurrence.

Entry-level salary: NIS 9,000 ($2,700)

Medium-level salary: NIS 25,000 ($7,500)

Executive-level salary: NIS 28,000-30,000 ($9,600-$12,000)

4. DEVSECOPS - A new and in-demand profession that combines development, operations and defense due to companies already working on security features at the design stage of their product.

Entry-level salary: NIS 22,000 ($6,600)

Medium-level salary: NIS 33,000 ($9,900)

Executive-level salary: NIS 35,000-38,000 ($10,500-$11,400)

5. Web Penetration Tester - A WPT provides support for software and application developers by legally attacking their security solutions and identifying possible breaches in advance.

Entry-level salary: NIS 15,000 ($4,500)

Medium-level salary: NIS 25,000 ($7,500)

Executive-level salary: NIS 34,000-40,000 ($10,200-$12,000)