Fyllo raises $30 million to expand digital marketing and compliance solutions beyond cannabis industry
Some 60% of the funds raised in the Series B came from outside of the cannabis sector, validating the Israeli company's potential to scale beyond the endemic market
Fyllo, which develops digital marketing and compliance solutions technology for highly regulated industries, including cannabis, has raised a $30 million Series B co-led by JW Asset Management and Sol Global. Additionally, Peter S Kraus, chairman and CEO of Aperture Investors, and former Alliance Bernstein CEO joins the company's Board of Directors.

Fyllo has raised nearly $60 million since it was launched in 2019 to solve the most pressing marketing and compliance challenges facing the cannabis sector and other highly regulated industries. Fyllo's Compliance Cloud suite of SaaS software is used by multi-state operators that include Columbia Care and Grassroots Cannabis. Fyllo has rapidly expanded its suite of services via acquisitions such as CannaRegs in 2020, which provides a regulatory compliance tool, and DataOwl earlier this year, which provides retail marketing, loyalty, and point-of-sale solutions.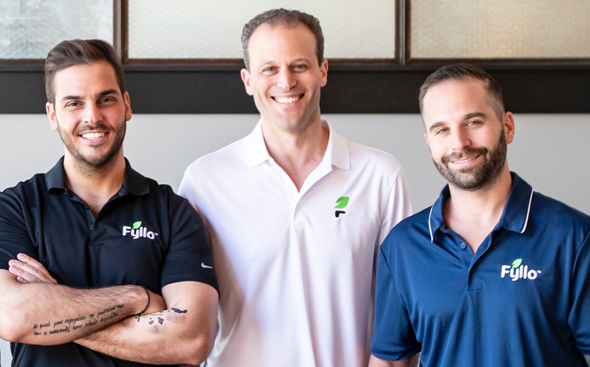 Fyllo co-founders Chak Bronstein (from right), Erik Shani and Aristotle Loumis. Photo: Fyllo

Some 60% of the funds raised in the Series B come from outside of the cannabis industry, underscoring the maturity of the burgeoning cannabis market and validating the company's potential to scale beyond the endemic market to address similar challenges faced in other highly regulated industries. Round participants included K2, Entourage Effect Capital, George Steinbrenner IV, Arcadian Capital Management, Salveo Capital, and 2 NRP Managers, LLC an investment group led by Ben Lurie.

"The cannabis industry has benefited from rapid growth and innovation yet has lacked the enterprise software solutions to enable it to scale akin to other regulated industries," said Chad Bronstein, co-founder and CEO of Fyllo. "When we founded Fyllo in 2019, we saw the void in the cannabis market for technology services and the opportunity to create a definitional and disruptive solution. This vision has played out in the last 20 months as Fyllo now works with nearly every major multi-state operator in the U.S., removing barriers for these companies to scale with the speed of their mainstream peers."

Funds from the Series B will be used to double the company's engineering team, scale operations and sales, and accelerate the delivery of compliance automation solutions to publishers, advertisers and operators.