Holocaust memorial event March of the Living goes virtual because of Covid-19
In honor of Holocaust Memorial Day, the annual march to former Auschwitz concentration camp to commemorate survivors will be hosted in an online format, feature U.S. coronavirus czar Dr. Anthony Fauci, Pfizer CEO
Due to travel restrictions still in place for the coronavirus (Covid-19) pandemic, the annual International March of the Living event will be held virtually this year. Participants from all over the world will hold a virtual march on Thursday, which marks Israel's Holocaust Remembrance Day.

The event will be led by Israeli President Reuven Rivlin, Jerusalem Mayor Moshe Leon, Jewish Agency Chair Yitzhak Herzog, Jewish National Fund Chair Avraham Duvdevani, and Holocaust survivors, among them Rabbi Israel Meir Lau, who formely served as Israel's Ashkenazi Chief Rabbi and Chairman of the Yad Vashem Holocaust museum.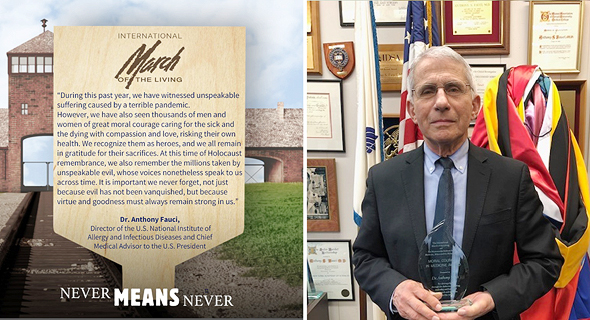 Dr. Anthony Fauci is one of the participants in this year's virtual March of the Living. Photo: PR

Due to restrictions on travel and public assembly in Poland,event organizers' decided to pursue the march in an online format, where participants were filmed using innovative 3D technology so they appear to be marching along the traditional March of the Living route from the Auschwitz camp to the Birkenau one.

With this year's theme being Medicine and Morality, many medical professionals, such as doctors, nurses and paramedics, including the World Health Organization will participate in the virtual program as well as Israeli giant Teva Pharmaceuticals, Israel's Coronavirus Commissioner Prof. Nachman Ash, whose parents were both Holocaust survivors and his U.S. counterpart Dr. Anthony Fauci.

"During this past year, we have witnessed unspeakable suffering caused by a terrible pandemic. However, we have also seen thousands of men and women of great moral courage caring for the sick and the dying with compassion and love, risking their own health. We recognize them as heroes and we all remain in gratitude for their sacrifices. At this time of Holocaust remembrance, we also remember the millions taken by unspeakable evil, whose voices nonetheless speak to us across time. It is important we never forget, not just because evil has not been vanquished, but because virtue and goodness must always remain strong in us," Dr. Fauci commented.

Pfizer CEO Albert Bourla, whose company's anti-Covid-19 vaccine is central to Israel's widespread vaccination campaign, spoke of his parents who were among the 2,000 of 50,000 Jews in Thessaloniki, Greece to survive the Holocaust.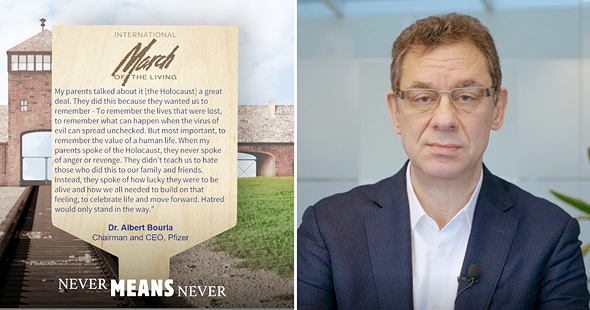 Pfizer CEO Albert Bourla. Photo: PR

"

My parents talked about the Holocaust a great deal. They did this because they wanted us to remember - to remember the lives that were lost, to remember what can happen when the virus of evil is allowed to spread unchecked. But most importantly, to remember the value of human life. When my parents spoke of the Holocaust, they never spoke of anger or revenge. They didn't teach us to hate those who did this to our family and friends. Instead, they spoke of how lucky they were to be alive and how we all needed to build on that feeling, to celebrate life and move forward," Bourla noted.

"We all have a duty to pass on the memory of the Holocaust to future generations, not to forget, to not let it be forgotten. During the pandemic we are prevented from stepping on the accursed earth, saturated with the blood of six million of our people, and yet we vow to never forget or let go. Technology allows us, each and every one of us, to participate in the March of Living without leaving our homes. We must harness all those tools at our disposal to fight racism, anti-Semitism, and Holocaust-denial. We will continue marching," Rivlin said.

During the online event, viewers will be able to virtually "place" memorial plaques with personal messages on the infamous train tracks at Birkenau. Every year, 300,000 people participate in the annual event, which has taken place every year since 1988 and commemorates the genocide that murdered 12 million people - six million of them Jews. Rain or shine, throngs of people march the nearly-two miles down the train tracks connecting both camps.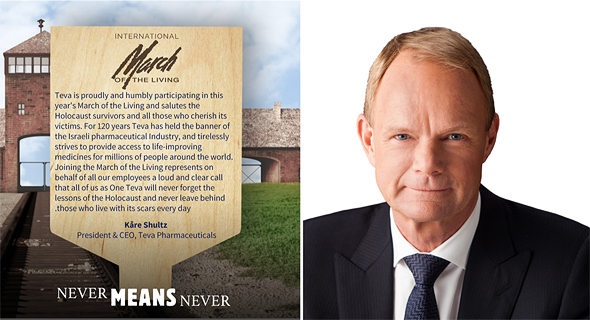 Teva CEO Kare Shultz. Photo: Reuven Kapochinsky

"The 'March of the Living' connects between those who learned about the Holocaust firsthand and those who did not; between the generation of survivors that is disappearing, and the younger generation that grew up not knowing firsthand the story of the Holocaust, and the struggle of the Jewish people as well as the predatory powers of racism and anti-Semitism," Jewish Agency Chair Isaac Herzog said.

"Teva is proudly and humbly participating in this year's March of the Living, and salutes the Holocaust survivors and all those who cherish its victims. For 120 years Teva has held the banner of the Israeli pharmaceutical Industry, and tirelessly strives to provide access to life-improving medicines for millions of people around the world. Teva will never forget the lessons of the Holocaust and never leave behind those who live with its scars every day," commented Kåre Shultz, who serves as the President & CEO of Teva Pharmaceuticals.

"This is an exciting closing of a circle for the Israeli medical industry, where we have gone from a nation who many tried to destroy it to one that is leading in medicine, from a nation that dealt with death to one that deals with life. Science education and pursuing medical solutions that preserve our continuity will ensure that previous generations and their survivors will not be forgotten or left behind," said Dr. Eran Harari who serves as Vice President of R&D at Teva.

The event will be broadcast online on April 7 at 7 p.m. Eastern time. The public can register online.