Cofense acquires Israeli Cyberfish's anti-phishing email platform
Cofense's phishing intelligence will be used to train and evolve Cyberfish's machine-learning algorithms to block malicious emails in real-time
Cofense Inc., a phishing detection and response platform acquired Israeli company Cyberfish on Wednesday. The companies refused to disclose the sum of the acquistion but Calcalist has learned it was estimated to be around $100 million, making it Cofense's first acquistion of an Israeli company. Cyberfish's zero-second phishing protection solution combines computer vision and artificial intelligence to stop phishing emails and websites in real-time.

Virginia-based Cofense is a leading provider of phishing detection and response solutions. Designed specifically for enterprise organizations, its Phishing Detection and Response platform relies on a network of over 26 million people who actively report suspected phishing, combined with advanced automation tools to halt phishing attacks faster while staying ahead of security breaches. Some of its customers include leading organizations in the areas of defense, energy, financial services, healthcare, and manufacturing.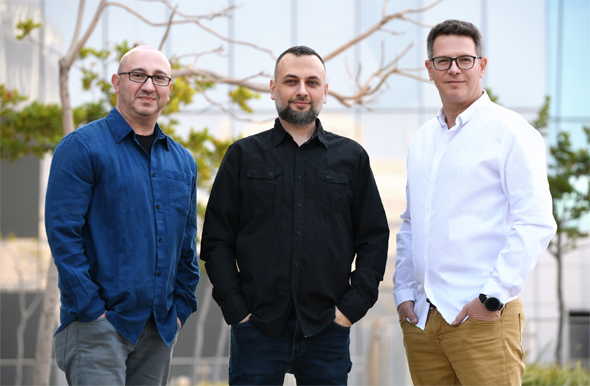 Cyberfish's team. Photo: Elad Gutman

Cofense's acquisition of Cyberfish is intelligible: the Israeli startup provides a zero-second phishing protection solution that combines computer vision and AI to stop phishing emails and websites in real-time, before they have been reported or blocked. The company's technology is specifically designed for managed-service providers (MSP) and managed-security services (MSSP).

The acquisition will help bring to market a holistic, advanced automation solution for email protection, detection, and response. As the process of digital transformation accelerates and migration to cloud-email services from Microsoft 365 and Google Workspace increases, organizations are rethinking email security.

Cofense's phishing intelligence, which has already been deployed in thousands of enterprises around the world, will also be used to train and evolve Cyberfish's machine-learning algorithms to block malicious emails in real-time, before they have a chance to be opened or blocked. Cyberfish's technology can be easily installed in less than a minute and enables real-time phishing protection.

Cyberfish was founded in 2018 by Dima Kagan, Eugene Geht, and Amit Israel. It received funding from Spinach Angels and Jerusalem Venture Partners, and is based out of Beer Sheva.

"Together, Cofense and Cyberfish will offer a one-stop shop for an organization's email security needs. Disrupting the email security market is in Cofense's DNA, and we look forward to advancing phishing detection and response capabilities for more organizations in 2021," Rohyt Belani said, who serves as Cofense's co-founder and CEO.

"We want to take email security to the next level. Together we want to revolutionize the email security market, which includes addressing the business requirements of MSP and enterprises offering advanced email protection beyond Microsoft and Google. We look forward to working together to bring that vision to reality through Advanced AI and automation capabilities," said Dima Kagan, Cyberfish's co-founder and CEO.