Israel-UAE cybersecurity ties the focus of attention at Cybertech conference in Dubai
Conference sessions included discussions on AI, Advanced IoT, Big Data, Cloud and Blockchain
The Cybertech Global event in Dubai came to a close on Wednesday after three days of presentations and panels, as well as networking between hundreds of companies, startups, government entities and organizations. This eighth edition of the international exhibition and conference is the largest networking event for the cyber industry outside of the U.S.

Conference sessions and special events included discussions on AI, Advanced IoT, Big Data, Cloud, Blockchain, and a focus on a wide spectrum of different sectors ranging from finance and insurance, SCADA/ICS, mobile and communications, health industry, smart mobility, and many more.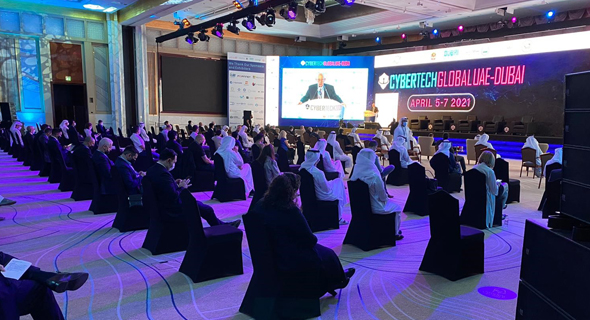 Cybertech 2021 conference in Dubai. Photo: Courtesy

Israeli speakers featured prominently and included a pre-recorded address from Prime Minister Benjamin Netanyahu, as well as participation by the Director General of the National Cyber Directorate Yigal Unna, Check Point founder and CEO Gil Shwed and entrepreneurs of the likes of Nadav Zafrir, Mickey Boodaei, and Udi Mokady.

"An event like this strengthens the ties between Israel and the UAE," said General Doron Tamir (ret.), who served in senior intelligence positions in the IDF and is currently the Chairman at Israeli-based Cyber Security Group (CSG). "We look at cybersecurity not only as a challenge but as a huge opportunity to become a growth engine for both countries. An event like this can bring Israeli knowledge, technology and innovation to other countries and help bring new business to the cybersecurity sector."

"The UAE is one of the leading countries in the world in critical infrastructures, leading with oil and gas, and water facilities and telecommunication. Israel is one of the leading countries in cybersecurity solutions in the world and the two have plenty of room for collaboration," added Rami Efrati, Managing Partner at MSF Partners Innovation AG.

CEO of Cyber Security Group Asaf Tamir noted that interests shared by Israel and the UAE could make cybersecurity a leading field for collaboration between the countries.

"Cybersecurity is a strategic threat to nations, but also a national opportunity to develop the local innovation ecosystems and create a thriving cyber economy," he said. "The UAE government has identified this opportunity and thanks to the recent Abraham Accords, is working closely with the Israeli ecosystem to achieve that. We are witnessing a historic meeting of interests between Israel and the UAE (as well as Bahrain and other Persian Gulf nations) to fight common adversaries in cyberspace. Cyber innovation can only thrive with large scale involvement by the private sector. The government plays a critical role in promoting the strategy, but the ultimate innovation comes from entrepreneurs and enterprises."