IL Tech in NY
WSC Sports: American recruits appreciate our 'Israeliness'
In collaboration with Israeli Mapped in NY, WSC Sports has joined CTech for its IL Tech in NY series to share some of the ways different cultures can be valued overseas
"Our company culture is unique and we want to get that message across when recruiting new employees," says WSC Sports. "It's important to us to keep our own brand of 'Israeliness' and we find this is something candidates really appreciate."
According to the management, which started its New York operations at the same time as its founding in 2011, "it's often new to them, refreshing and once a potential candidate meets our team and goes through the hiring process, the DNA of the company is very appealing."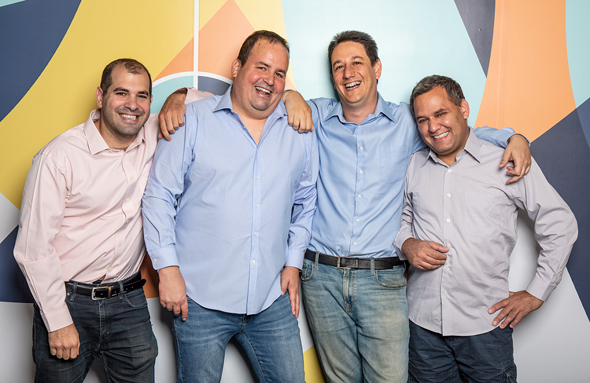 WSC Sports Founders, Aviv Arnon, Hy Gal, Daniel Shichman, Shmulik Yoffe. Photo: WSC Sports
WSC Sports has joined CTech to share some of the ways Americans and Israelis can gain from each other's cultures and habits in the office.
Company name: WSC Sports
Field of activity/product: Sports-Tech / AI
Founders:
Daniel Shichman - Co-Founder and CEO
Hy Gal - Co-Founder and COO
Aviv Arnon - Co-Founder and CBDO
Shmulik Yoffe - Co-Founder and CTO

Year of founding/start of New York operations: Founded 2011
Number of employees and whether the company is active in other locations:
180+ employees. We're active globally - our HQ is in Tel Aviv and we also have an office in Sydney, Australia
Sum of total funding to date/funding rounds completed: $49 million - C Round
Names of investors/VC backers:
Eyal Ofer's O.G. Tech, NTT Docomo, Intel Capital, Dan Gilbert (owner of the Cleveland Cavaliers and Quicken Loans), Elysian Park Ventures, the Wilf family (owners of the Minnesota Vikings), and HBSE Ventures.
General background on the founders/senior managers:
WSC Sports was founded by four friends from Tel-Aviv University who were looking to combine their tech expertise, honed during their time serving in the IDF, with the sport they all love, basketball.
After researching the sports market they started focusing on media rights and incorporating AI capabilities into the content creation process to help sports organizations to easily create sports videos.
In 2016, as the company started to gain traction in the U.S., it decided to open its office in New York City. The office. which is led by its GM Shaka Arnon, is in charge of WSC Sports' business in North and South America and the relationship with some of its biggest clients.
Background on the product/service/platform/solution:
WSC Sports' proprietary AI technology platform automates the creation of short-form sports content to over 150 leagues, broadcasters, and teams across the globe.
Its clients include the NBA, ESPN, PGA Tour, YouTubeTV, NASCAR, Bleacher Report, and more.
WSC Sports' solution enables sports media-right owners to maximize the use of their content by creating customized videos for each digital platform and personalizing the experience for sports fans automatically, and in real-time, and by doing so generating new revenue opportunities for sports media-right owners.
Why New York? What advantages does it offer? How does the market differ from Israel? How does the competition differ?
We are part of the sports market and the vast majority of our clients and target market are here.
It was very important for us to be close to the market pretty much from the beginning so we can understand the needs better and make sure that we are providing real value.
We are building a partnership relationship, not just a vendor relationship and having an office here in New York City, being in the same time timezone and making sure our clients know we are right next to them helps us to grow with our clients, develop our platform according to real needs and be there for them for everything they need from us.
Two things you learnt about the U.S. market from operating in New York:
You can always find a way to get to someone. The networking culture is very strong and people are happy to help and introduce you to other people which helps a lot.
It's important to match the speed of the city, business is done fast here, often much faster than elsewhere in the U.S.
Two things you learnt about American investors as a result of starting operations there:
Actually, we raised our A round from an American investor before starting our U.S. operations. In today's world, which is so global, and especially with Covid-19's impact, investors are much more accustomed to investing in remote companies as long as the product and business make sense. From our narrow point of view, it seems that there are many professional investors all over the world that are looking for great opportunities and not limiting themselves to geographies, especially with the competitive market today.
Two suggestions for Israeli entrepreneurs on what to do in New York:
First, as we are in the sports industry, and especially now after Covid-19 and that fans can be back in the stadiums again, you should go watch some sports!
There are a lot of meetups and networking events and being there is very helpful in connecting to the right people - it's very common to go to these events to learn about what's new and more importantly, to get to know relevant people from the industry and try to help others where we can.
Two suggestions for Israeli entrepreneurs on what not to do in New York:
Make sure to create a team that has a different professional background and that you are tapping into talent from the local industry. It's very important to keep in mind that while the U.S. office is certainly part of the company and everyone is working towards the same goal and vision, at the same time every local office has its own culture and it's important to let that develop and grow.
Make sure English is the only language spoken within shared space/online chats (don't speak Hebrew with your Israeli friends), and make sure your colleagues from the office in the Holy Land do the same. Celebrate local holidays and traditions, make sure you don't create "The Israelis Club" and be focused on creating a new office culture that is a mix between New York City and Tel Aviv. Of course, it's easier to say than to do.
On a scale of 1-10 how much did the Covid pandemic impact your work?
We'd have to say 10, but for both positive and negative reasons. Obviously, the sports media industry took a big hit, and the fact that for a while there weren't any live sports impacted the entire business and not just WSC Sports. Leagues, broadcasters, and anyone around sports lost sponsors and other sources of income.
At the start of the pandemic, there was some obvious concern, but quickly both our current partners and also potential partners saw the power and the importance of WSC Sports' automation solutions.
The pandemic period really helped us showcase the full potential of our platform to partners, who used it to create hundreds of hours of content to fill the content void they faced across their digital platforms when the live games were on hold.
During the past challenging year, WSC Sports was actually able to shine and really helped the sports industry and sports fans during this unprecedented time.
What are the differences when it comes to recruiting employees?
One difference when recruiting in the U.S. is that back in Israel we are very well known and in fact around 60% of our recruitment in Israel comes from referrals. In the U.S., people in the industry of course know who we are, but outside the sports-tech bubble, we are not so well known, for now anyway. We're working on growing our brand and attracting the right talent, but from a larger pool, for our New York City office which is more focused on sales and account management.
Our company culture is unique and we want to get that message across when recruiting new employees. It's important to us to keep our own brand of 'Israeliness' and we find this is something candidates really appreciate. It's often new to them, refreshing and once a potential candidate meets our team and goes through the hiring process, the DNA of the company is very appealing.
What are some of the workplace culture differences between Israel and New York?
The standard Israeli work environment is generally much less formal, right down to the attire, it's really rare to show up in a suit or even a buttoned-up shirt at an office in Tel Aviv.
In addition, it seems that the Israeli culture is much more open and direct - it has, obviously, its pros and cons but we talk about everything, feel comfortable to challenge our managers, and speak up whenever we see something that we think can be done otherwise.
While each country or place has its own culture, we do see that people are very used to working with people from different cultures and backgrounds from all over the world for years now, both as co-workers or as vendors-clients, so this is very natural to be around people from different nationalities and backgrounds.
The IL Tech in NY project is a collaboration between CTech and Israeli Mapped in NY. For more information email Guy Franklin via this link.