Interview
Israeli Instagram starlets are raking in cash from provocative OnlyFans accounts
Hod Moshonov, who manages models' accounts, says his phone is constantly ringing, calls it a femenist business, and credits Covid-19 for the spike in the site's use
Hod Moshonov (31) was born to be a musician. At the age of five he began playing the piano, and at 13 started a jazz band and performed with it. As an adult he discovered electronic music and recreated himself under the stage name "Bemet" ("really" in Hebrew). His talent and ambition earned him collaborations with leading Israeli musicians, and he played at music festivals around the world, including warming up for the Red Hot Chili Peppers. In 2020, he was featured in Forbes Israel's list of "30 Under 30." But then the pandemic came along, concerts were canceled and Moshonov was required once again to alter his course and recreate himself once again - this time as an agent of erotica for the masses.

A few months ago, Moshonov started an agency that promotes and turns social media stars' accounts into money-making machines via OnlyFans, a tawdry alternative to Instagram that allows users to offer paid content that other networks censor: from naughty photos to full out pornographic videos, plus special perks like personal chats with starlets.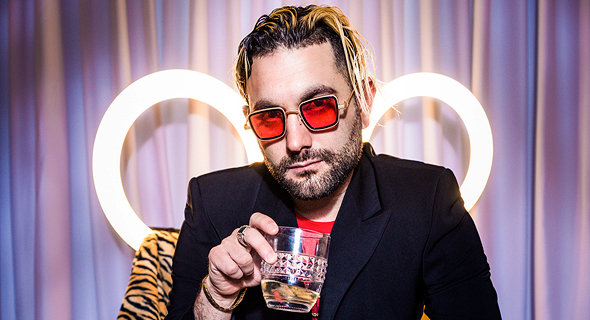 Hod Moshonov. Photo: Gavriel Baherliya

Moshonov is unapologetic. In his opinion, OnlyFans provides a peek, pun intended, into the future. The pandemic year accelerated the future and propelled his business several steps forward, and now he is a cultural agent, preaching the gospel of wantonness in Israel.

"Once there was Napster and Kazaa, where you could download music for free, but now that doesn't exist anymore, and instead you pay for a Spotify subscription. It's the same for revealing photos," he says. "You can look at pictures of girls in bikinis on Instagram for free, but soon it won't be free anymore. In the U.S., it isn't free anymore."

So what is there instead?

"If you fancy a certain model, you will pay, and she'll answer you in a private chat. It's a revolution. All the big modeling agencies in Israel are beside themselves. They won't stop contacting me. My phone is constantly ringing, and I don't even answer them anymore. Why are they calling? Because all their models are asking them 'Who is this Hod guy?' The models see the money that is to be made and don't understand what's going on."

One of Moshonov's models is Sivan Aharon (20), a fitness instructing student from northern Israel who upon completing her military service worked in a bakery, and cultivated an impressive Instagram following. Her account, which mostly features images of herself posing, has nearly 57,000 followers (sivanaharon_official). Since creating her profile on OnlyFans two months ago, she has gained over 550 followers, which she estimates generated her an income of roughly $90,000 a month. "I never thought it was for me," she says. "When I was discharged from the army, I was approached about this app for women who already post sexy photos of themselves on Instagram. It's a platform where you can do what you like to do but also make money from it. It was a perfect business offer, so I went for it. I always knew I looked good, and suddenly I received more confirmation for it."
A subscription to Aharon's feed costs between $12-$30 a month and allows users to browse some of the content that she uploads But the lion share of her income comes from premium content, for which she charges anywhere between $8-$36, on top of the regular subscription fee, and contains the most provocative content along with video chats and live text chats, providing direct communication between fans and their beloved star.

So, it's like pornography lite?

"Not at all," Aharon insists. "They're the same type of photos that you can find on Instagram, just double the amount of content, the exposure, and follower-engagement. It's true that OnlyFans has a lot of porn, but for me, nudity is crossing a red line. I see the site as a springboard to do what I really want - to be exposed to as many eyes as possible. I'm just proud of my body, and I like to upload pictures that show it."

That sounds a bit naive. The main reason why people scroll through OnlyFans is to access sexual content.

"It's true that OnlyFans is fueled by sex, but every woman sets her own limits," Moshonov says. "One of our girls, for example, held a five-minute-long video chat with a sheik in Dubai and earned $1,500, and all they did was talk."

Sivan, aren't you concerned about the site's sleazy reputation?

"I'm really proud of what I built, and I don't see anything wrong with it. I think I'm realizing my potential, and that's something that not many people can do because not everyone has that type of personality."

"It's a feminist business," Moshonov insists. "Girls are in charge of their business and decide what they do with it. Since the dawn of humanity, males ruled the world, but then OnlyFans came along and changed things up. A girl who was selling pretzels in a corner bakery can purchase a luxury apartment. The way I see it, within half a year every girl aged 18 or above will create her own account on the site and rake in the cash."

Instagram's censorship funnels followers to OnlyFans

OnlyFans was launched in November 2016, and is owned (75%) by Leonid Radvinsky, who also owns the sex video chat site MyFreeCams. The platform quickly became a great success, but the pandemic brought it a huge boom: thousands of social media and former reality TV stars who used to make fortunes from attending product launches and promoting products or events, suddenly lost their main income channels. The shift to selling their photos and videos was a quick one. At the same time, internet users found themselves at home with a lot of free time and a need for distraction and started to flock to the site.

Founder and CEO of OnlyFans Tim Stokely told Buzzfeed that during the height of the pandemic, the site gained 200,000 new users a day, and 7,000 new content creators per week. By the end of 2020, OnlyFans use spiked elevenfold with 85 million subscribed users and over a million content creators. OnlyFans generated its creators $2 billion in revenues last year, after charging them a 20% cut.

In Israel, use of the platform spiked during the lockdowns. According to Google Trends, the first significant surge came in March 2020, when the country went into complete lockdown, with searches climbing by 100% in only a few days. During the height of the second lockdown in September, the site registered another 300% leap in Israeli users, and since then the upward trend has only continued.

OnlyFans' main allure is that it merges the alienated world of porn and the sanitized world of social media networks. Instagram may have given rise to thousands of selfie-loving girls who knew how to translate their likes into advertising revenues, but Instagram draws a line on full nudity. TikTok takes the same route. Porn sites, on the other hand, offer hardcore sex, but none of the interaction that social media does.

OnlyFans' interface is uncoincidentally reminiscent of Instagram's, offering endless scrolling through infinite photos, each accompanied by a teasing caption. But on OnlyFans, the photos and videos are blocked to unsubscribed users, who must read the caption, be seduced, and remove the block in exchange for paying the required fee.

The main challenge for content creators on OnlyFans is advertising and drawing in crowds. On Instagram, for example, there is an internal algorithm that promotes content by popular users among potential followers. However, on OnlyFans there isn't a similar efficient option, so stars' promotion is mostly done on other platforms, primarily on Instagram or TikTok. That void is filled by people like Moshonov, whose main work is recruiting followers and maximizing revenues from stars' content. "I know how to get money out of people," he brags.

Even from Israelis?

"Compared to Australians and Americans, who are willing to fork out loads of money, Israelis are considered stingy and always looking to bargain. They can't fathom why anyone would pay a girl to text them: 'hey, what's up?' But over the past year, the coronavirus pandemic sparked a revolution - that is both amazing and dark: people realized that they simply want someone to pay attention to them. Avi the technician, who's been writing to a girl on Instagram for a year and she'd never answer him, realized that if he pays her on OnlyFans, she'd respond. You don't know what that means to him. He'll dish out $200, and then another $200."

"People were just lonely all of a sudden and looking for someone to talk to," Aharon says. "I get dozens, if not hundreds of messages a day. Even one person who I've known for years has started following me and talking to me. It was a bit embarrassing, but I did it with good vibes."

Do your followers have specific traits?

"I have followers of all ages and from all sectors, from Israel and abroad. Many of them are single men looking for attention, but there are also those who aren't single."

Do you get negative comments too?

"I get a lot of negative comments - hundreds a day. People judge me, without even knowing me, but I try to rise above it, and understand that not everyone is like me. Just like I have boundaries to not appear nude, there are some who think that being photographed in swimwear is also inappropriate."

What does your family say?

"My family supports me. They know that this is what I love. In any case, I don't live according to what my family wants, but only to what I want."

Does it interfere with romantic relationships?

"I have a boyfriend, and he supports me in everything I do. He knows my boundaries."

"My parents almost had a stroke when they discovered I had an OnlyFans account"

Not every one of Moshonov's clients has had such a smooth transition into being an OnlyFans star. Tennis coach Liel Kolick (21), who has previously been romantically-linked with famous Israeli pop singer Omer Adam, relayed that her family had a much harder time swallowing the revelation. "I created an account on OnlyFans half a year ago. I was living in Los Angeles on a student visa at the time, and was studying at college, so I couldn't work legally in the U.S. When I ran out of money, I started thinking about how I'd pay my rent. It became a matter of survival. So I created an OnlyFans page. I was already a powerhouse on social media - I had more than 50,000 followers on TikTok and tons more followers on Instagram, so I leveraged it. Suddenly, I became a businesswoman."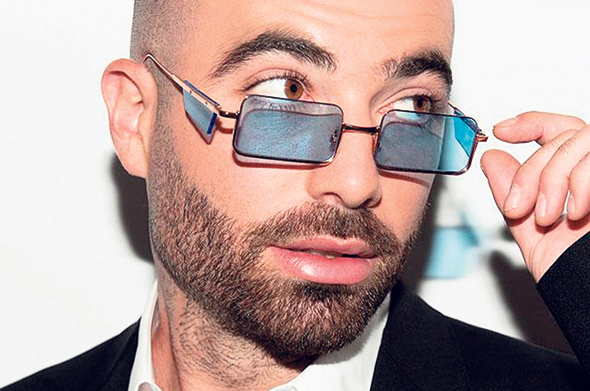 OnlyFans star Liel Kolick has been romantically-linked to Israeli pop singer Omer Adam. Photo: PR
"When I decided to return to Israel because of the pandemic, my parents discovered my OnlyFans account and almost had a stroke. They thought that their daughter was doing inappropriate things that might even be dangerous. They even went to see a psychologist. They immigrated to Israel from the Soviet Union, where they had been indoctrinated with Russian values, and where anything provocative is also considered problematic. They wanted me to immediately delete my account, and I listened to them. For four months, I didn't have an account. However, once I moved out of their house in Jerusalem to an apartment in Tel Aviv, I decided that I need to do what I love and want to do. I reopened my account and within two weeks it blew up. Everyone is talking to me about it, even people who spot me on the street. I still don't think that I'm a celebrity, but maybe in the future. In the end, even my parents accepted it."
So what's the difference between doing it in Los Angeles or here?
"There every other girl has an OnlyFans account, and there's no problem with it. In Israel, everything is much more conservative, and people get angry and immediately let loose on anyone who takes revealing pictures of themself. People are misinterpreting OnlyFans."
How did people who knew you respond?
"Most of the comments were positive, but some people think differently, and I had some girlfriends who even cut off contact with me because of it. I also saw many kids who were in my class in high school on the site. I think it's more interesting for them to see me because they really know me. That's the reason why people are prepared to pay on OnlyFans - they feel like they already know me, from social media or in real life. I think that's why it makes them even more interested to see more of my sexy content, because to look at provocative pictures of someone you don't know isn't as interesting."
In your opinion, what crosses the line?
"I love doing what I want. I have a lot of requests on chats to do all sorts of sexist or perverted things. I can teach an entire class about sexual perversion. In the beginning, it was a bit weird for me and I'd ask myself: 'what the hell? How could people think of that, like that, or want that? Then I realized that there's an entire world out there, and that's what I was born into and where I was meant to be. I really feel like my body was meant to be on OnlyFans, I don't know how to explain it. It's like my body is a perfect fit for this site."
What do you want to be when you grow up?
"A millionaire."
"My phone is constantly blowing up. There are lots of girls who want to join the site."
Moshonov manages eight OnlyFans stars, among them four of Israeli girls. He discovered the site a few years ago, when he was dating a Canadian girl, who was "living a life of luxury thanks to OnlyFans," he said. When the pandemic broke out, he decided "to take advantage of the unripe potential in the Israeli market," and started reaching out to relatively anonymous girls who had tens and hundreds of thousands of Instagram followers and offered to create OnlyFans profiles for them. "In Israel, the trend is gaining interest. When I started there were less than 10 Israeli girls on the platform, and now there are at least 100 Israeli girls with plenty of Israeli and foreign followers. Australians, for example, really love Israeli girls. It turns out that's a thing."

What does it mean to build someone up on OnlyFans?

"First and foremost I'm a stylist," he explains. "Just like you do in the music industry, I take someone and design a persona around her. I do her styling, I direct her photo shoots and her content, then I do '360-degree management' for all her social media profiles so that they will funnel her followers to her OnlyFans page. Sivan, for example, is a sort of provincial sports fan. So I took her and built her up as the 'girl next door.' The followers go nuts for it, and are dying to see more of her. On the other hand, there is Sapir, who we built around more of a slutty persona, which resulted in an explosion fo $50,000 in a week. That's how you do public relations."

The "Bemet method" he calls it, grinning from ear to ear. "It's a boutique method. Every girl is a different persona, a new project to work on. It's not like Coca-Cola that just has to produce a product. One girl has to work in a certain way and in certain hours, and for another it's totally different."

So what does an average workday look like?

"Girls spend the entire day responding to their followers' comments. It's hard work, and repetitive. They don't leave their homes - it's crazy, but the money is crazy too."

Aside from being involved in promoting the OnlyFans pages of the models he represents, Moshonov fights a constant battle against internet trolls. The web is full of young men who are eager to get leaked photos and videos from the OnlyFans accounts of Israeli starlets who they follow on Instagram. They fill forums like Reddit and Discord with screenshots of exclusive content from OnlyFans starlets' accounts.

In response, Moshonov instructed the starlets to threaten on social media to hack into the instagram accounts of anyone who was caught screenshotting image. "You need to fight terror with terror," he says. "Those people are breaking the law. Some of them even opened websites with stolen images - and that won't continue to happen. They know that we'll get to them, and that we're not playing games here."

And there are vengeful harassers as well. "One time my photos were distributed outside of OnlyFans, and it was really difficult," Aharon says. "Suddenly, I was exposed to the entire world. There was one man who didn't get what he wanted, and was so furious that he screenshotted an image and distributed it. He also harassed my family, and would send them messages with my images. I was really broken up, because a red line had been crossed. I began questioning whether I really wanted this, and if it was really worth it. So I took some time off - about a week to clear my head - and then decided to return full-strength."

That type of harassment could have turned into something a lot worse. Would you recommend OnlyFans to other women?

"Yes, I talk to girls all the time. They send me messages and I tell them everything and give them pep talks. I think it's great that they feel so comfortable with their bodies, so why not?"

"It isn't feminist sexual liberation, it's prostitution"

Not everyone believes that OnlyFans is about feminist sexual liberation. "OnlyFans is produced under the guise of liberating women's bodies, but in reality there is nothing liberating or empowering about it for women," says Dr. Ateret Gewirtz-Meydan, who serves as a senior lecturer at the University of Haifa's School of Social Work and is a certified sex therapist. "In a certain sense, this is prostitution in the digital era, and in the end they're sucked into a tailspin of offering ever more provocative or sexier pictures, or doing ever more extreme things, to boost their income or recreate themselves. I also wonder what that feeling does to a woman, or a man, this notion that their body has a 'price.' And the younger the girls are when they enter these platforms, the more the concern rises that this somehow relates to a willingness to do very extreme things, sexually, without any gradual progression."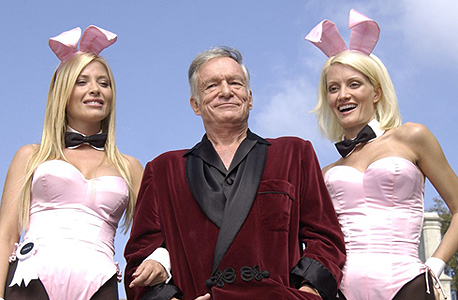 Critics insist that OnlyFans is more harmful than average pornographic content such as Playboy magazine. Photo: GettyImages
Some might call you conservative, and insist that young girls today aren't repressed like in previous eras, and are simply looking for legitimate exposure.
"We were all born with the need to be seen, loved, admired, or told that we're special. Those are universal legitimate needs, and people find different ways to attain them. However, it's impossible to fill them through sex sites and sexting. In the end, it's just an 'own goal,' because they don't really receive that admiration," she said.
Dr. Yaniv Efrati, who is founder of the Israeli Center for Healthy Sexuality and is a senior lecturer at Beit-Berl College, studies compulsive sexual behavior. He believes that OnlyFans users' are in grave danger. "People don't really understand what the problem is. On the surface, there's this platform where no one is being taken advantage of, so we've solved the central problem with pornography. But for the consumer the problem hasn't been solved - it may even have been worsened. Anyone looking for attention, warmth, and love will find only a pretend version of human connection on OnlyFans. You speak to an attractive girl, she responds to what you say, and it creates this feeling of intimacy which we know isn't real. It's part of the game. Some consumers will say: 'No, I don't care. I still like it.' But there is real harm and they are disregarding its importance."
"In the end, people who live fulfilling and normative lives, that are filled with tasks, are less likely to become OnlyFans' users. People who pay money for this service are those whose everyday life is arduous and long, and don't possess the tools to deal with loneliness and alienation. So they pay a lot of money to fill that void. It isn't a coincidence that during the pandemic the site flourished, when we were all isolated."
Isn't a relatively innocent chat preferable over porn consumption?
"There's a difference between porn to interactive sexual content. People who look at porn are passive, while those who consume interactive sexual content, like paid chats, are more like those who exhibit compulsive sexual behavior, similar to an addiction. OnlyFans makes most of its revenues off of people in distress, just like gambling," Efrati said.
That criticism doesn't bother Moshonov, who fully admits that "everything I do is cunning and even completely evil. I take people and emotionally blackmail them for money, but for me it's pure business. That's how it works."
What does your family say about it?
"In Israel, everyone thinks that OnlyFans is prostitution. Even my parents don't understand it, and aren't able to accept it. My mother tells me: 'you're not going to get the Israel Prize for this,' but she sees how much money I make and understands that something real is happening here."
"We're like Saudi Arabia over here. It's true about a lot of things, and one of them is that there isn't a culture of sex here. I grew up and studied in the U.S., and on Fridays people would go to strip clubs. That's the culture, and it doesn't exist here."
Maybe it's better that way.
"I think that because it doesn't exist here, that's the reason why there are rapists and disgusting people. In Israel, anything related to sex makes people call foul. I want to Americanize Israel, and OnlyFans is part of that."