Israeli medical device company Memic raises $96 million to expand surgical robotic solution
The funding is set to primarily support commercialization of the Hominis surgical robot in the U.S. following FDA De Novo marketing authorization
Israeli medical device company Memic Innovative Surgery, which is focused on transforming robotic-assisted surgery with its proprietary technology, announced on Monday the closing of a $96 million series D financing round. The round, which was led by Peregrine Ventures and Ceros with participation from Ourcrowd and Accelmed, comes on the back of the company's Hominis system receiving De Novo marketing authorization from the U.S. Food and Drug Administration (FDA) in February 2021.

The first FDA approval was for use in single-site, natural orifice laparoscopic-assisted transvaginal benign surgical procedures including benign hysterectomies. It is the first and only FDA-authorized surgical robotic platform that features miniature humanoid-shaped robotic arms that provide human level dexterity, multi-planar flexibility, and 360 degree articulation. The biomimetic instruments are designed to replicate the motions and capabilities of a surgeon's arms, with shoulder, elbow, and wrist joints. Multiple instruments can be introduced to the body through a single portal and the 360-degree articulation offers obstacle avoidance as well as optimal access and working angles.
Memic employees. Photo: Roei Mizrahi

In addition to these features, the system will be sold at a significantly lower price compared to other marketed robotic surgery systems, potentially allowing more medical facilities including hospitals and ambulatory surgical centers to access and adopt surgical robotics.

Memic has previously raised $20 million in two funding rounds, including $2 million from the Israel Innovation Authority.

"The money we have raised will allow us to take the company and build a real business from it," Memic CEO Dvir Cohen told Calcalist. "We will expand into additional areas. In order to change the medical robotics world you need to make a significant investment."

"Covid-19 accelerated pre-existing processes and companies which adopted their product to the changing market created additional opportunities. As a result of the pandemic, many companies in the U.S. are moving their operations to ambulatory centers which are looking for solutions like ours. There is a vast ocean of opportunity awaiting us in the U.S.," added Cohen. "We wanted to remain under the radar until now, and build up our system's capabilities and manufacturing abilities. We are here to build a business that will last for many years and that is why we have built such a vast infrastructure."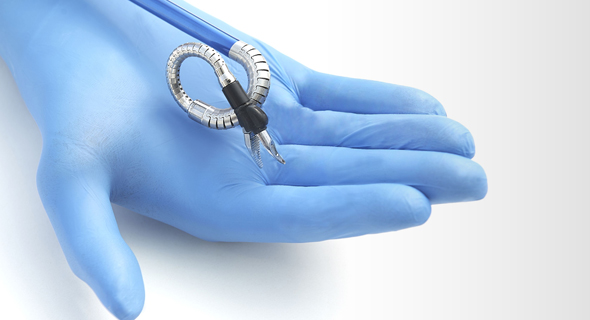 Memic's robot the Hominis. Photo: Memic

Approximately 600,000 hysterectomies are performed annually in the U.S. The transvaginal approach is well-documented and results in better clinical benefits, including less patient pain and scarring, shorter recovery times, and reduced infection rates, compared to other traditional approaches to hysterectomies. In a recent clinical study that took place at the Rambam Health Care Campus in Haifa led by Prof. Lior Lewenstein, the Hominis system was used to perform 30 hysterectomies. All of them were completed successfully with the transvaginal approach resulting in no device-related adverse events or intraoperative complications.

Memic was founded in 2012 by Cohen and Peregrine Ventures and initially operated in the Peregrine-run Incentive Incubator. The company currently employs 80 people, 60 of them in Israel. Memic has an R&D center in Or Yehuda and an engineering center in Acre where the robots are manufactured. Memic has set up a wholly-owned subsidiary in Fort Lauderdale, Florida which is in charge of global customer services, professional education, sales, marketing, and clinical research.

Funding will support commercialization of the Hominis robotic-assisted surgical platform in the U.S. and potentially in other countries around the world as the company plans to expand its marketing and sales efforts outside the U.S., and aims to recruit an additional 50 employees in 2021. The financing will also support continued research and development efforts including expanding the company's product portfolio and manufacturing scaleup, as well as providing world-class customer support and training.

"The surgical robotic market is one of the fastest growing sectors in the world of medical equipment," added Cohen. "Memic's unique capabilities will place it as a key player in this growing market. Following the funding round and the FDA's approval, we will begin to sell the system in the U.S. and integrate it into hospitals. We expect to receive the CE mark in the second half of 2021 after which we will also be able to enter the European market. We will expand the use of the system into additional surgical procedures and incorporate artificial-intelligence capabilities."

Memic's leadership team has over 70 years of combined experience in the surgical robotic arena. Its chairman of the board is Maurice Ferré, MD, who is the founder and CEO of Mako Surgical, Inc.

"Memic is a unique company in the medical equipment market which is disrupting the surgical robotic sector," said Ferré. "We have an exceptional opportunity to turn it into a big and leading global company which will improve the welfare of millions of patients."