From startup stardom to jail: former-Meetey CEO gets 38-month jail sentence for falsifying app data and defrauding investors
Tomer Yosef, who raised NIS 10 million for his social media app, was convicted in a plea bargain of fraud and theft offenses, using the cash, among other things, to buy a Manhattan apartment
When big money meets a creative high tech entrepreneur it could end, often, in an impressive exit. But occasionally - as can be seen from the plea bargain that was filed this week at the Lod District Court - it could also end in fraud. The amount in question is some NIS 10.5 million ($3.2 million) that was invested in the social app Meetey, in large part due to falsified user data. Meetey was promoted as a location-based social network that connects users to people in their local surroundings by sharing experiences.

Tomer Yosef, the entrepreneur behind the app, whose fraudulent actions had first come to light following an appeal made by Calcalist, admitted and was convicted under a plea bargain on accounts of fraud, entanglement, theft, money laundering, and tax evasion. Yosef will serve a 38-month jail sentence.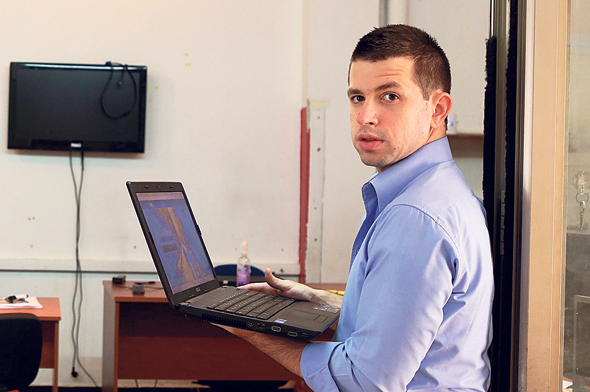 Tomer Yosef was convicted of fraud. Photo: Nimrod Glicksman

According to the details of the plea bargain, Yosef admitted that he purchased with the funds a two-bedroom apartment in mid-Manhattan for NIS 3.7 million ($1.1 million) that is a five-minute walk from Times Square, and used part of the money to furnish his Israel residence, and also pay his attorney and his business consultant.

A criminal investigation against Yosef is underway in the U.S.

The victims of the affair, Gal Kalkshtein and his wife Lital, who were the main investors in the app whose activity was halted in 2014, received back just 35% of the money they invested. Gal, whose family made their fortune in the algo-trading business (his father and brother founded Final Israel Ltd), and his wife Lital will receive the profits from the sale of Yosef's apartment in New York, which is estimated to be valued at around $1.1 million, in addition to receiving NIS 605,000 ($183,000) seized from Yosef's bank account, as well as the fine he paid - some NIS 400,000 ($120,000), adding up to around NIS 3.7 million ($1.1 million).

Yosef was being represented in court by his attorney, Sharon Nahari, who specializes in white-collar offenses and overseas extraditions. Yosef also faced a criminal investigation in the United States for impersonating employees at the international Edelman public relations firm, which is based in New York, with the aim to extract money from the Kalkshtein family.

Yosef, who at the beginning of his investigation in February 2017 was arrested at Ben-Gurion Airport, was facing a request for extradition by the U.S. authorities. The plea bargain that he signed in Israel will put an end to the American legal process, which the Kalkshtein family are also behind after they filed a complaint in the U.S..

Yosef, 37, said in an interview with Calcalist in 2013 that Meetey was an attempt to create a social media network that provides data on events that were happening in a user's nearest neighborhood.

A few weeks before that interview, in August 2013, the Kalkshtein family partnered with Yosef on the app, after purchasing 33% of the company's shares. The two met with Yosef in his Hod Hasharon offices. During the course of that meeting, Yosef presented them with the app, and claimed that it had 100,000 users, which was false.

Yosef presented falsified figures

In order to fulfill requirements in line with the contract the three signed, Yosef presented the two with a report every quarter filled with falsified figures that showed a steady stable rise in the number of app users. In November 2014, more than a year after signing the contract, Yosef claimed that the app had 2 million users. That was also false. In that way, Yosef extracted some NIS 1.6 million ($485,000) from the couple.

Yosef would go on to tell the couple that the company needed to turn to the U.S. market to promote the app. In 2014, he founded a company called Meetey in the U.S. In parallel, he acquired a web domain under the name "edelmanpr.net" in order to impersonate employees of the international public relations firm Edelman, and sent the couple fictitious reports and contracts of Meetey with the Edelman company logo in order to extract more money from the couple. In addition, he created four fake email addresses using the firm's domain, which he used to contact the couple. In that way, he managed to convince them to transfer $1.6 million into accounts that he opened. Using that money, Yosef purchased an apartment on 47th Street in Manhattan, New York for $1.18 million.