"Today's entrepreneurs aren't content with exits of hundreds of millions, they want to be unicorns"
Yaron Elad, CEO of investment company Elron, discussed recent investment trends at Calcalist's Blue-White conference, while Zohar Rozenberg, CSO at Elron, noted: "The hottest sectors in cybersecurity are anything to do with cloud security as an infrastructure or SaaS"
The booming cybersecurity sector still has plenty of room for new companies. Despite the generous valuations numerous companies have received recently in their funding rounds, Yaron Elad, CEO of Elron, a public investment company leading early-stage technology investments, and Elron CSO Zohar Rozenberg, explained to Calcalist's Meir Orbach during the Blue-White Conference that there are still plenty of opportunities abound.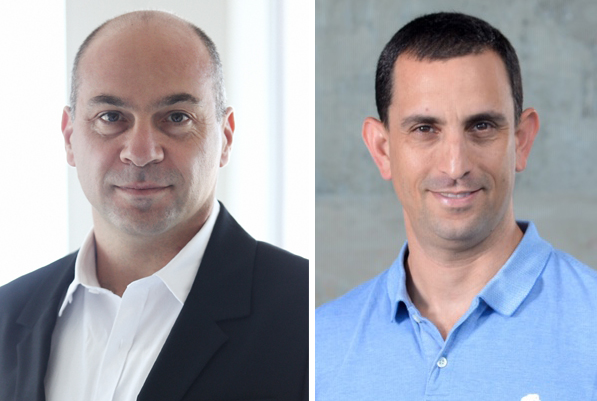 Yaron Elad (right), CEO of Elron and CSO Zohar Rozenberg. Photo: Courtesy

What is Elron?

Elad: Elron was the Holy Land's first venture capital investor. We currently have 25 companies in our portfolio in sectors such as medical devices, cybersecurity, and corporate software. You can look at us as a $300 million fund. Over the past decade we have seen returns of around $600 million from dozens of exits. We have a cooperation with Rafael Advanced Defense Systems which provides a sandbox for our early-stage startups."

Zohar, you are the former head of the IDF's Unit 8200, what do you think of the cybersecurity market? What are the hottest trends?

Rozenberg: "The hottest sectors are anything to do with cloud security as an infrastructure or as SaaS. The Covid-19 pandemic has significantly accelerated the move to the cloud. Organizations that didn't dream of making the move over the next five years did so in three months because they had no other choice. There are currently organizations that hold all their assets on the cloud while the level of security is lagging behind.

"Another sector which is really hot is API security. This world is expanding, with open banking for example, which exposes banks to direct online threats. There are many attacks taking place on APIs."

What sectors have cooled off?

"Anything to do with security of a traditional internal network. Things like firewalls and recognizing anomalies in internal networks. I wouldn't invest in this sector today."

Do you sense that there is a bubble with all the new unicorns? Doesn't this scare you?

Elad: "The answer is no. This is a welcome phenomenon for the Israeli industry. This is the result of the fertile ground of the entire cybersecurity sector. This is a market that is desperate for solutions in an IT world that is developing and changing. This market is set to double itself from the current annual figure of $150 billion in just a few years. Selling a company for hundreds of millions isn't considered today to be as valuable as growing into an independent unicorn. I think that is the direction in which entrepreneurs want to head."

Will small or big cybersecurity companies go public via SPACs?

Rozenberg: "Becoming a public company is making a statement to the market that you are building a big company. A SPAC is an alternative model for going public as opposed to the traditional IPO route. You have Outbrain and Taboola, for example, with the first going down the route of a traditional IPO and the second choosing a SPAC merger. This is a legitimate tool that is here to stay and some companies will use it."

Do you think that the funding rounds in cyber companies have become distorted?

Elad: "We are seeing growth companies that are being valued at more than one billion dollars. Investors who once seeked out companies valued at $10-12 million are taking a step back and targeting companies valued at $5 million. That is the area in which we feel comfortable. We are seeing higher valuations in the investments that we are making. But we are comfortable investing 50%, and even 100% more, than we used to in early-stage startups."

Do you believe there are enough companies that deserve these valuations that we are talking about? Or is this market beginning to become a little crowded?

Rozenberg: "There is a pyramid model like with everything else. There is fierce competition for the best companies. Every investor needs to bring his relative advantages. I think there is enough room in the market. There is still a lack of good solutions for the new problems that are piling up. The investing world is competitive and that benefits everyone."