20-Minute Leaders
"To attract the right talent, you need to let go and let them run their own stuff and not intervene"
Michael Matias is joined by Hippo CEO and co-founder Assaf Wand, who shares what it means to bring innovation to an otherwise lagging industry
It's become all too common to spend hours on the phone struggling with an insurance agent who will not provide adequate information or compensation. There has to be a superior alternative to the traditional home insurance company, and Assaf Wand, CEO of Hippo, is on a mission to provide one. Hippo is a unique, customer-centered home insurance organization that prides itself on creating "win-win" solutions for customers and its business. In order to do so, Wand explains that Hippo will contact customers when its technology, driven by big data, ongoing underwriting and AI, shows a possible problem with their home or needs to update coverage after changes were made, like a roof repair or a pool being added to the backyard. It also provides smart home kits to allow customers to be notified of certain issues inside the home, like water leaks, smoke alarms, and temperature shifts to prevent extensive damage and claims. With so many aspects of the world changing and advancing, the insurance industry seemed to be lagging behind. Wand is determined to bring innovation into the field.
Click Here For More 20MinuteLeaders
What drew you to entrepreneurship?
I believe entrepreneurship is a creative environment, and because of that, you're always sharing lessons learned and helping change the world where you can.
When did you consider yourself an entrepreneur?
I've been a consultant and manager, but I'm a much better entrepreneur. Even as a kid, I often thought about how I could change the status quo.
Why did you opt to go into the insurance industry?
All the things I believe about entrepreneurship and all the lessons I've learned from my mistakes are in that field. It's a massive market with a lot of space for new players. Just in the U.S. alone, it's a $100 billion market that grows at $5 billion per year.
In the U.S. over the past few decades, what are we seeing when it comes to home insurance?
Over the last century, home insurance has been sold solely via agents. In the last decade, the number of agents has gone down by more than half. In the past year, consumer demand for more digital products has increased, including a bigger move towards buying home insurance online. At Hippo, we like to say we meet our customers where they are, selling home insurance directly to the consumer, through our partners, and agents.
How is Hippo's insurance business model game-changing?
With Hippo, you can purchase insurance directly online, over the phone by speaking to one of our customer support team members, through one of our mortgage, loan, or home-building partners, or through a licensed independent insurance agent . We provide modern policies with more coverage for the things you have in your home today, like electronics and home office equipment. We found early on that the coverage people were being offered by their home insurance company was archaic with excess coverage for things like fur coats and china, while electronics were capped at minimal rates when many of us have one thousand dollars worth of electronics in our purse or pocket alone. Most importantly, we are shifting the home insurance industry to be proactive because insurance has traditionally operated as a reactive experience. Many people only talk to their insurance company when they have to file a claim. At Hippo, we believe the best home insurance experience is when a claim never happens. We offer smart home devices, regular home care and maintenance services, and seasonal tips and advice that help homeowners reduce risks and avoid issues from ever happening in the first place.
How did you go about creating a proactive, customer-focused company?
We start by making the process of receiving a home insurance quote seamless. Customers can bind a policy online in 5 minutes, which used to take customers up to 3 days and hours of phone calls with an agent. After a homeowner becomes a Hippo customer, we continue to provide value in a number of ways. For example, through aerial and satellite imagery, we have the ability to identify a discoloration on your roof, and we'll act quickly to inform you of the potential issue and recommend a local service professional in your area. We also offer eligible customers a complementary smart home device kit that, once activated, provides added savings on their home insurance policy with a smart home discount. These kits come with self-monitored sensors that can promptly alert customers to things like water leaks or fire alarms. In the past year alone, the home has shifted to meet multiple needs, becoming our offices, home-schools and even doctor's offices. The pandemic has created a more action-oriented homeowner with a deeper desire to protect the home and Hippo is the partner that fits squarely within their needs to provide proactive support and protection.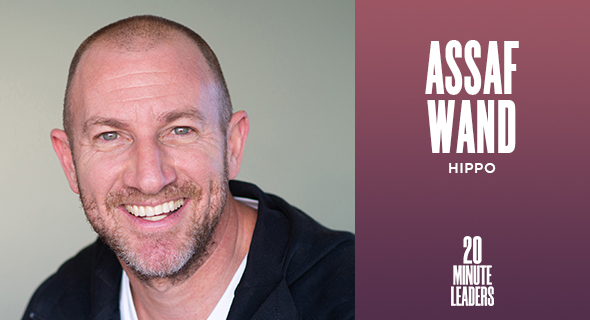 Assaf Wand, CEO & Co-founder Hippo. Photo: Hippo Tech
Would you say your strategy is proving itself?
Hippo was built with a single vision: to bring the focus back to the end-customer in home insurance. By reimagining the relationship with our customers and transforming a historically adversarial relationship into a partnership, we bring them a better product and experience. We see this proving out in a number of ways, including increased opt-in rates for our smart home program to more engagement with our home care and maintenance services. If you want to build a brand, in general, you need to bring consistent benefit to a customer. Our strategy keeps us in touch with our customers throughout the entire homeowner journey.
Why the name Hippo?
It's unique, easy to grasp, memorable, and it's non-associated with insurance, which gives it an edge. With time, we've grown to like it more and more.
You're in a hyper-growth state. The company is doing very well. Did you think when you sold your last business that you were going to be running this five years later?
No, but the growth motivates us to show up every day. As a team, we're continuously learning, evolving, and growing; no one day is the same.
Do you feel the same intimacy with the brand even as you continue to disassociate with everyday things?
The hardest part of growth for me has been letting go and entrusting other team members to run everyday things. Now I focus on broader things and figuring out the next steps to take, which is part of our evolution and growth.
What's the driving force for you?
Continued education, growth, along with doing good, making an impact, and learning every day. At Hippo, we're building a truly revolutionary customer experience with a passionate team of people behind it who bring us closer every day to achieving our vision to protect the joy of homeownership. Seeing the influence, I'm going to keep doing it.
How would you describe yourself in three words?
I'm an independent thinker and I believe in strong opinions loosely held. When you come into a discussion, I believe in having an opinion, and defending it should be thoughtful. iIf someone comes up with another approach that's well-informed and has the data to back it up, I believe in being willing to say, "I can see that." Finally, being a mensch, an honest and good friend.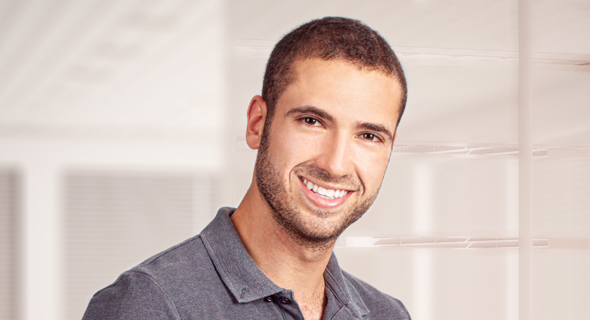 Michael Matias. Photo: Courtesy
Michael Matias, Forbes 30 Under 30, is the author of Age is Only an Int: Lessons I Learned as a Young Entrepreneur. He studies Artificial Intelligence at Stanford University, while working as a software engineer at Hippo Insurance and as a Senior Associate at J-Ventures. Matias previously served as an officer in the 8200 unit. 20MinuteLeaders is a tech entrepreneurship interview series featuring one-on-one interviews with fascinating founders, innovators and thought leaders sharing their journeys and experiences.
Contributing editors: Michael Matias, Amanda Katz