Tech on the Roof
Assaf Rappaport: "Israeli tech's glass ceiling is manpower, not money"
The CEO of cybersecurity company Wiz, who spoke at the 'Tech on the Roof' event hosted by Calcalist and Bank Hapoalim, also added: "The money is flowing into the country at a pace we can't sustain. That is why the first thing that we will see is an increase in salaries."
The Israeli tech sector will ultimately slow down, but not because there isn't enough money. It will rather be due to the fact that the industry's manpower isn't big enough, explained Assaf Rappaport, speaking at the 'Tech on the Roof' event hosted by Calcalist and Bank Hapoalim in Jaffa on Monday night.

"The money flowing into Israeli tech doesn't buy us new talent and that is the sector's current glass ceiling and the reason that it might eventually slow down," Rappaport told Calcalist's Meir Orbach during the event. "We at Wiz and every other entrepreneur that is here could be five times larger had we had enough quality manpower. We could have done a lot more had the local tech workforce been bigger."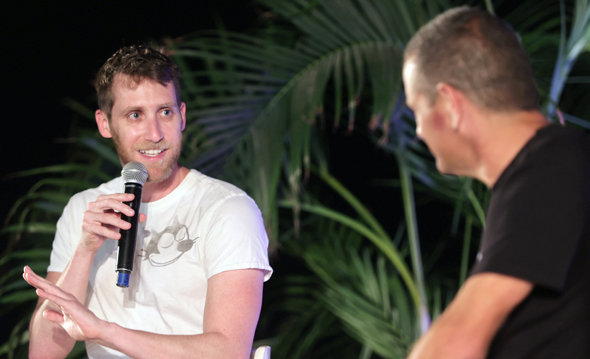 Wiz CEO Assaf Rappaport. Photo: Orel Cohen

Before founding Wiz, Rappaport was General Manager of R&D at Microsoft Israel after having sold his previous company Adallom to the tech giant for $320 million in 2015. Wiz's other co-founders, Ami Luttwak, Yinon Costica, and Roy Reznik, have been with Rapaport since his days in the military and filled various roles at Adallom too. After raising a $100 million series A a mere nine months after it was founded, Wiz raised an additional $130 million just three months later in March of this year at a valuation of $1.7 billion.

What does the funding craze look like from the side of the entrepreneurs?

"There should be no confusion. A lot of this isn't disconnected from reality, for example, what Wiz and other companies have achieved from a business standpoint over the past year is crazy and that is why these valuations aren't exaggerated. However, this can also act as a smokescreen and confuse investors. What is important to understand regarding Israel as an industry is that we have matured. Venture funds that previously would never have come here are now investing in Israel. Wiz isn't the first company to bring them here, but it is benefitting from it. These funds invest a lot earlier in a company's life and a lot of money is flowing into Israel. This then leads to the big dilemma that many startups will soon face regarding the pace of progress. The money is flowing into the country at a pace we can't sustain. That is why the first thing that we will see is an increase in salaries."

How will you compete for talent with the tech giants?

"Actually the likes of Microsoft, Amazon, and Google have a tougher time to make crazy offers because they move slower compared to startups that can react quickly. We also saw that during the Covid-19 pandemic, while big companies needed time to adapt to the new markets, startups did so much faster. But our answer in the battle for talent shouldn't be through salaries but rather by further integrating additional sectors into the industry like women, Ultra-Orthodox, and Arabs."

You've been through quite a few stops in your career to date. What are your insights from each one of them?

"Adallom was really quick and ended after two-and-a-half years so I'm hoping Wiz will be a much longer experience. When we set up Adallom after being discharged from the IDF we went all out in every aspect. There wasn't a destination we didn't reach and we knew every single client, but that mindset has a ceiling that you can't crack. In Microsoft, it was almost an opposite situation because there it is all about growing quickly and reaching the market quickly and it is a different mindset as you can't know all your clients by name. Our goal at Wiz is to combine both worlds. I want to maintain the DNA of a startup that runs ahead and gives its all, but I also want to grow and lower the glass ceiling. It is great to see so many Israeli startups currently lowering the glass ceiling and breaking through to become unicorns."