DataRails raises $18.5 million led by Oren Zeev to expand financial planning solutions
The Israeli startup said it increased its annual recurring revenue fivefold during 2020 after launching its new product for small and medium-sized businesses
Israeli startup DataRails, which has developed a financial planning and analysis system for enterprise companies, has raised $18.5 million led by Oren Zeev's Zeev Ventures and with participation by Innovation Endeavors, Vertex Ventures Israel and additional private investors. The company has raised a total of $28.5 million to date.

DataRails said it increased its annual recurring revenue fivefold during 2020 after launching its new product for small and medium-sized businesses. The company aims to help organizational finance departments swamped with mission-critical tasks such as creating financial reports, budgets, forecasts, and management reports, most of which are prepared manually on Excel spreadsheets. Cloud alternatives to these manual processes are available in the market, but they are expensive, difficult to implement, and do not address the unique requirements of each organization. Therefore, most finance departments prefer manual, Excel-based options. But this solution leads to superfluous mistakes and wasted time and resources.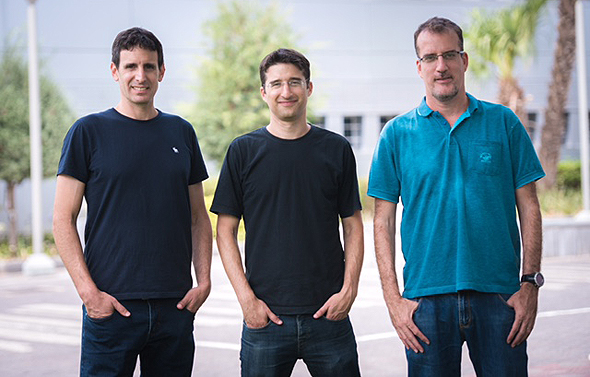 DataRails co-founders Didi Gurfinkel (CEO), Eyal Cohen (COO), and Oded Har-Tal (CTO). Photo: Idan Sabach

DataRails' FP&A solution provides a cloud solution that overcomes these barriers. DataRails allows teams to continue to use the familiar Excel and their existing models while concurrently transforming the Excel spreadsheet into a smart and powerful system that is connected to the organizational data infrastructure. DataRails' solution collects data from existing Excel files that are scattered throughout the organization and from organizational cloud platforms and adds them to a database that is updated in real-time. The system encourages finance teams to utilize the data dashboard to easily create real-time graphs and presentations.

DataRails was founded in 2015 by Didi Gurfinkel (CEO), Eyal Cohen (COO), and Oded Har-Tal (CTO). The company will use the new funding to accelerate growth.

"Unlike sales and marketing departments, the processes in finance departments have been pretty much stagnant in the past 30 years and are still being conducted manually with Excel," says Didi Gurfinkel, Founder and CEO of DataRails. "That's why we developed a technology that runs the Excel-based organizational processes in a transparent manner and completely automates the monthly and quarterly financial processes."

Although the company had not planned on an investment round at this stage, the financial results attracted investors, including Oren Zeev. "Oren understood the potential of the technology we built extremely quickly," added Gurfinkel. "From the beginning, it seemed like a perfect match between our aspirations and growth rate and an investor that specializes in hyper-growth companies. We are extremely proud that someone of Oren's stature chose to invest in us."

"There are over 300,000 small and medium businesses using Excel to manage their FP&A tasks, and DataRails is building a bridge to allow these companies to adopt a cloud-based solution while using the familiar Excel and their existing models. I believe they are only scratching the surface of what can be done on their platform," said Zeev.

Yanai Oron, GP with Vertex Ventures that led the company's seed round, also joined this funding round, saying, "we are absolutely delighted about the company's performance this year, a result of the founders listening to the voice of their customers and coming up with a non-trivial solution to perfectly answer customer needs."