Deel raises $156 million, including from Uber CEO
"We will be a $100 billion company. No one at the company wants to sell their shares," said Israeli co-founder Alex Bouaziz
Deel, which has developed a global payroll and compliance system, announced on Wednesday that it has raised $156 million in series C funding at a valuation of $1.25 billion. The round was led by the YC Continuity Fund and was co-led by existing investors Andreessen Horowitz and Spark Capital. Dara Khosrowshahi, CEO of Uber, is among the private investors who participated in the round.

The company, co-founded by Israeli Alex Bouaziz and Chinese entrepreneur Shuo Wang, has raised $206 million to date, all over the past 11 months in three funding rounds. Bouaziz told Calcalist that the company's revenue has crossed more than $10 million annually and that its most recent round included only equity and didn't have any secondary element. "We will be a $100 billion company. No one at the company wants to sell their shares," said Bouaziz.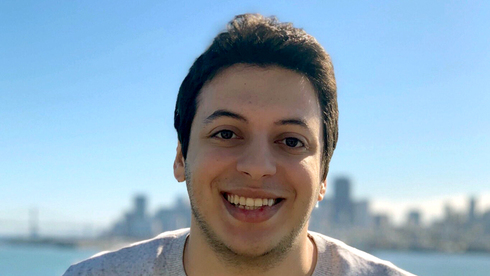 Deel co-founder Israeli Alex Bouaziz. Photo: Courtesy

The platform that the company has developed allows payment to both full-time employees and independent contractors (freelancers), in compliance with the currency and the labor laws in the employee's country of origin. The platform is based on a directory built by the company and includes various localized templates for work contracts, which can be used to hire remote employees legally and at short notice.

The platform also enables employers to pay the salaries of their full-time workers through a range of payment channels such as credit card, bank transfer, and automated clearinghouse. Independent contractors can receive their payments through PayPal, Payoneer (which is itself an Israeli company), or bank transfer. "Payoneer is a big partner and we work with them very closely," said Bouaziz. "We will not raise any more funds in the near future, but if an opportunity presents itself in a year we will consider it. We now have an opportunity and money and we need to make the most of it in order to expand the company significantly."

With this series C financing, Deel plans to continue international expansion by nurturing existing successful markets and tapping into new ones. In addition, Deel will continue to build its product offerings and will recruit dozens of new employees. It is also expected to use the funds for M&A.

The company said that in 2020 it grew by 20X and now supports 1,800 businesses. Over the last quarter the company's platform processed salaries at a sum of more than $100 million.

Bouaziz is a graduate of MIT who completed his high school studies when he was only 16. Bouaziz serves as Deel's CEO and is also active in the Israeli venture capital fund Sarona Ventures. His partner in founding Deel, Shuo Wang, is also a graduate of MIT and is responsible for the business aspects of Deel in his role as Chief Revenue Officer.

Deel's global payroll and compliance system connects localized compliance and payments in one place and allows companies to run payroll in more than 120 currencies. With more than 250 labor law and accounting experts as partners, companies can create, sign and send localized contracts in minutes from a library of templates—all from one place, and most importantly, compliantly.

The company currently employs 120 people, 20 of them in Israel, with 100 joining over the past year.