Jeeng raises $5 million to help publishers with audience engagement
The Israeli company's technology is used by Vice Media, The Atlantic, Vox Media, and others
Content distribution platform Jeeng announced on Wednesday that it has raised $5 million in funding from Mizrahi-Tefahot, Israel's third-largest bank. The new funds will be used to fuel the expansion of its AI platform that helps publishers curate and deliver personalized experiences for subscribers on digital platforms. As part of the funding news, the company also hired Israeli Military Intelligence expert Roy Cagan as its new CTO and former Salesforce and Playtika data scientist Yair Even-Zohar as Chief Data Scientist.

"As cookies become obsolete and trust in social platforms like Facebook and Twitter continues to decline, publishers need a first-party data strategy to rebuild those critical 1:1 relationships with their subscribers," Even-Zohar said. "Jeeng delivers that solution, essentially providing the industry's first artificial neural network to index publishers' entire body of content and deliver the most personalized content recommendations to subscribers with practically zero publisher effort, enabling them to grow with minimal investment."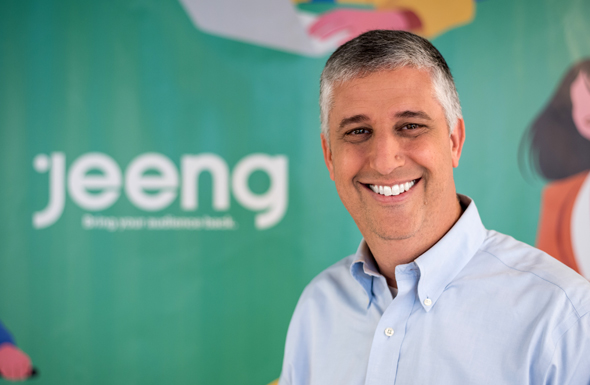 Jeeng CEO Jeff Kupietzky. Photo: Joanna Wayburn

Jeeng helps publishers to turn site visitors into 'logged-in' subscribers without the use of a paywall and helps build relationships with their audiences without 3rd-party cookies. The funding comes following the company's recent rebrand from PowerInbox to Jeeng, reflecting the company's move beyond email to include push notifications, newsreaders, and other messaging channels.

"Financing proven and promising technology is a core part of our mission to support business growth and economic recovery. The bank has rich and proven experience in financing startup companies and it is one of the most active players in the Israeli tech industry" said Dani, Maor, Head of Hi-Tech Department at Mizrahi-Tefahot. "Jeeng has demonstrated solid profitability and growth even in the face of a difficult global economy over the last year, and its groundbreaking technology solves a serious pain point for publishers of all sizes. We're pleased to support Jeeng's continued growth and look forward to seeing its technology expand to help even more publishers drive new revenue."

"Investing in R&D and technology innovation has always been a core part of our value proposition, but now we've doubled-down on that promise to our customers," said Jeeng CEO Jeff Kupietzky. "With new expertise and new capabilities on board, we're extremely well-positioned to become the de facto standard in audience engagement and content monetization for publishers."

Jeeng was founded in 2014 as PowerInbox amend provides personalized, automated, and multichannel messaging solutions to help publishers drive revenue with personalized audience engagement. It supports 150 million unique monthly users from 650 publishers, including Vice Media, The Atlantic, Vox Media, and others.