Next Israeli astronaut visits NASA Kennedy Space Center ahead of mission
Eytan Stibbe spoke with former NASA astronaut Bob Cabana at Kennedy Space Center in Florida along with other experts led by the Ramon Foundation ahead of January 2022 flight
Ahead of his upcoming mission to space, second Israeli astronaut Eytan Stibbe visited the John F. Kennedy Space Center in Cape Canaveral, Florida last week, and met with its director, former NASA astronaut Bob Cabana and Lee Rosen, SpaceX's Vice President of Mission and Launch Operations. Stibbe visited the US Air Force Space Command alongside a delegation from the Ramon Foundation led by Director Ran Livne.

Stibbe will head to the International Space Station along with private astronauts Larry Connor and Mark Pathy, and former NASA astronaut Michael Lopez-Alegria in January 2022 to spend 10 days aboard the station conducting a plethora of Israeli experiments. The mission will be spearheaded by U.S. spaceflight company Axiom Space and sponsored by the Ramon Foundation and the Ministry of Science and Technology.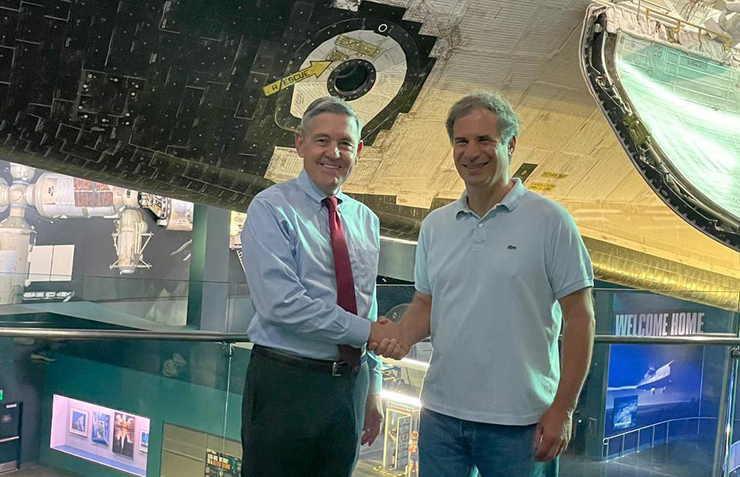 Eytan Stibbe (right) meets with former NASA astronaut and head of director of the Kennedy Space Center Bob Cabana. Photo: Ramon Foundation

Stibbe, who is scheduled to fly to the International Space Station on a "Sky" mission, visited the airport of the US Air Force Space Command, together with a Ramon Foundation delegation led by the Foundation's CEO Ran Livne. Aside from meeting professionals, the next Israeli astronaut had the chance to see the spacecraft and launch pad where his mission, Ax-1, termed Rakia in Hebrew will take off from. He also visited Launch Pad 39A where first U.S. astronaut Neil Armstrong took off from on the Apollo 11 mission to the Moon.