Blackstone CEO: "Our arrival is a sign of the maturity of the Israeli economy"
Stephen A. Schwarzman believes there is only upside in the entrance of Blackstone Growth's $4.5 billion fund to Israel
"As soon as we started to invest in growth companies it was clear that we couldn't continue to be active globally without being in Israel," Stephen A. Schwarzman, Blackstone Chairman, CEO and Co-Founder told Calcalist in a special interview.

The interview with Schwarzman was held following Blackstone's dramatic announcement that it will open a new office in Tel Aviv with the aim of making growth and tech investments in Israel for Blackstone Growth (BXG).

"Most of the companies in Israel were too small for us. I think our arrival at this time is a sign of the maturity of the Israeli economy. We entered India and we are now one of the 10 largest companies in the country which is quite a substantial size economy," said Schwarzman, 74, who was raised in a Jewish home and revealed that the high school he studied at was adjacent to that of Israeli Prime Minister Benjamin Netanyahu. "I've known him for decades. He actually went to the high school right next to my high school. Our schools were athletic rivals. I didn't know him then, but I've known Bibi for a long time."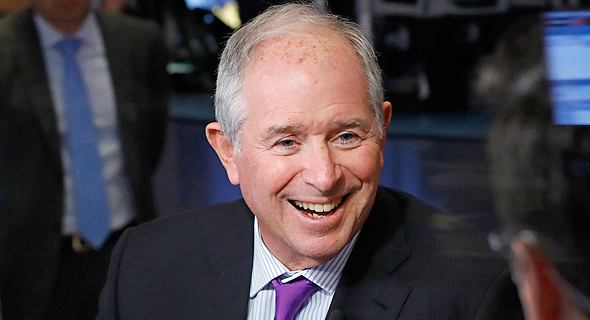 Stephen A. Schwarzman, Blackstone Chairman, CEO and Co-Founder. Photo: AP

Schwarzman noted that the market's current cycle is very different from that of the dot.com bubble. "This cycle is really changing the way people live their lives and you can see it during the pandemic with massive growth in many different consumer-facing areas and business-facing areas, and the whole development of the cloud," Schwartzman added. "We are in a completely different world. The issue is that some valuations are much too high and those will not be successful economically. A part of what we do at Blackstone is improve the chances of success of businesses that we invest in because we have a huge global infrastructure where we can take a product or a business and move it around the world very quickly and develop it. We often transform companies with new management and the part of the ecosystem we are trying to fill isn't early-stage, it's when a company is getting more successful and the people running it are often not experienced in building global enterprises."

Schwartzman said Blackstone is hopeful it can make contributions to Israel. "The people are so smart, so clever and so entrepreneurial, it is very much like the spirit in the U.S. so I think this is a very good match. I like doing things where there is no downside, only upside. I think that for both Israel and Blackstone that's the equation that we bring to the table."

Blackstone, which has assets valued at $649 billion under management, is considered to be one of the biggest private investment firms in the world. To date, it had been active in Israel only through occasional investments. Former Israeli Ambassador to the United Nations, Dan Gillerman, was appointed as Blackstone's Senior Advisor in Israel in 2013, with his most significant activity to date being his role in the negotiations to acquire cyber surveillance company NSO in 2017. Blackstone was in advanced negotiations to purchase 40% of the company for $400 million, but it was confronted with pressure by its investors once the knowledge of the negotiations became public and it backed out. Blackstone was also involved in negotiations to acquire the likes of Israeli credit card companies Leumi Card and Isracard, as well as plastics company Keter, but ultimately none of those deals came to fruition.

Israel's institutional investors are well acquainted with Blackstone, having invested in its funds, specifically its growth fund BXG, which recently completed the final close of its oversubscribed, inaugural $4.5 billion growth equity fund – the largest first-time growth equity private vehicle ever raised. The growth fund also has teams headquartered in New York and London and recently also opened an office in San Francisco to be closer to Silicon Valley.

Yifat Oron left her role as CEO of LeumiTech to serve as a Senior Managing Director and head the firm's new office in Tel Aviv. Gillerman will become Chairman of Blackstone Israel while continuing to serve as an advisor to the firm and the Israel-based team. Oron, who has extensive know-how on the local market, will lead Blackstone's growth and tech investments in Israel for Blackstone Growth (BXG), and will benefit from having especially deep pockets, even in comparison to Insight Partners or Tiger Global, two big U.S. VC funds that became more active in Israel over recent years.

Oron stepped down from her role as the CEO of LeumiTech after heading the tech branch of Bank Leumi since it was founded seven years ago. Oron previously served as Managing Partner at Vertex Venture Capital and as an associate at JP Morgan.
Blackstone Israel Senior Managing Director, Yifat Oron (left) and Chairman Dan Gillerman. Photo: Courtesy

Jon Korngold, Global Head of Blackstone Growth, told Calcalist that the minimum sum of investment by BXG will be $50 million and that Blackstone will operate as a strategic investor in any company it invests in.

"I think in Israel especially it's very important to note that we're not here to compete with the locals," said Korngold. "A lot of U.S. growth equity firms are investing capital, much smaller sizes $5 million, $10 million, or $25 million. And that puts them in competition with the Israeli ecosystem. We have no intention of competing with the existing Israeli venture firms and growth firms. So we want to be a complement, where they stop, we start, and so it allows us to have a much healthier symbiotic relationship in that market.

"I don't want our partners to sit on 10 boards. Each of our partners will sit on two boards. I sit on one board and I've been doing this for two and a half years at Blackstone. Most of my partners have one board. We really want to be very hands-on and strategic with our companies. We have no expectation that the measure of success is based on the number of deals we've done in Israel. We're adding meaningful resources in order to execute on the opportunity. I'm truly very very patient. The good news is that a huge portion of our pipeline right now happens to be Israeli companies."

When asked whether Blackstone hasn't arrived late to the Israeli market, Korngold responded: "The Israeli market for growth equity has evolved rapidly in the last two to three years, that's the really important part. Five years ago, there was no growth equity market in Israel. It was early-stage ventures, these companies sold out early, or they were forced to go list on the exchange prematurely. There was no market opportunity to invest $100 million into these growth-stage companies, and so it's not a reflection of a lack of interest or lack of productivity from Blackstone. Blackstone's not new to Israel, but now what we have is a market that is ready for us, and we have a team that specializes in exactly that area that's now ready for Blackstone."

BXG began deploying capital in 2020 and has already made a number of significant investments, including in Bumble (which recently completed a successful initial public offering); Oatly; ISN; GeoComply; Ginger Health; Hydrogen Health, and Epidemic Sound. Blackstone reported last week that it registered the biggest profit in its history in the first quarter of 2021, reaching $1.75 billion. A large portion of the profit came from Bumble's IPO. Blackstone registered a loss of $1.07 billion in the first quarter of 2020.