Augury helps Carrier with its new digital offering
The digital offering connects customers' equipment to Carrier's cloud-based IoT platform
Israel's Augury has signed an agreement with Carrier, the American provider of sustainable building and cold chain solutions, to help them launch a new tiered service offering to complement its existing BluEdge service platform. BluEdge Digital is a new digital offering that either stands alone or can be added to existing BluEdge service agreements. It connects customers' equipment to Carrier's cloud-based IoT platform, offering them analytics and actionable insights to visualize, advise, and optimize the health and life cycles of machines.

"With the launch of cutting-edge BluEdge Digital, we will unlock incremental value for our customers, aligned to the evolving and varied needs in verticals including healthcare, commercial buildings, education, hospitality, and more," said Gary H. Bobb, vice president, Global Aftermarket, Commercial HVAC, Carrier. "We've listened to customers express their desire to gain advantages from digital technologies. This new platform is ripe for customization, driving efficiency while providing solutions that deliver a strong return on investment for customers."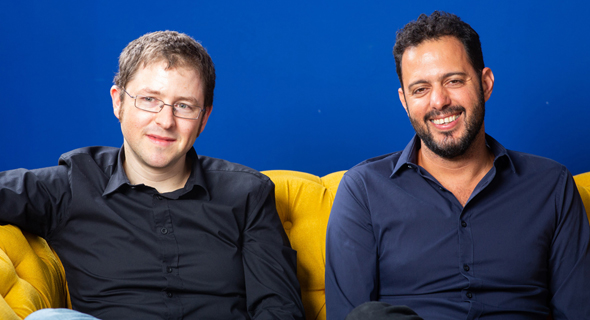 Augury founders Saar Yoskovitz and Gal Shaul. Photo: Augury
With Augury, Carrier's BlueEdge Digital service now has the capability to enable vibration analysis. The addition of proactive vibration analysis will help Carrier service teams reduce maintenance costs for its customers, as well as each reading being able to provide actionable insights on machine health.
"While the global pandemic required us to adjust our approach in 2020, it actually heightened the need for our customers to leverage digital technologies, which has enabled new kinds of work and new forms of resilience," added Saar Yoskovitz, Augury founder and CEO. "With our increased financial backing, we're aggressively expanding our investment in company growth and expect to double our employee base again in 2021, as we launch a host of new offerings, support our strategic partnerships and rapidly expand our global footprint."
Carrier Global Corporation was founded in 1915 and is based in Palm Beach Gardens, Florida. It employs approximately 53,000 people and has an annual revenue of more than $18 billion. Augury was founded in 2011 and is an Israeli mechanical diagnostic platform for industrial IoT items. It makes machines more reliable by combining AI and the IoT to help them optimize their own health. To date, the company has raised $114 million over six rounds.