The war over digital wallets has begun
Apple Pay's entry into Israel will ignite the battle between multiple vendors offering digital wallet services
After many years of talk, the Israeli payment revolution has taken off. Six digital wallets have already been launched, and another three are set to hit the market by the end of the year. In most businesses people can already pay through their cell phones, and by the end of July nearly all businesses will accept such payment methods.

Calcalist revealed last week that a new central player in the sector will land in Israel next month: Apple, who will launch its payment app, Apple Pay. Its entry is cause for drama: it will be the first time, and probably not the last, that a tech giant will enter the digital wallet arena in Israel and earn revenues. The next to do so will be Google, who will probably launch its Google Pay wallet towards the end of the year.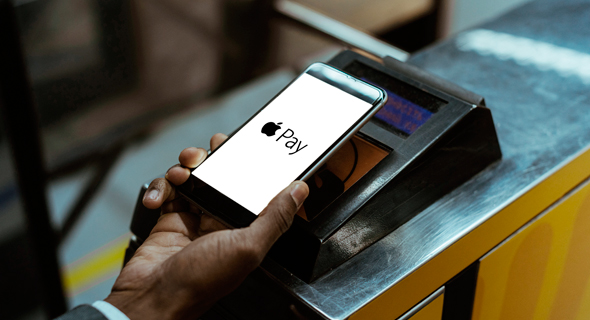 Apple Pay is coming to Israel next month. Photo: Shutterstock

The world of digital wallets in Israel is currently only in its infancy, and less than 1% of business transactions are conducted through cell phones, but the sector is forecasting itself a bright future. "When this method of payment begins to pick up, its use will spread like wildfire, and we will rapidly reach widespread use," one senior figure in the sector estimated.

To date, most payments through cell phones were through bank transfers between people, using a contact list, via the three main apps that operate in Israel: Bank Hapoalim's Bit, Discount Bank's Paybox, and Bank Leumi's Pay Leumi. The revolution is now about to take another step forward, with people being able to pay businesses through their cell phones alone.

The infrastructure that enables the use of cell phones for making payments is the EMV (Europay, Mastercard, and Visa) method, which enables highly-secure payments at businesses, and connects with NFC chips embedded in cell phones. In order to make payments with digital wallets, businesses will need to replace their systems with EMV-compatible ones. Over the past few years, many attempts have been made to introduce EMV into Israel. The process has been lagging for a while, since most businesses didn't have an incentive to make the transition. In the end, the transition picked up speed when the Bank of Israel ordered large businesses to transition to this form of payment in November 2020, and starting in July all businesses will be required to do so.

Many entities such as banks, retail companies and tech giants like Google, Apple, and Samsung, are eyeing digital wallet operations since they understand the inherent monetary potential those revenues hold. Credit card companies' main revenue stems from the interest rate they accumulate from payments - essentially the commission they earn from companies' who conduct such transactions. This commission is regulated by the government, and in Israel stands at 0.55% of the credit card transaction conducted.

Digital wallets charge credit card companies part of that commission. For example, Apple is expected to charge credit card companies in Israel a commission that is estimated to be around 0.05%. Meaning, that for every NIS 100 ($30) paid, it will earn 5 agorot (1.5¢). Although that may seem like a negligible amount, currently credit card use extends to about NIS 350 billion ($108 billion). Assuming, for example, that NIS 100 billion ($30 billion) will transition to digital wallets over the next few years, then revenues earned from commissions could reach NIS 50 million ($15 million) a year.

For regulators, the entry of digital wallets in general, and from tech giants in particular, is a dramatic challenge. On one hand, they won't want to obstruct digital wallets and want to enable them to operate via profitable models, and not halt technological developments. On the other hand, they will need to decide where to draw the line when it comes to using customer information. Their challenge is particularly daunting, since the average customer doesn't fully comprehend how their data can be used, when they enable cookie use on apps (used for validating identities and following and storing a customer's data). The question arises as to whether the regulator should dictate to customers how much of their data is shared.

The Bank of Israel is also aware of the issue's complexity, and has therefore determined that digital wallets in Israel will not be able to use customers' information until the end of the year, so that authorities can further examine the issue and decide whether or not to impose restrictions on the use that data, or be satisfied with traditional restrictions that banks have today. The Bank of Israel mostly relies on foreign financial standards as a benchmark for its decisions, although the issue is still new and is constantly under debate by regulators around the world.

"In most countries, Apple and Google are the biggest in terms of digital wallets, since they have apps specifically designed for cell phones. There are countries who have begun fighting back. The most prominent example would be in Germany, where a company developed an antennae that cracked NFC-chips on Apple devices for a reasonable price," said Itamar Morad, who serves as a Partner at Lexidale, an international policy consulting firm which specializes in regulations. "Another example would be Sweden. Banks joined forces and cooperated with a leading app named Swish, and currently over 70% of the country's residents use it, making it far more difficult for tech giants to enter that market," Morad added.

As for a lesson that can be learned from this, Morad said: "We're essentially seeing a role reversal: once banks would be the Goliath, and now they have become a minor player compared to tech giants and need assistance from the regulator. For example, in Germany the regulator approved cooperation with the XPAY initiative, in order to compete with Apple and Google. The regulator who is responsible for competition is now doing something opposite, and is allowing banks to collaborate in contrast to its previous strategy."

Digital wallets have only just entered the local market, and their use is still negligible and is estimated to comprise only 1% of all credit card transactions. However, many estimate that Israel will adopt this method rather quickly. Apple's Israeli operations are set to only begin next month, meaning iPhone users (which are estimated to be some 20% of Israeli cell phone holders) still can't pay by phone. In comparison, the other 80% of Android cell phone users can pay with their existing digital wallets.

There are two aspects that will increase the penetration this year, the first of which being the deadline of the end of July by which all businesses need to transition to the use of EMV-supported payments, which will enable customers to pay with digital wallets. The second factor that will accelerate the adoption of such technology is Apple Pay's entry into Israel. "Around the world, Apple is considered to be a market educator. Its users rapidly adopt technologies, and in countries that Apple has a presence it has caused entire markets to leap quickly forward - even for Android users - in using digital wallets," another figure who works in the sector relayed.

"Israel has already proved that it knows how to bridge gaps compared to the rest of the world in terms of payments," said Omer Unger, who serves as Country Manager of Mastercard-Israel, during an event the company hosted on the booming payment sector. "There has already been a pretty decent EMV-infrastructure in Europe for the past several years now, and Israel only entered the arena recently, but we are closing those gaps. The next gap we'll quickly close is with digital wallets," he added.

According to figures that Mastercard published, 42% of business's payment terminals are currently smart compared to only 20% last September. "We reached a point of no return in the payment revolution. Typically, when an EMV-terminal reaches 30% of the market, it is a point where you can see a clear rise and the use of other advanced methods of payment. That is a point where tech giants understand that the infrastucrure is well-established and fit for entry," Unger said.

In terms of the gap that Israel is bridging with Europe he said: "Israel will close that gap in 2021, with assistance from the entry of global digital wallets into the local market."

While the Israeli digital wallet market is still in its early days, 2021 is set to end with at least nine different company offerings: the three credit card companies, Isracard, Cal, and Max launched their own versions. Bank Hapoalim's Bit recently launched its payment operations for businesses, and Bank Leumi and the First International Bank of Israel launched their own versions of digital wallets for their customers. An additional main player set to join is Paybox, a payment app which will benefit from backing from the largest retail supermarket chain in Israel, Shufersal, and Discount Bank, who plan on establishing a platform for selling financial services, most notably the digital wallet. Apple is set to enter the market soon, and it is estimated that Google will do so as well toward the end of the year. It's also likely that other digital wallets will be launched over the coming year.

It's difficult to predict whether the digital wallets launched in Israel, namely Bit and Shufersal, will flourish or whether big tech companies will come to dominate the market. However, at this point it is certain that the battle over digital wallet companies trying to enter our cell phones has only begun and is about to get a lot more interesting.