20-Minute Leaders
"Light, love, and creation. Those are the three words that guide me in life"
Orlie Gruper joins Michael Matias to share some of the expectations in the smart mobility space and how it can change our world for the better
Though her work is in smart mobility, Orlie Gruper, executive director of EcoMotion, knows people should be the focus of any business. The motorcycle company she founded connected with its clients so well that they formed clubs around the product, and now she leads an organization focused on the mobility community. She helps startups connect with investors, who are also focused on finding the right people to invest in. She is excited about the advances that have been made in mobility in the last five years, and she expects more changes in the coming years to make using different transportation methods seamless. Gruper thinks we will all be accustomed to using some level of autonomous driving in the near future, but there will also be some surprises in mobility that no one can predict right now.
Click Here For More 20MinuteLeaders
What is smart mobility, and why is it so fascinating to you?
Smart mobility is anything that is smarter, greener, more efficient, and saves money. And if we were to think about the telecom revolution, in the beginning, a lot was invested, and we had a lot of advancement and a lot of developing technologies in this field. We didn't understand what we were getting ourselves into or that we would end up with touch screens. But right now having a touch screen phone is the norm. And to me, smart mobility is similar because right now, there are a ton of investments and improvements and many people are working on it from different angles. We have no idea of what's to come in the smart mobility space, but for sure it's going to be a whole new, exciting era for us.
How did you get started with smart mobility? What was that trigger, and what have been some of your experiences within the space?
Growing up, I was always passionate about old-fashioned vehicles and motorcycles, and by the age of 16, I started getting lessons on how to ride one. Professionally, it started in the army, in the air force where I was exposed to the aviation world. Later on, I was recruited to operate a private aviation fleet. I then did my BA in business and majored in IT and later founded Blitz Motors. And for me, people shifting from gas motorcycles to electric motorcycles was an amazing experience. I ended up selling my half of Blitz Motors six years ago and they just IPO-ed last week, which is exciting.
How did you come about founding your company, and what are some of the challenges you faced?
We realized that the motorcycles in the market did not fully cater to the riders' needs; the high-powered ones were too pricey and the affordable ones did not meet the requirements of the Israeli rider. We filled this gap by introducing the electric motorcycle that was high-powered and affordable.
We faced myriad challenges: we struggled to find a manufacturer, getting the Ministry of Transportation and the Israeli Standard Institute on board was difficult especially because of the bureaucracy. Then creating a showroom in Tel Aviv and creating a garages network all over Israel so they could maintain the vehicles was another challenge, and we also had to figure out how to build clientele and maintain those relationships. But the thing I loved about the clients is that they created their bike club, the electric motorcycle bikers club, and that showed that people connected to our products.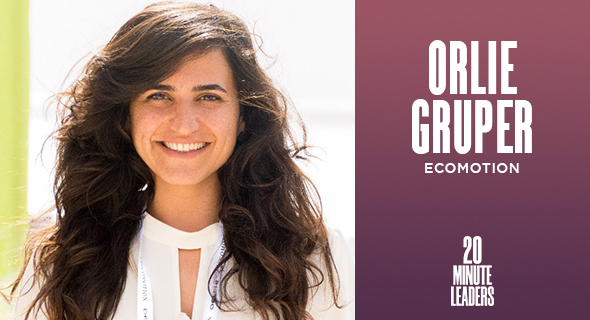 Orlie Gruper. Photo: PR
You help run the biggest smart mobility community. Can you tell me more about that?
EcoMotion was founded in 2012, and the community has over 600 startups and 12,000 community members. This community brings together all the relevant industry players including investors, government entities, principalities, and academia all in one. It's an amazing community where everyone is engaged in creating a better future. It's a great job.
What goes into building and running a community?
Community is all about the people, and all you need to do is listen to the people in the community and understand their needs and then, with the power of the community, deliver on those needs. The needs keep changing all the time. On our team, we have a community manager, a partnerships manager, and an implementation manager. And when we meet with startups, the whole team meets with them to provide a support platform for knowledge-sharing, collaboration, and networking.
What are some of the challenges you've encountered when building a community, specifically a smart mobility community?
So, when I just started at EcoMotion, we realized there were a lot of investors in the mobility field but the startups struggled to find investors relevant to them. To tackle this challenge, we mapped out all the investors out there according to the different sectors, which made it easy to find the right investor. And when you click on any investor, you get all their information including their contact details so we don't need to connect and do intros, but we instead provide supporting tools for facilitating those interactions.
Are investments in smart mobility the same as investments in a regular startup? Is the due diligence a little different?
I think it's a lot like many other fields. The most important aspect investors focus on is the team and the team dynamics. Investors also want to know that entrepreneurs can find solutions when they hit a brick wall.
What is the thinking process when you go and evaluate a company that is doing something that the market is not yet accustomed to and maybe doesn't even have governmental support?
I think most governments in the world are now on board with this in trying to understand how they create regulation that is supportive and not restraining because it's hard to make up rules today for something whose impact you'll know in a few years.
There is also demand for technology and optimization for anyone wanting to venture into smart mobility: think of mobility services like Bird and Lime that didn't exist five years ago. I've also seen a spike in series A round funding and seed funding, so a lot of companies can run for a while.
What is the future of smart mobility, and what are some of the advancements that we can expect to see?
I think everything will become more seamless. We're still buying tickets for stuff, but that's not going to happen anymore. Instead, we'll get billed whenever we use transportation services. Logistics is going to improve tremendously. Instead of big trucks, we're going to have more urban-friendly logistics. Cities are going to build more walkways and bike lanes. Regarding autonomy, I think in 10 years, it'll be weird not to have some sort of autonomy along your driving route.
Which three words would you use to describe yourself?
I'm a child of light, love, and creation. Those are the three words that guide me in life.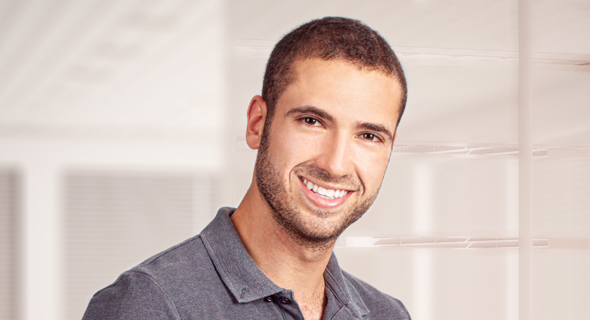 Michael Matias. Photo: Courtesy
Michael Matias, Forbes 30 Under 30, is the author of Age is Only an Int: Lessons I Learned as a Young Entrepreneur. He studies Artificial Intelligence at Stanford University, while working as a software engineer at Hippo Insurance and as a Senior Associate at J-Ventures. Matias previously served as an officer in the 8200 unit. 20MinuteLeaders is a tech entrepreneurship interview series featuring one-on-one interviews with fascinating founders, innovators and thought leaders sharing their journeys and experiences.
Contributing editors: Michael Matias, Amanda Katz